Understanding the Dashboard Warning Lights on a Semi-Truck
February 19, 2021
What Causes Low Oil Pressure?
February 25, 2021
Are you looking for gift ideas for the truck driver in your life? The perfect present for your favorite truck driver might be something practical. Long hours on the road can be a little easier and comfortable with the right gift. Get them items to make their day all year long!
A practical gift like the ones listed below can significantly improve their quality of life on the road. These gift ideas for truckers can make your loved one's job easier, more comfortable, and enjoyable.
Cool Stuff to Get for Truck Drivers
Some of the best gift ideas for truck drivers come in small packages.
For instance, a Bluetooth headset is an excellent item for truck drivers to keep them driving safe. With the roar of the engine, it can be difficult to hear everything on a speakerphone. A headset can make it easier to hear essential communications.
It can get pretty boring in a long haul. Audiobooks provide entertainment without the hazard of looking away from the road. Your trucker can catch up on stories, biographies, and more with digital books or a subscription to a service.
Other useful gift ideas for truckers include:
Travel coffee mugs
Leatherman multi-tools
Sunglasses
A watch
LED flashlights
Sunblock
Earplugs
Gift cards
Pocket-sized truck stop guide
LubeZone Rewards – Gift Card
The LubeZone Rewards card is the perfect gift that keeps giving, a prepaid MasterCard that you can use like a gift card. You can also add funds throughout the year, such as on other holidays, birthdays, and anniversaries.
Your favorite trucker can use the card at more than 28 million locations worldwide by whoever accepts MasterCard debit cards. The card also works in different countries, which is a massive benefit if your trucker needs to make purchases abroad.
Since it is a prepaid card, there are no interest charges. The Federal Deposit Insurance Corporation (FDIC) insures funds on the card up to $250,000. There are also no membership fees for the exclusive offers and cashback given to cardholders.
The reward card does not use a confusing point system. Each dollar spent at a LubeZone is part of the cashback program. They get one percent cash back on all purchases at LubeZone locations. So, they earn money on items they need on the road. Their cashback deposits directly back onto their card.
Cardholders can check their account balance 24 hours a day, seven days a week, by calling the phone number on the back of the card. They can also use the LubeZone Rewards website to check their balance and more.
If your trucker loves the card, they can earn even more money when they refer a friend. They will get $50 for their first referral and $100 for each additional friend who signs up.
New Truck Driver Gift Ideas – Apparel
Clothing and apparel are great gifts for the trucker in your life due to their profession. Professional drivers need many clothing items while they spend a lot of time on the road. Everything from gloves and hats to t-shirts and hoodies can make them feel more comfortable.
LubeZone gloves are heavy-duty and perfect for trucker work. Big rig drivers wear gloves to handle fueling nozzles while refilling at truck stops. They also protect their hands when working on their truck. Many drivers wear their work gloves until they fall off. They will thank you every time they put on their new pair.
Hoodies and hats from LubeZone can keep your trucker warm as they travel through different climates. LubeZone custom hoodies have iconic images with the city and state of favored trucker locations.
Our breathable caps can help keep the sun out of your driver's eyes, while our beanie hats can keep their head warm on the road. Get one of each for optimal protection in the cold or sunshine.
LubeZone t-shirts have the same classic trucker images and destinations as our hoodies. The custom t-shirts come in several colors, from white and black to orange, brown, and maroon. These tops are soft and comfortable for long drives and big hauls.
Do not forget to check out light and heavy jackets to get your trucker through the season. Heavy winter jackets are protection when out in the cold. Lighter jackets are great for staying warm while in the truck. Heavy-duty jacks made from jeans, leather, and canvas hold up to rougher conditions trucker drivers face.
Wool socks are fantastic gifts for truckers. Truckers can go from the muggy heat of Florida to the freezing climate in Alaska. Having an extra pair of warm socks in the truck will be well-loved when they need to trudge through the snow and icy areas.
Personal Trucker Gifts
If your truck driver is your spouse or significant other, you might consider getting them something more intimate. Help your loved one feel more at home with creature comforts. Truck drivers live out of their bags, and frequently used items wear out faster than others.
Travel Kits
Drivers grab and use their travel kits two to three times a day. They are pulling and pushing them in and out of other travel bags and using them in truck stops and motels. Travel kits get dirty quickly. And the products, like toothpaste and shaving cream, need a replacement often.
LubeZone accessories include an oversized wool Sherpa blanket and travel toiletry bag. The duffle bag is the perfect size to hold your trucker's belongings. The wool Sherpa blanket If your trucker spends the night in their cab, some fresh linens can help them feel more comfortable.
Pillows & Blankets
New sheets and blankets can make the night more restful. The size of cab beds can range, so be sure to confirm if it is a twin, twin XL, short twin, or an RV size.
Check out blankets that regulate temperature, so your loved one is not too hot or too cold. Blankets that are not bulky are more comfortable to transport in and out of the truck. A heavy-duty sleeping bag is easy to carry and keeps sleepers warm.
A new pillow can also help your trucker get a more restful night. Likewise, a seat cushion can improve a driver's posture and decrease pain and other effects from sitting for an extended period of time. If your truck driver has an older seat, a cushion can provide lumbar support and protect their back and body.
More Gift Ideas for Truck Drivers and Their Vehicles
The life of a trucker can be more comfortable with certain truck items. But you do not have to buy a car part to purchase something for your trucker's big rig.
Floor mats get a lot of abuse from typical wear and tear to weather. The older the truck, the more likely the mats are stained, damaged, or thread-bare. New mats will make your loved one's vehicle more appealing. If they like a particular theme or genre, you can find custom mats to match their interests.
Similarly, mud flaps become tattered and worn with time. Cold weather can make them brittle and fall apart. By getting a personalized set, you can show your trucker how well you know them!
CB Radios & Tech Gifts
A citizen band (CB) radio is a fun way for drivers to interact with each other. They are also able to use CB radios to inform one another about accidents and dangerous road conditions.
An inverter converts power so truckers can charge their devices without damaging power fluctuations. Power inverters are also a nifty item for adding the ability to charge two- and three-prong plugs.
Speaking of products that plug-in, a portable refrigerator can help your trucker enjoy cold drinks and a healthier lifestyle. Send your loved one with a mini-fridge full of fresh food for their journey. They can also store leftovers or keep medications, like insulin, at the right temperature.
First Aid Kits
It might not sound like the most fun gift, but a first-aid kit is undoubtedly handy on the road. There is a lot that can go wrong while driving long distances, and having medical kits on hand can be life-saving if an emergency happens in a rural area. Bandages, burn ointment, and common medications are essential for any driver.
Don't forget, you can always show your truck some love, too. If you are new in town and are wondering, "Where can I get a semi-truck oil change near me?" refer to our many locations.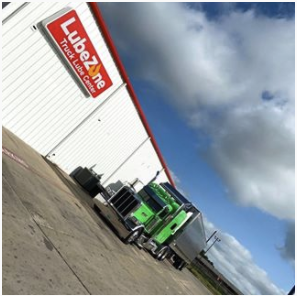 LubeZone is the fastest growing dedicated semi-truck service in the United States with locations in Texas, California, Oklahoma and Georgia. Our preventative maintenance solutions are designed to get the professional driver back on the road FAST.