One Trucker's Tips for Driving a Semi in Harsh Conditions
December 2, 2021
10 Tips How Truck Drivers Can Improve Fuel Efficiency
December 16, 2021
Long-haul truck drivers take care of us by logging many hours behind the wheel to haul the products we need, but it can be challenging for them to take care of themselves on the road.
If you're new to the trucking industry, you may be searching for "how many miles do long haul truckers average" and "long haul truckers time away from home." With the average truck driver spending an average of 300 days per year on the road and driving anywhere from 80,000 to 110,000 miles annually, your lifestyle on the road has a big impact on your health, which is why we've gathered some of the best lifestyle tips for long-haul truckers. Read on to learn more about surviving and thriving on the road from the trucking experts at LubeZone.
Plan Ahead
Make an Itinerary
Map out your itinerary in advance. You can be more strategic about picking the right stopping points that will help you avoid traffic and other hazards, get safer parking spots at truck stops, and even fit in some exercise time. You can deviate from your itinerary if needed, but it's helpful – and less stressful – to have a general plan for your trip.
Packing
Packing is another important component of planning for your trip. You'll need clothing, toiletries, emergency supplies, cleaning supplies, and entertainment. For faster packing, you can create a checklist of every item you like to have with you on road trips. Give yourself enough time to pack so that you're not up late the night before your trip. Driving requires your full attention, which means you need adequate sleep.
Insurance Coverage
You also need to make sure that you have the right insurance coverage before you head out on your trip. Even if you drive for a trucking company that pays for insurance, you have to pay for physical damage coverage and non-trucking liability coverage.
Check Your Equipment
It's crucial that you check your equipment before heading out on the road. The right preventive maintenance will prevent accidents, keep your truck out of the mechanic's shop, improve your gas mileage and handling, and help you arrive on time, so it is worth your time to inspect your vehicle before you leave. If you can have a mechanic inspect the truck before you get on the road, that's even better. It's a great idea to handle any upcoming maintenance, such as oil changes, D.O.T. inspections, or A/C tune-ups, in advance or schedule it into your trip.
If you're driving a truck you've never used before, take some time to familiarize yourself with the dashboard and each panel control in a parking lot before you head out. You also want to make sure you have the right equipment for the weather you will encounter. If there's any chance of cold weather or snow, pack tire chains, extra blankets, and other winter gear.
Stay Healthy and Safe
Life on the road can be difficult. Most truckers spend around 300 days on the road a year, and that makes it difficult to eat nourishing food and fit in workouts. Truck drivers face a lifestyle that can lead to poor health and higher rates of certain health conditions. Additionally, truck stops can be dangerous places, and your load can make you a target for thieves.
How healthy your lifestyle is can be a significant factor in your quality of life and one that may impact whether you stick with a trucking career. Making some lifestyle changes on the road can be the key to helping you go the distance as a trucker and make the profession work for you. Your trucking company may have a wellness program that can offer you resources to make lifestyle changes easier.
Healthy Foods on the Road
Road trips are usually times for indulgent convenience foods, such as candy bars or whatever the latest spicy chicken sandwich creation a fast-food chain has released that week. Most of us associate journeys on American highways with drive-thru dinners and picking up salty and sugary snacks every time you refuel.
But when road trips are part of your job, this way of eating can make you feel sluggish and impact your health. Eating dinner night after night at a truck stop is not much better from a health perspective than fast food and can quickly get old. Long-haul truckers and nutrition do not have to be at odds. You can eat a more varied and nourishing diet with some planning.
You have many options for healthy, shelf-stable foods to keep in your cab. Jerky, nuts, trail mix, fresh fruits, vegetables, whole wheat crackers or bread, nut butters, and protein bars provide nourishing fuel for professional truck drivers. In addition to their health benefits, these foods will make you feel more energized and alert, contributing to better driving. It's also a good idea to have shelf-stable, nonperishable foods on hand in case of an emergency.
Make sure you have lots of high-quality snacks and meals within arm's reach of the driver's seat. If you don't get enough food during the day, you're more likely to binge at night when you have access to unhealthy foods at the truck stop.
A high-quality cooler can help you expand the foods you keep in your cab, making it easy to have cold drinks, lettuce, deli meats, cheeses, and other foods that should be kept cool. Some drivers even bring along 12-volt portable kitchen appliances for in-cab cooking, such as slow cookers, microwaves, mini-fridges, and stoves, which will further expand your options at mealtime.
Seasoning mixes (chili, taco seasoning, etc.) are great for commercial drivers because they can offer big flavor without requiring you to bring a container for each individual spice you need. A cutting board provides a prep area for food, and antibacterial wipes are helpful if you plan to handle raw meat in your cab.
Truck stops often have kitchen appliances that you can use, which can increase your dinner options, too. With the right cooking equipment, you'll be whipping up overnight oats, taco salads, and barbecue chicken in no time.
Working Out on the Road
Fitting in some exercise is probably the last thing you're thinking about in a truck stop parking lot. You're not alone. The recommended workouts and exercises for long-haul truckers can be impractical. Since it's so difficult to squeeze in exercise, your best bet is to do whatever physical activity feels right for you whenever you can fit it in. Anything that gets you moving is great. Even 15 minutes a day can benefit your health. Try these activities at your next stop:
Push-ups
Planks
Crunches
Running
Walking
Hiking
Jumping Jacks
Burpees
Jumping Rope
These are just a few ideas, and any activity that gets your heart rate up will benefit your health. You can also look for truck stops that have gyms or nearby trails or parks.
You have equipment for monitoring nearly every aspect of your truck. Why not use equipment for monitoring your health? Fitness trackers and pedometers can be helpful tools that keep you tuned in to your health. They can monitor your activity levels, sleep quality, and other health factors that provide you with health data and remind you to pay attention to your health.
Mental Health on the Road
Your mental health also needs attention if you want to stick with the trucking profession. Driving all day is stressful, especially if you have a deadline you need to meet. It can also be isolating, though cell phones have made it easier to keep in touch with family.
Some people find that listening to podcasts or audiobooks while they drive can help them keep their minds active and even help them focus better on driving. Once you're settled in for the night, make time for calls with friends and family, and choose activities that help you relax, such as drawing, reading, or doing crossword puzzles.
Vegging out to whatever show you're binging is fun but may not be the best activity for helping you unwind. Whenever you can, invite a good friend along to keep you company.
Staying Safe on and off the Road
Long-haul drivers have to be mindful of dangers on and off the road. Once they pull off the highway, their focus shifts from accidents to crime. Sadly, truck stops can be dangerous places. From hit-and-run accidents committed by other truckers to robberies, you have to remain vigilant. Here are some tips to keep you safe:
Don't let anyone know what you're hauling.
Park in areas with good lighting.
Always keep your truck locked even when you're inside it.
If there's any chance of ice in the parking lot, wear winter boots with good traction.
Consider getting a dashcam to catch any attempts to break into your truck or hit-and-run accidents.
Park in spots that are less likely to get clipped by speeding trucks.
You can read more about our long-haul truckers' list of tips and tricks for staying safe at truck stops.
At LubeZone, we care about truckers and want them to stay healthy and safe on their next haul and beyond. We know your truck keeps you safe and want to help you keep your truck functioning at optimal levels. That starts with regular preventive maintenance. Stop by one of our conveniently located LubeZone Truck Lube Centers for fast service of your semi-truck today! No appointment necessary!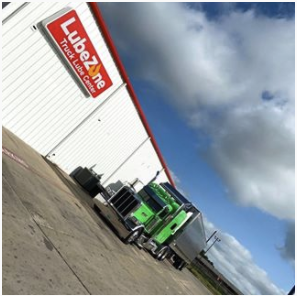 LubeZone is the fastest growing dedicated semi-truck service in the United States with locations in Texas, California, Oklahoma, North Carolina and Georgia. Our preventative maintenance solutions are designed to get the professional driver back on the road FAST.