Semi-Truck Oil Change Near You
Contact Us Today – No Appointment Necessary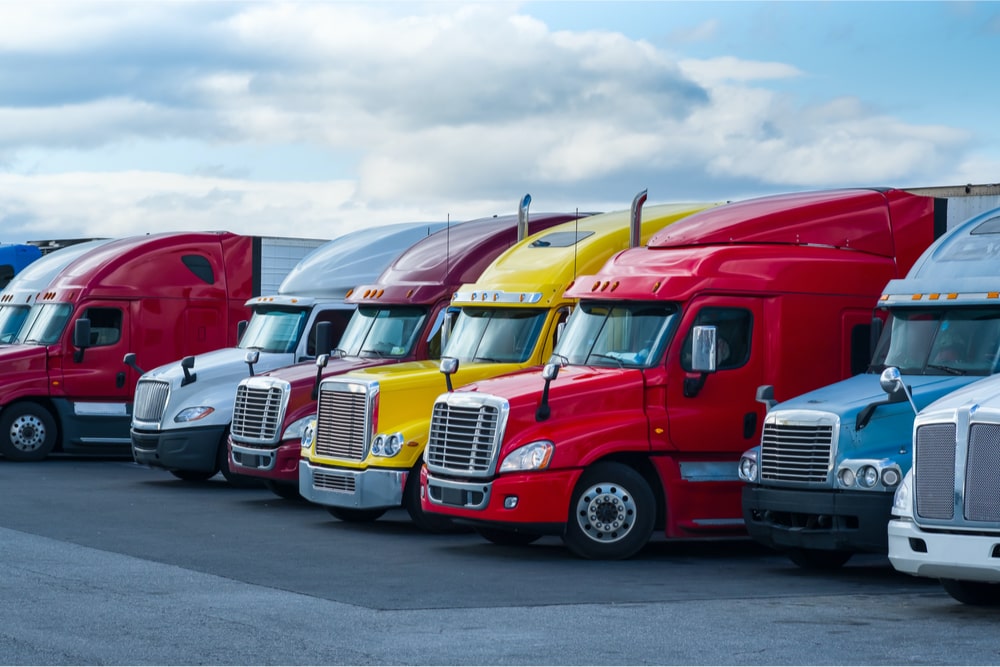 If you're searching for "the best truck oil change near me" LubeZone Truck Lube Center is the place to go. We offer full oil change services for semi-trucks in just 30 to 40 minutes at affordable prices. With eleven locations across four states, directly off major highways and near convenient truck stops, look no further for truck lube service near you.
Oil Change Intervals
As a semi-truck driver or fleet owner, you know that your truck requires regular maintenance with frequent oil changes to keep going. Experts recommend changing your oil every 25,000 miles. Since you're on the road a lot, this can mean stopping into a truck lube service near you quite often.
When you come into LubeZone Truck Lube Center, you can get the quickest and best quality service there is. Since we perform full-service semi-truck oil changes you can be sure that you'll get the most for your miles. By using the best filters and the best-known brands of oil and lubrication you can extend the time needed between changes when you visit LubeZone.
The Importance of Regular Oil Changes In Your Semi-Truck
As a trucker, you know how important it is to keep up with preventative maintenance to keep your truck running smoothly. If you unexpectedly have to come off the road for repairs that could have been avoided through routine maintenance, it's going to cost you lots of time — and time is money. Getting regular oil changes is one part of preventative maintenance that will help protect your engine.
As an engine runs, it picks up sludge and particles that make their way into the engine oil. When you get an oil change, those particles are being removed from the engine, protecting sensitive moving parts and cutting down on friction. If you have been running your semi-truck in dusty, dry, or harsh conditions, the 25,000-mile rule of thumb for oil changes may be too long since your oil may have accumulated a lot of debris by 10,000 miles.
The Role of Oil in Engine Performance
The oil in your engine keeps it running smoothly by providing lubrication between moving parts. This lubrication reduces friction, makes sure that there is minimal loss of power, and helps dissipate heat while reducing heat buildup through friction. When your engine is oiled properly, your fuel usage will be more efficient.
The oil also acts as a cleaner by helping remove sludge, dust, dirt, and particles away from the engine. When you get an oil change, the oil that pours from the pan is much darker than the fresh oil added in — this is because of all of that debris that makes its way into the internal system.
Oil also coats different smooth surfaces in the engine, creating a seal and protecting it from the effects of oxygen, water, and other common elements that can wreak havoc on exposed pieces of internal mechanics.
Brands of Lubricants
We only use the best quality products and lubricants for our semi-truck oil change services. We use top name-brands and also offer a selection of specific products under each brand umbrella.
Lubricant brands at LubeZone Truck Lube Center include:
Shell
Chevron
Mobil
Lucas
Mystic
And more
If you are looking for a specific brand of lubricant, or require a specific type, give us a call ahead of time and our friendly technicians will be happy to let you know if we have it in stock.
Options in Service
If you're looking for a truck oil change near you, you may be thinking about other preventative maintenance that you need or will need soon in the future. LubeZone Truck Lube Center performs more than just truck lube service.
We also provide service for special duty filters, such as power steering filters, crank case ventilation filters, air dryer filters, hydraulic filters, and more. We check all your check plugs and drain plugs, torquing them to each manufacturer's specifications using calibrated equipment and we also offer tractor and trailer grease.
During a full PM service you will receive front hub oil, washer fluid, coolant, transmission and differentials fluid, air filter and cabin air filter checks, and more. Select locations also offer Department of Transportation inspections by certified State Inspectors.
Full Oil Analysis
And, if you're looking for a comprehensive analysis of your oil to provide you with a bigger picture of how well your engine is functioning, inquire about our full oil analysis service that checks for wear metals, contaminants, viscosity, flash point, and more.
LubeZone Truck Lube Center Locations
With eleven locations across California, Texas, Georgia, and Oklahoma, if you're looking for a semi-truck oil change location, stop by one of our centers.
Contact Us Today – No Appointment Necessary
Locations include:
Texas:

Sweetwater
Odessa
Amarillo
Brookshire
Laredo
Baytown
Our locations have extended hours and no appointment is necessary. We work on your schedule. Stop by one of our locations when it's convenient for you.
Customer Reviews & Testimonials
Curious to hear what other semi-truck drivers are saying about LubeZone Truck Lube Centers? Check out the testimonials below and then come on by and let us know what you think!
"Professional service done right and fast…I take all my fleet there for services." – Mauricio N.
"The only place I service my truck in West Texas. They are reasonably priced and great at what they do." – Richard P.
"These people are very knowledgable, professional, and quick. They get you in and out fast with a great service for your big truck. The price is great too." –Johan C.
"Excellent and professional service on my semis, I will definitely return…" –Canadian R.
"They are the best at what they do. I couldn't ask for a better place." – Rick D.