The Best Truck Driver Music: Every Song For Your Playlist
May 5, 2021
Truck Driver Lifestyle Guide
May 12, 2021
What's better after a long day on the road than a hot meal, some well-deserved rest, and of course a good laugh over truck driver memes that everyone in our line of business can relate to? If you ask us, that sounds like the epitome of a great way to wind down an evening before hitting the road again in the morning.
At LubeZone Truck Lube Center, our customer base consists entirely of drivers, owner-operators, fleet managers, and others in the semi-truck industry. That means not only can we relate to all things "truck" but also that we enjoy sharing content that brings a smile to the faces of those we interact with every day.
However, we also know that truck driver memes are pretty niche content. You might spot some good ones in semi-driver social media groups you follow, or maybe a fellow trucker will shoot you a text with a funny driver meme. We went looking all over the internet, high and low, for the best truck driver memes out there so that we can bring them straight to one screen.
Check out these 10 truck driver memes that we relate to all too well.
1) Oh, You Wanna Merge?!
We all know the struggle of watching a passenger vehicle try to get onto a major highway. We're all about safe trucking and respect on the road, but sometimes watching other drivers can be flat-out painful. Gotta give 'em a quick warning to let them know you're coming, are we right?!
2) It's All about the CDL
If you're a long-haul trucker you know that having your CDL makes all the difference in regard to what jobs you can get and, most importantly, how much you get paid. Every prospective driver is after that highly sought-after Commercial Driver's License (CDL). This is what happens when you just can't pass the test!
3) We Need a Little More Warning
You know what's worse than realizing a bridge is out? Realizing a bridge is out when you're driving a semi-truck, having to turn the big rig around and find an alternate route. For real, sometimes it seems like they always wait until we're one mile away.
4) They Think They Have It Rough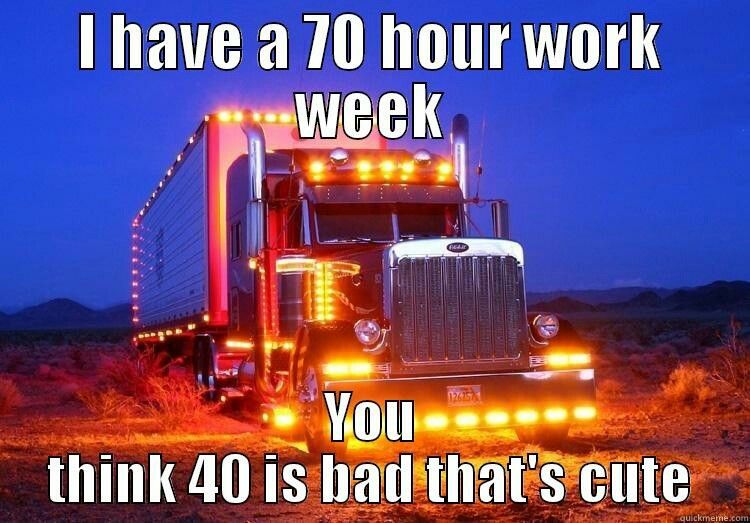 You don't know the grueling hours of a full-time job until you've worked a trucker's schedule. Long days on the road, away from home for what can be weeks on end, driving until the wee hours–that's the life of a semi-driver. 40 hours?! How do we get that light schedule?!
5) We Do It for the Kids
So, you're stuck in a horrible traffic jam, you're probably going to be late to your next stop, and of course you're tired and hungry. We hear ya. But, you're also next to a school bus full of kids asking you to honk the horn. So, what do you do? You honk the horn of course. Their smiles are totally worth it, and hey, we remember those days like they were yesterday.
6) JK, Dispatch
Man, do we sometimes have a love-hate relationship with our dispatchers. They're an integral part of operations but sometimes it's like "Can you see what I'm dealing with out here?!" Are we right?!
7) Ah, the Life
Well, none of them are really wrong! But when it comes down to it, it sure can seem like the majority of our time on the road is spent sitting in traffic, looking at the rear bumpers of other cars, counting down the miles 'til the next exit or that marker that GPS says the traffic clears up. I wonder how many hours we spend sitting in traffic jams every year?!
8) Hopefully Retirement Looks Like This
Okay, just kidding, we know you can't really turn a semi into a pontoon boat. Or, can you? Whoever put this guy together has some serious dedication to the profession and honestly, we're here for it.
9) Not to Toot Our Own Horns, But…
Everyone knows that truck drivers are the best-looking profession there is out there…right?! After all, it's a hard job, but someone has to do it. I guess we'll be the ones to do the tough jobs.
10) Clearly, We Have the Superior Vehicles
How come whenever you start a conversation with a pick-up truck driver they have to tell you what their tow-weight is? Dude, this is a semi, it can out pull you any day! But hey, lots of us have killer pick-ups waiting for us at home in the driveway so we can't hate on them too much.
LubeZone Truck Lube Center: Stop by Today
If you're looking for more information on locations and services available at LubeZone Truck Lube Center, use our handy truck driver contact form today. We offer speedy, efficient, and professional preventative maintenance exclusively for semi-trucks. Whether you're a driver, employee, owner-operator, or fleet manager, we can take care of all of your vehicles and have you ready to hit the road again in no time at all.
We never require an appointment and have extended operating hours for your convenience. Additionally, we offer services including oil changes, oil analysis, air filter replacement, tire checks, tractor and trailer grease, DOT inspections, and more. In fact, we can complete a full-service oil change in just 30 to 40 minutes to get you back to truckin'.
Stop by your nearest LubeZone Truck Lube Center location today. And hey, be sure to show us your favorite trucker meme on your next visit. We're always looking to add some good ones to our collection.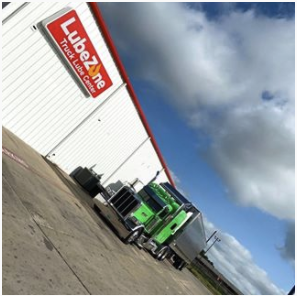 LubeZone is the fastest growing dedicated semi-truck service in the United States with locations in Texas, California, Oklahoma, North Carolina and Georgia. Our preventative maintenance solutions are designed to get the professional driver back on the road FAST.