8 Things to Do in Acampo, California
April 2, 2021
10 Truck Driver Memes We Understand Too Well
May 7, 2021
As a long-distance truck driver, music is likely a large part of what gets you through those never-ending stretches of highway, passing fields, and traffic jams. The best trucker songs are those that speak to your profession, the love you have for your ride and the road, as well as those that inspire you. The melodies can keep you company when you're far away from loved ones on the job and the energetic beats can motivate you to push through those grueling slumps every driver undoubtedly faces from time to time.
Here at LubeZone Truck Lube Center, not only do we focus on providing the best semi-truck services, such as oil changes, oil analysis, tractor and trailer grease, tire checks, and DOT inspections, but we also seek to serve as a resource to every truck driver out there. We see countless truck drivers each day as they pass through our bays completing preventative maintenance so they can hit the road again FAST.
While we can get a full-service oil change done in just 30 to 40 minutes with no appointment necessary, the impressions that our valued customers make on us last forever. One thing that always makes us smile is the tunes coming out of each truck cab. Truck drivers' styles vary greatly from person to person, but the best truck driver music is timeless and spans all demographics.
That's why we put together the ultimate truck driving songs playlist. If you're out on the road right now, or are getting ready for your next route, be sure to check out these awesome additions to your music rotation. Additionally, if you're more of a podcast listener make sure to give our list of truck-inspired podcasts a quick listen while you're driving.
Here are 50 truck driver songs to listen to today.
Truck Drivin' Songs Playlist
Six Days On the Road by Dave Duddley (1964)
Convoy by CW McCall (1975)
Eighteen Wheels and a Dozen Roses by Kathy Mattea (1987)
East Bound and Down by Jerry Reed (1977)
Give Me 40 Acres by The Willis Brothers (1999)
Phantom 309 by Red Sovine (1967)
Girl On the Billboard by Del Reeves (1965)
Truck Driver's Prayer by Red Sovine (1969)
I'm a Road Hammer by The Road Hammers (2005)
Truckin' by The Grateful Dead (1970)
I've Been Everywhere by Johnny Cash (1996)
Big Wheels in the Moonlight by Dan Seals (1988)
Nitro Express by Junior Brown (1966)
Truck Drivin Son of a Gun by Dave Dudley (1965)
Truck Driver's Blues by Merle Haggard (1996)
Asphalt Cowboy by Jason Aldean (2006)
Prisoner of the Highway by Ronnie Milsap (1984)
White Line Fever by Merle Haggard (1968)
Roll On Big Mama by Joe Stampley (1995)
Little Pink Mack by Kay Adams (1966)
I'm a Truck by Red Simpson (2012)
Brothers of the Highway by Tony Justice (2016)
Radar Blues by Coleman Wilson (1987)
That's Truck Drivin' by Slim Jacobs (1987)
A Man With 18 Wheels by Lee Ann Womack (1997)
A Tombstone Every Mile by Dick Curless (1965)
Passing Zone Blues by Coleman Wilson (1986)
Truck Driver's Queen by Moore & Napier (2009)
Truckin' Song by Pure Grain (2009)
Freightliner Fever by Dave Dudley (1965)
Diesel Smoke, Dangerous Curves by Red Simpson (1967)
Endless Black Ribbon by Tiny Harris (1986)
Going to California by Led Zeppelin (1971)
Born to Run by Bruce Springsteen (1975)
Sweet Home Alabama by Lynyrd Skynyrd (1974)
Life Is a Highway by Tom Cochrane (1991)
Runnin' Down a Dream by Tom Petty (1989)
Start Me Up by The Rolling Stones (1981)
Roll On (Eighteen Wheeler) by Alabama (1984)
Take Me Home, Country Roads by John Denver (1971)
Mack by Bob Wayne (2004)
Blue Highway by John Conlee (1985)
Livin' On the Edge by Aerosmith (1993)
Simple Man by Lynyrd Skynyrd (1973)
Bad Moon Rising by Creedence Clearwater Revival (1969)
Highway Junkie by Gary Allan (1998)
Midnight Rider by The Allman Brothers Band (1971)
Roadhouse Blues by The Doors (1970)
Highway to Hell by AC/DC (1979)
Life in the Fast Lane by The Eagles (1977)
Truck Driving Podcasts
If you're looking for another listening format to pass the time, check out this list of 8 podcasts just for truckers, recommended by others in the line of work.
Talk CDL Trucking Podcast
The Oakley Podcast | Trucking, Business & Family
Big Rig Banter
Red Eye Radio
Trucking After Hours
Trucker Dump
The Lead Pedal Podcast for Truck Drivers
Alice Isn't Dead
Come On Into LubeZone Today
If you're out on the road, you'll probably need to stop for an oil change and tire check sooner or later. When you need fast, efficient, and professional preventative maintenance for your semi-truck, come right on in to LubeZone Truck Lube Center. There's never any appointment necessary and we have extended service hours for your convenience.
Let us know what truck driver songs or podcasts you've been listening to lately, and if there are any additional items we should add to our list! We know that it can get tiring when you're out on the road. Being in the trucking industry ourselves we know how it is and want to give every driver the resources they need to make the most of their miles. Come on into LubeZone soon and take a load off in our waiting lounge while we work on your ride!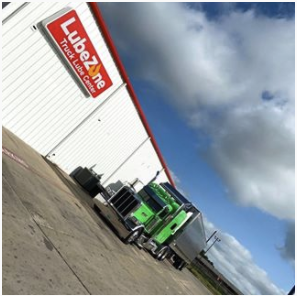 LubeZone is the fastest growing dedicated semi-truck service in the United States with locations in Texas, California, Oklahoma, North Carolina and Georgia. Our preventative maintenance solutions are designed to get the professional driver back on the road FAST.