Surviving Life On the Road
March 1, 2021
The Best Truck Driver Music: Every Song For Your Playlist
May 5, 2021
If you're looking for Acampo activities that will help you pass an afternoon or weekend while you're in the area, you're in the right place. As home to one of the many LubeZone Truck Lube Centers nationwide, we are well familiar with the area and spend quite a bit of time here ourselves. Many of our employees call Acampo, California home and this is a town that is near and dear to us for many reasons.
A small municipality located in the heart of Central California, Acampo is home to less than 400 residents. A former stop along the Southern Pacific Railroad system, it has a rich history dating back to the 1870s when the West began to boom in America. Today, Acampo, California retains a classic Spanish-influence and charm in what many have come to know as "Wine Country USA."
Here are our 8 favorite Acampo activities. Next time you're in town, whether it be for a truck oil change or for a day trip, make sure you check out these popular locations.
1. Visit Local Vineyards
If there's one thing there is no shortage of in Acampo, California, it's wineries and vineyards. Stop by on an afternoon to complete a wine tasting, see the beautiful scenery, and try some small bites of delicious food. Many of the locals hold annual memberships, which is always a great sign.
Some of our favorites include Macchia Wines in neighboring Lodi, Woodbridge Winery right here in Acampo, and Viaggio Estate and Winery.
2. Spend a Day at the Park
Located just 15 minutes outside of Acampo, California in nearby Lodi is the Micke Grove Regional Park. The park is home to quite a few notable attractions including a zoo that spans 5 acres and has been in operation since 1957. It's a local favorite if you're looking to spend the weekend with the kids and make a day out of it. At the park you will also find a serene Japanese Garden complete with koi ponds, a small amusement park with several rides, a frisbee golf course, a spacious picnic area, and the San Joaquin Historical Museum.
3. Go Sky Diving
That's right, if you're looking to experience a major adrenaline rush Acampo, California has just the activity for you. With so much open space there is ample room for daredevil activities like sky diving, and local businesses are taking notice. There's not one, but two, sky diving facilities located in the town.
For Acampo activities you'll never forget, visit Parachute Center or nearby Lodi Sky Dive. Pick from packages that include pictures of the day featuring some of the most scenic sky diving adventures in the entire world.
4. Venture Into the Caverns
When you're looking for Acampo activities that are physical and outdoorsy yet you don't want to spend a day in the sun, take a trip to one of the several nearby caverns. Venture deep underground to get an up-close view of the stalagmites and stalactites; if you're not sure what we're talking about don't worry because a tour guide will explain it all.
There are a few deep caverns located in the vicinity of Acampo, California, so you can visit your venue of choice. Our favorites include Black Chasm Caverns located just 60 minutes East in Volcano, California and Moaning Caverns Adventure Park in Vallecito, California.
5. Walk the Trails
If nature is your thing, one of the top Acampo activities is definitely walking the trails at Lodi Lake Wilderness Area. Whether you're looking to go for a scenic bike ride along the paved trails or want to rough it a little more with a walk along the dirt paths, there's something for everyone.
Go fishing, check out the local wildlife, or go for a swim in a designated area. There are even grills stationed at points throughout the refuge so you can plan a great family BBQ.
6. Watersport Rentals and Lessons
If you're headed to the lake for a day, be sure to check out a local Watersport rental and lesson facility, such as Explore Stand Up Paddle Company in Lodi. Rent various types of paddleboards, inflatable kayaks, and more and spend a day soaking up the sun out on the water.
7. Play a Round of Golf
Another great way to spend some time outside, Woodbridge Golf and Country Club is just five minutes outside of Acampo, California. If you're looking to play a full 18 holes, this is the spot for you. Complete with PGA staff, a fully stocked Pro Shop, putting & chipping green, three different 9-hole combinations, a driving range, cafe, clubhouse, and bar, it's the ultimate package for golf lovers.
The course is open to the public for a fee, but be sure to call ahead to book a tee time and to ask about the dress code.
8. Try the Local Cuisine & Food Trucks
Acampo, California is a town with a heavy Spanish influence, so be sure to check out the excellent local cuisine. There are countless nearby restaurants and food trucks featuring amazing and authentic Mexican food, as well as several great steak houses, pizzerias, bars and lounges.
A few of our favorites include Tacos Morelia on Acampo Road, Mel's Dive In on CA-99, Peńas Taqueria on CA-99, nearby Woodbridge Inn Steakhouse, the Rosewood Bar and Grill, and Oddfellows Tavern.
Visiting Acampo, California
Countless people pass through Acampo, California every year, whether it be for business or pleasure. However, one thing is certain. There is a vast beauty in the area, with endless wine vineyards and farms stretching out in seemingly all directions. Known for beautiful sunsets, friendly locals, and a close-knit small-town feel, Acampo is a favorite stop for many.
Be sure to check out the many Acampo activities, both free and paid, that are available to residents and visitors, and come visit our friendly staff at the Acampo LubeZone location for your semi-truck service needs.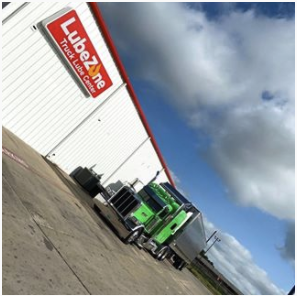 LubeZone is the fastest growing dedicated semi-truck service in the United States with locations in Texas, California, Oklahoma, North Carolina and Georgia. Our preventative maintenance solutions are designed to get the professional driver back on the road FAST.