Truck driver life is a life that is like no other. As a driver your day may consist of many different things, including prepping and preparing your semi-truck, stocking up on supplies for the road, taking care of vital truck maintenance, and finding appropriate spots to pull over and rest. And, of course, a huge part of truck driver life is ensuring that you hit your mileage goals and get your vehicle to the next scheduled location. However, there are lots of unforeseen events that can happen when you are out on the road. Flat tires and blowouts, traffic jams, and inclement weather can all play a role in slowing you down.
Here at LubeZone Truck Lube Center, we know that you simply can't have these delays when you're trying to get to the next spot. That's why we're making sure that fast is back and you can receive a full-service oil change in under an hour and get right back to truck driver life. We also know that it is essential to find the best life hacks for surviving long hours on the road, and we're here to share with you a few expert tips that our professionals swear by.
An Average Day in Truck Driver Life
When you're on the road, we know that your life doesn't look like the average American's. It's possible that you wake up either in your truck cab or possibly at a roadside hotel or sleep area. Next, maybe you grab a shower either in your room or at the closest truck stop, inspect your semi-truck to make sure everything is good to go, and then hit the road.
You likely begin to plan your day based on whether or not you will be delivering cargo, picking up a load, or continuing on to your destination. The Interstate Truck Driver's Guide to Hours of Service says you can work for 14 consecutive hours only after 10 full hours of rest, and only 11 of those 14 hours may be spent actively driving. The remaining three are most likely spent conducting semi-truck maintenance, such as routine oil changes and tire checks, taking a bathroom break, or grabbing a bite to eat at the local truck stop.
Tips for Surviving the Road
It's no secret that truck driver life comes with long hours–sometimes as many as 70 hours of work every eight days. But that's okay, we know that drivers love what they do and that your heart is with the open highway. However, that doesn't mean that you don't need a few tips now and then to really make the most of all those miles and to maintain a level of comfort along the way.
1. Create a Hygiene Kit
Part of truck driver life includes using showers at rest stops, and sometimes those showers are in less-than-ideal condition. Make a hygiene kit to bring with you into the shower for a safer and more enjoyable experience.
Pack items including:
Sandals or flip flops for the shower
Your own stash of toilet paper
Disinfectant wipes
A shower caddy with all of your toiletries
2. Bring Essential Sleep Gear
Many truck drivers choose to sleep in their cabs, instead of paying for costly hotel or motel rooms that require them to leave their big rig behind. Make sure your sleep space is comfortable, and don't forget to bring items such as earplugs (it can get loud on the road), a good pillow, and a sleeping bag (many drivers find sleeping bags to be easier and more convenient on the road).
3. Find Full Service Truck Stops
There's nothing worse than pulling off the highway and into the closest rest stop only to realize that the location doesn't have everything you need. The chances are that if you are stopping on the road, you will need to refuel, eat, use the bathroom, and possibly take care of a few small errands such as grabbing extra supplies from a local superstore.
Luckily, there are truck stops that have all of these facilities in one convenient location, or at least within a short walking distance from the main stopping point. Make it a habit to stop at these full-service locations rather than driving your semi-truck around town trying to find multiple individual spots.
4. Make Semi-Truck Maintenance Fast
Semi-trucks need fairly frequent maintenance, including services such as oil changes, tire checks, tractor and trailer grease, inspections, and more. Since time is money when you're on the road, you'll want to find a full-service semi-truck maintenance location that can accommodate you quickly and precisely when you need it.
LubeZone Truck Lube Center is exactly the spot to visit. There is no appointment necessary, so you can come on in to your nearest location whenever it is most convenient for you. We'll get you in and out the door in just 40 minutes so you can get back on the road again and make your miles.
Come into LubeZone Today
Fast, convenient, and reasonably priced service is the cornerstone of truck driver life. We know that drivers are always looking to get things done as quickly as possible, as efficiently as possible, and with the best possible service. That is precisely what we offer every driver who comes through the doors at LubeZone Truck Lube Center.
When you need your next oil change on the road, come on in and join the LubeZone family. Additionally, if you're not a member already, be sure to sign up for LubeZone Rewards and start earning real cash back on every purchase at any of our locations nationwide.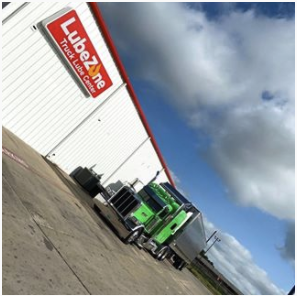 LubeZone is the fastest growing dedicated semi-truck service in the United States with locations in Texas, California, Oklahoma and Georgia. Our preventative maintenance solutions are designed to get the professional driver back on the road FAST.