How to Change Semi-Truck Oil
August 14, 2020
What does a full-service oil change include? At LubeZone Truck Lube Center we provide full oil changes for semi-trucks in just 30 to 40 minutes so you can keep on moving, without sacrificing the quality of service. If you're looking for a semi-truck oil change near you, stop into one of our eleven locations. And, if you're wondering what happens during an oil change here at LubeZone Truck Lube Centers, keep reading. We cover much more than just the basics to keep your semi-truck running at it's absolute best.
What Happens During an Oil Change
At LubeZone Truck Lube Center we work with most major engine manufacturers and carry a wide selection of oil brands to choose from. Let us know what brand you prefer when you come in, as well as if you have a preference or requirement for a specific filter brand.
A full-service oil change includes much more than simply draining your old oil out into a pan, swapping your filter, and giving you new oil. We go above and beyond with our full packages to ensure that your truck stays in top condition. Because we know that you have places to go and a schedule that you need to stick to.
Step One: Drain the Oil
First, our expert technicians will either lift your truck or bring it over a pit so that they can properly drain the oil. Since semi-trucks hold much more motor oil than cars, they need a lot more space to do this. There can be many gallons of oil in a semi-truck. We use a wrench to remove the oil drain plug directly over a vat or barrel and then drain the oil.
Step Two: Remove the Oil Filter
Next, our friendly technicians will remove your old oil filter. Every time you get your oil changed you need to have your filter replaced as well. We will discard the old filter in a safe manner.
Step Three: Refill the Oil and Replace the Oil Filter
After we successfully drain the old oil from your semi-truck and remove the old filter, we will put the oil pan back into the proper place. We will insert the new oil filter and put new oil in your truck, ensuring that everything meets your manufacturer's specifications.
We make sure to lubricate the gasket on the new filter before putting it in place and prime the filter with the necessary amount of oil. Additionally, before we put the new filter on we ensure that all surrounding components are clean and free of old, dirty oil. We ensure that your oil gauge reads properly and check that there are no leaks before you leave.
The Importance of Regular Oil Changes
When considering what happens during an oil change, it's important to know why regular oil changes are so essential to the health of your semi-truck. Having a well-oiled engine prevents wear and tear on all the different components. As your engine moves, parts cause friction against one another. When not properly lubricated, these parts can begin to break down.
This can lead to unexpected stops on the road and costly repairs. Having your oil changed regularly is vital to protecting your truck. It can extend the life of your vehicle, helping you get as many miles out of it as possible. This means that you can take more jobs, hit more routes, and make more money without losing time to your semi-truck being out of commission. And here at LubeZone Truck Lube Centers, we know that in this industry time and money are everything.
Additional Services
In addition to replacing your oil and oil filter, when you get a full-service oil change at LubeZone Truck Lube Centers we provide many other services that help keep your truck running smoothly. We have an Advanced Quality Control program that ensures your semi-truck is checked twice before heading out the door–once by a crew member and once by a Crew Chief.
When you receive a full-service oil change from LubeZone Truck Lube Centers you can expect:
Tractor greasing services
Washer fluid check and refill
Coolant level check (filling is additional)
Transmission and differentials fluids check (filling is additional)
Air filter and cabin air filters
Power steering check
We also service a variety of special duty filters, including:
Crankcase ventilation filters
Power steering filters
Air dryer filters
DEF fluid filters (but not DEF filters themselves)
Hydraulic filters
As you can see, when you come into LubeZone Truck Lube Centers for a full-service oil change, you can receive many more services that keep your truck going strong. Preventative maintenance is the key to keeping your truck going as long as possible, and when your truck is in its best condition it is more fuel-efficient, which can save you quite a few bucks on the road.
Additionally, inquire about our full oil analysis service. We can take a sample of your oil and check for wear metals, pollutants, and contaminants to provide you with a bigger picture of how well your engine is doing.
What Does a Full-Service Oil Change Include?
At LubeZone Truck Lube Centers, full-service oil changes include quite a lot! We make sure that you get the most bang for your buck, in the shortest amount of time, with the friendliest expert service around. Whether you drive for a company and need to stop along your route or own your own fleet of semi-trucks, we can provide the preventative maintenance you need.
The best part about LubeZone Truck Lube Center is that you'll never get stuck waiting behind a driver who's having major repairs, changing out their tires, or anything else. We stick with fast PM service to get our drivers back on the road as soon as possible. We know your time is valuable and we respect that.
LubeZone Rewards
If all of these incentives aren't enough to bring you into LubeZone Truck Lube Center, we have one more item on the list that's sure to get you excited. When you receive a full-service oil change, or any other service, at our locations you can sign up for LubeZone Rewards.
LubeZone Rewards isn't like your typical points program. We don't do points at all. Our rewards give you real cash back on your purchases. We're continuously running bonus promotions, too, that put even more money back in your pocket.
Come into LubeZone Truck Lube Centers Today
What happens during an oil change at LubeZone Truck Lube Centers? A lot. But what's even more important is what doesn't happen. You don't get stuck in long lines, waiting for hours on end. You just get speedy, high-quality service. Best of all, there's no appointment necessary. Roll on through whenever is convenient for you and we're standing by ready to service your semi-truck!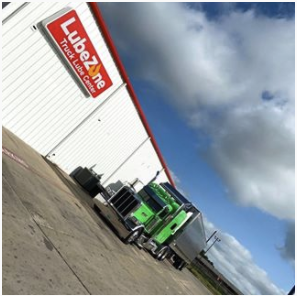 LubeZone is the fastest growing dedicated semi-truck service in the United States with locations in Texas, California, Oklahoma, North Carolina and Georgia. Our preventative maintenance solutions are designed to get the professional driver back on the road FAST.