Top 10 Tips for Women in Trucking
November 2, 2022
The Benefits of Owner-Operator vs Company Drivers
November 16, 2022
There are a lot of GPS devices on the market, but not all of them are suited for truck drivers. The best GPS for truck drivers needs to handle long-haul driving demands, including routing around heavy traffic and finding suitable parking spaces.
There are a few different things to consider when you are looking into a GPS for trucking, as well. Do you want to have a standalone device that lives on your dashboard, or would you prefer to use your smartphone? There are a few pros and cons to both of these options, which we will discuss below as well.
When it comes to how we determined the best GPS options for truckers in 2022, there were a few criteria that we decided were non-negotiable:
Brand Recognition: There are plenty of no-name GPS units floating around on the internet for dirt cheap, but as with anything, you get what you pay for.
Customer Ratings: Even the biggest names in navigation come out with a dud sometimes, so it takes a bit more than just a fancy name to make this list.
Installation: There are a lot of different accessories that come with trucker GPS systems, and some are more complicated to install than others. This isn't our top selection criteria since a lot of these accessories are very helpful, but it's still worth considering.
Ease Of Use: The last thing you want to be doing while on the road is trying to get your GPS to respond to your touch. Simple user interfaces and responsive touchscreens are important benefits, and we made sure to consider both for this list.
Options: Things like fuel price tracking, traffic rerouting, tasty restaurants, and truck stop information are all nice to have, but we'll leave it up to you to decide which are necessary and which you don't care too much about.
With all of that in mind, take a look at our list of the best GPS units for truckers in 2022. If you need help choosing, or have a suggestion based on your own experience, let us know in the comments!
Best Overall Trucking GPS: Garmin dēzl OTR700
Runner Up Trucking GPS: Rand McNally TND750
Best Budget Trucking GPS: TomTom Trucker 620
Best High-End Trucking GPS: Garmin dezlCam 785 LMT-S
Garmin dēzl™ OTR700
In our opinion, the Garmin dēzl 700 is a home run. With a 7″ high-resolution touchscreen, custom truck routing based on size and weight, bridge heights and dangerous curve warnings, truck-friendly parking information, Truck & Trailer Service directory, and more, this GPS provides the best load-to-dock guidance in the industry. It also includes popular truck routes that are helpful in unfamiliar areas, helps plan breaks with notifications, and has an exceptional voice assistant to keep you hands-free.
It also works with the Garmin eLog, a compliant Electronic Logging Device, for recording your Hours of Service, which can help save you time and money once spent filling out paper logs.
What's more, if you pair this unit with your smartphone using the Garmin Drive app, you will get access to live traffic updates, weather forecasts, and real-time fuel pricing along your route.
If you're looking for the best GPS on the market with all of the bells and whistles, look no further than the dēzl 700. It's no surprise that this is the #1 option in Trucking GPS Units on Amazon.
Rand McNally TND750 IntelliRoute® Truck GPS
The Rand McNally TND750 is a great option for those who are looking for a high-quality GPS unit for a smaller price tag than the dēzl, this Rand McNally GPS is for you. Powered by a hexa-core processor, the huge display and sharp graphics are both responsive and smooth — dealing with lagging responses are a thing of the past.
With this device, you'll get the same size screen as the dēzl at 7″ and the exceptional Rand Navigation 2.0 software that will allow you to customize your routes based on your truck's size and weight, as well as other perks like fuel prices, traffic updates, and weather overlays on your navigation map. The updated 2.0 software can also provide you with a 3D view of buildings and landmarks that can help you keep your bearings while driving in an unfamiliar area.
Furthermore, you can track your mileage and fuel to keep tabs on your expenses, monitor your productivity, and enjoy other business organizational tools with the Virtual Dashboard. As with the Garmin, you can pair this device with a Rand McNally ELD to keep track of your Hours of Service logs without relying on pen and paper.
Rand McNally has done an exceptional job with over-the-air updates, Bluetooth connectivity, and a clean, modern interface that is easy to use and simple to read. What's more, the magnetic mount will keep the device secure on even the bumpiest of roads.
TomTom Trucker 620 6-Inch
If you aren't too worried about losing an inch of screen, the TomTom Trucker 620 offers lifetime maps, real-time traffic updates, and lots of preloaded points of interest. This device is also great because it has exceptional smartphone compatibility, and even lets you pre-plan your routes using a tablet, laptop, or your phone.
This device is compatible with both Siri and Google Now, making hands-free calling and texting an easy option for improved safety, and you can even have the device read your text messages out loud.
The two main drawbacks, from our perspective, is the smaller screen and the fact that this device takes a few more steps to get up and running if you plan to use it with other devices. But if you are tech-savvy and don't need a massive screen, you can save some money and still get an exceptional trucking GPS.
The touchscreen is very responsive, and TomTom is a well-regarded company in the GPS world, but in all honesty this wouldn't be our first choice. For truckers on a budget that don't mind some minor inconveniences when it comes out of the box, though, this is a very serviceable GPS that will get you where you need to go.
Check out the latest prices for the TomTom Trucker 620 here.
Garmin dezlCam 785 LMT-S
If budget isn't an issue and you want a heavy-duty GPS with all of the bells and whistles, the Garmin dezlCam 785 LMT-S is the way to go. This top-of-the-line trucking GPS comes with a built-in dash cam that will automatically record your surroundings as you drive — no more fumbling for your phone or trying to prove the cause of a crash after an accident.
In addition to the exceptional camera, you'll get all of the features that you've come to expect from a high-end Garmin GPS, like a 7″ glass display, free lifetime map updates, real-time traffic alerts, and custom routing for truck size and weight. The dezlCam also has a MicroSD slot (and a MicroSD card included in the bundle) for exporting videos with ease. Also, you get the Full Garmin USA Warranty and the quality that truckers have come to expect from this well-known and much respected industry giant.
Mounting the device is easy, too, with a suction cup mount and a magnetic mount for easy removal and replacement if you don't want to leave your high-end GPS sitting in your windshield when you aren't in the truck.
The only downsides to this device are the price tag and the fact that it can take a bit of playing with the understand how to use the camera. But if you want the best of the best, the Garmin dezlCam 785 LMT is the GPS for you.
Check out the latest prices here.
Why Use a Trucking-Specific GPS?
While any GPS can technically get you from Point A to Point B, there are some very good reasons to use a trucking-specific GPS if you drive for a living. First and foremost, these devices are designed with big rigs in mind, so they take into account the size and weight of your vehicle when routing you from one destination to another.
Second, trucking GPS devices come preloaded with points of interest that are relevant to truck drivers, like truck stops, weigh stations, and rest areas. This can save you a lot of time (and frustration) when you're on the road and need to find somewhere to stop for the night or take a break. Make sure to search for your nearest LubeZone to keep up with routine and preventative maintenance so your rig keeps running smoothly!
Finally, many trucking GPS devices come with lifetime map updates and real-time traffic alerts, so you can be confident that you're always getting the most accurate information available. This is especially important when you're on tight deadlines and need to make sure that you're taking the best route possible.
To sum it all up, if you're a truck driver, a trucking GPS is a wise investment that will pay for itself many times over.
Here are our top 4 picks for the best GPS for truck drivers:
Garmin dezl 770 LMTHD
Rand McNally TND740
TomTom Trucker 620
Garmin dezlCam 785 LMT
Do you have a favorite trucking GPS that didn't make our list? Let us know in the comments below!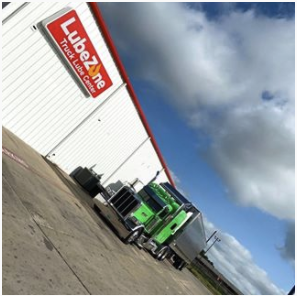 LubeZone is the fastest growing dedicated semi-truck service in the United States with locations in Texas, California, Oklahoma and Georgia. Our preventative maintenance solutions are designed to get the professional driver back on the road FAST.