5 Free Truck Driver Apps
October 31, 2022
The Best GPS For Truck Drivers
November 8, 2022
According to freightwaves.com, roughly 47% of the trucking industry is comprised of women, but only 7% of drivers are female, with the remainder filling roles in management, administrative, and support positions. As a female trucker, you may face unique challenges that your male counterparts don't, but at LubeZone, we're proud to support women in trucking.
We compiled a list of some tips that are great for any gender but wanted to share them with our female trucker partners specifically. Take a look and let us know what you think!
Know Your Rig
As a woman, you may be perceived as less knowledgeable about your rig than your male counterparts (which we know is a load of garbage). It's important to take the time to learn everything you can about your truck. Familiarize yourself with the engine, the electrical and hydraulic systems, and all the other nitty-gritty details. Not only will this help you be a more confident driver, but it will also come in handy if you ever have to perform maintenance or repairs on the road. And most importantly, it'll shut the mansplainers at the truck stop up real quick!
Stay Organized and Plan Ahead
One way to stay on top of things while on the road is to maintain a detailed logbook and daily planner. Keep track of your mileage, hours of service, maintenance records, and other important information in your logbook. Use your daily planner to map out your route, plan for rest stops, and set reminders for tasks that need to be completed. This will help you stay efficient and avoid costly mistakes.
Keep It Clean
A clean truck is a happy truck! Not only does it look better, but it also runs better. Taking care of your rig is important, so be sure to keep it clean both inside and out. This means regularly washing the exterior, cleaning the interior, and performing basic maintenance like checking the oil and tire pressure. And here's our shameless plug: contact LubeZone to talk about our routine preventative maintenance program to keep your truck in top condition!
Invest In Quality Gear
As a trucker, you spend a lot of time in your rig, so it's important to have gear and supplies that make life on the road more comfortable. Some items you may want to consider include a good mattress, a fridge or cooler, a quality GPS, and a CB radio. These items will help you stay comfortable and connected while on the road. Remember: buy cheap, and you'll buy it twice. Don't skimp out on the equipment that's going to make your life on the road easier.
Stay Healthy and Fit
It's important to take care of your health while on the road, so be sure to eat healthy meals and get regular exercise. This can be difficult to do while living in a truck, but there are some creative ways to make it work. For example, you can park at truck stops that have showers and gyms or invest in portable workout equipment for your rig. Sitting for eight or more hours a day can lead to long-term health problems, so it's important to find ways to stay active.
Be Prepared For Emergencies
No one likes to think about emergencies, but they can happen while you're on the road. It's important to be prepared for anything by keeping a well-stocked first-aid kit and emergency supplies in your rig. These items can come in handy if you ever have to deal with a flat tire, bad weather, or other unforeseen circumstances.
Know Your Rights
As a trucker, you have certain rights that are governed by federal regulations. It's important to familiarize yourself with these rules, so you know your rights and can avoid potential problems down the road. For example, you have the right to refuse a load if it's not safe, and you have the right to be paid for waiting time. Don't let anyone tell you otherwise!
Be Aware Of Your Surroundings
As a woman, it's important to be aware of your surroundings and take precautions to stay safe. Choose a well-lit parking spot near the entrance when stopped at a truck stop. Keep your doors locked and windows up when you're sleeping, and don't hesitate to call the police if you ever feel unsafe.
Join a Networking or Advocacy Group
There are many great organizations and support groups specifically for women in trucking. These groups can provide valuable resources, advice, and friendship. Some of our favorites include the Women In Trucking Association, REAL Women in Trucking, and SHE Trucking Foundation Inc. These groups are committed to advocating for women and other minority groups in trucking, and helping to foster a community of female truckers to pave the way for future generations.
Be Assertive
Last but not least, it's important to be assertive both on and off the road. If you're ever in a situation that makes you feel unsafe, don't hesitate to speak up or take action. And when it comes to business, don't be afraid to negotiate for better rates or ask for what you deserve. As a woman in trucking, you have the right to be respected and treated fairly, and when you demand to be, you are paving the way for the next generation of women to take to the roads.
Final Thoughts
There you have it — our top 10 tips for women in trucking. We hope this advice will help you stay safe, healthy, and happy on the road. And remember, if you ever need help or support, there are plenty of great organizations and networking groups specifically for female truckers. So don't hesitate to reach out and connect with other women who understand the challenges and rewards of life on the open road.
And don't forget that LubeZone is here to help you keep your truck running smoothly by providing oil changes, preventative maintenance, and a variety of other services for our trucker partners. See you on the road!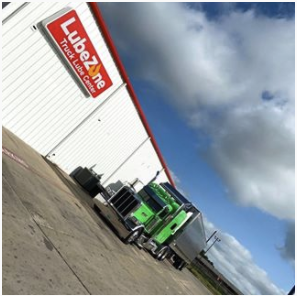 LubeZone is the fastest growing dedicated semi-truck service in the United States with locations in Texas, California, Oklahoma and Georgia. Our preventative maintenance solutions are designed to get the professional driver back on the road FAST.