5 Best Semi Trucks for Truck Drivers
October 27, 2022
Top 10 Tips for Women in Trucking
November 2, 2022
The 5 Best Apps For Truckers in 2022
At LubeZone, we think a lot about how we can serve our trucker partners, and that includes finding new ways to make life on the road easier and more efficient. We're always on the lookout for new apps that can help truckers save time, money, and hassle.
In this post, we'll share five of the best apps for truckers that we've found so far in 2022. These apps are designed to help you in a range of ways that go beyond just finding the best places to get your truck serviced or set the best route (which, of course, is very important, and those apps are included in these apps).
Our criteria for a great app include the following:
Ease of use
Ability to save time or money (or both!)
Unique features that make it stand out from the competition
A good rating from users
While a number of these apps are free to install and run, keep in mind that they will each have additional in-app purchases available.
Here are our top five apps for truckers in 2022:
Trucker Path
Trucker Path is a great option if you're looking for an all-in-one app that covers many different needs. It includes features like truck stop locations and information, GPS, service center locations and information, weather conditions, parking availability, and more. This app is designed exclusively for truckers, and while there are plenty of other apps designed for the general driver, this one has everything you are looking for as a trucker.
This app boasts over 8 million downloads and more than 700 million miles routed. Like most of the other apps in this list, Trucker Path relies on crowd-sourced information to ensure that users have the most up-to-date information no matter what they are looking for.
GasBuddy
It's no secret that fuel costs in the United States (and across the world) have been out of control lately, so having the ability to look at real-time, user-reported gas prices in a specified area is a huge help with significant cost-savings implications.
If you're looking to save money on fuel, GasBuddy is an app that can help. It provides users with real-time prices for gas at nearby stations, so you can always be sure you're getting the best price. The app also includes a trip cost calculator so you can estimate how much your journey will cost in fuel.
Another great feature of Gas Buddy is the ability to earn rewards points that can be redeemed for gift cards and other prizes just by using the app. For a commercial trucker that spends a lot of time on the road, these reward points can really add up!
There are over 2 million Gasbuddy cardholders with over 42 million transactions, and at the time of publishing GasBuddy has saved users almost $7 million over 94 million gallons of gas pumped. In addition, GasBuddy offers regional price trends, power and fuel outage maps, vehicle recalls, and even a logbook to help you keep track of your fuel expenses. This is a must-have for any trucker looking to save money on fuel.
Waze
If you're looking for an app that can help you avoid traffic delays, Waze is a great option. This app uses user-reported information to provide real-time updates on traffic conditions, construction, accidents, and more. You can also see police activity in the area so that you can plan your route accordingly. Information like traffic accidents, slowdowns, speedtraps, and more can all help a trucker stay safe on the road, and Waze is one of the best apps for providing this type of information.
One of the coolest features of Waze is the ability to report incidents yourself. If you see something on the road, you can report it to the community so that other users can be aware and avoid any potential hazards. You will also enjoy the benefits of this direct reporting when Waze re-routes you to the most efficient and expeditious route available — even if it might seem like a crazy way to go when you first see the change!
Waze is a great option if you're looking to avoid traffic delays, and it can also help you find the quickest route to your destination. The app includes a range of features that are designed to make life on the road easier, and it's one of the most popular navigation apps available.
DriveWyze
DriveWyze is another trucker-specific app on this list, and helps truckers save time and money with weigh station bypasses. This app uses GPS to alert drivers when they are approaching a weigh station, and then allows them to bypass the station using the PreClear service in the app. This app provides bypasses for 830 fixed location weight stations as well as mobile sites in 45 states, and does not require transponders since it uses your smartphone.
Avoid long weights at stations you could have skipped, and save on both fuel and maintenance costs by reducing your idle time. Most importantly, save on the stress and hassle of dealing with unnecessary stops and watch your delivery times improve immediately!
In addition to PreClear, truckers can use the Safety+ driver coaching assistant to improve their driving habits and avoid costly accidents. The app also includes a logbook feature so you can track your hours of service, and there is no subscription required to use the app.
DriveWyze is an essential app for any trucker looking to save time and money on the road. With features like weigh station bypasses and driver coaching, this app can help you improve your efficiency and make life on the road a little bit easier.
MyFitnessPal
Last but not least, a fitness tracking app that will help you keep tabs on your physical activity and make sure you are staying healthy while on the road. MyFitnessPal is a free app that tracking your diet and exercise, and can be used to set and track goals for weight loss, muscle gain, or simply maintaining your current weight.
This app is great for truckers because it includes a huge food database with over 11 million items, making it easy to track your calorie intake while on the road. You can also log your exercise activity so that you can make sure you are getting enough physical activity. MyFitnessPal also includes a range of other features, such as the ability to set daily reminders, sync with fitness devices and apps, and more.
It's been estimated that sitting stationary for 8 or more hours a day with no physical activity can be as detrimental to your health as smoking cigarettes, so it's important to make sure you are staying active while on the road. MyFitnessPal can help you with this by making it easy to track your diet and exercise, and set goals to keep yourself healthy.
Keep On Truckin'!
So there you have it, our list of essential apps for truckers. These apps can help you save time, money, and stress while on the road, and make life on the road a little bit easier.
And remember: routine maintenance for your truck is essential to keeping it running smoothly, so be sure to contact LubeZone to learn about our preventative maintenance programs, or simply type "LubeZone" into Waze or your preferred GPS app to find the nearest service center to you.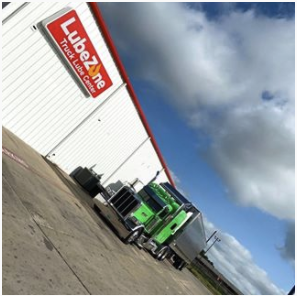 LubeZone is the fastest growing dedicated semi-truck service in the United States with locations in Texas, California, Oklahoma and Georgia. Our preventative maintenance solutions are designed to get the professional driver back on the road FAST.