Top 10 Semi Truck Dash Cams of 2022
August 29, 2022
5 Free Truck Driver Apps
October 31, 2022
Ask five truckers what they think the best semi-truck is, and chances are you'll get five different answers, all with compelling reasoning for their choice. That's because there is no such thing as the perfect one-size-fits-all semi — but there might be the perfect semi-truck for your specific needs.
Some of the most important factors to consider when choosing a semi-truck include:
Safety – All trucks come equipped with standard safety features, but you may find that you have specific needs that go above and beyond.
Application – Your truck is going to experience wear and tear no matter the application, but you aren't going to want to use your long-haul truck on logging roads.
Horsepower – For some, the most horsepower is always the goal, but this isn't necessarily the case. Many makers offer a number of different powertrain options tailored specifically for different types of work.
Hauling Capacity – Are you hauling livestock? Concrete? Tandem rigs? Your answer to this question will guide you through the step of determining whether you focus more on torque or horsepower when it comes to finding the right drivetrain for your new truck.
Fuel Efficiency – For local trips to and from the sand and gravel pit or lumber yard, you may not need to think too much about your long-haul mileage, but if you're putting down 100,000+ miles each year, fuel efficiency translates to very real money that you can keep in your wallet.
Price – Your budget is going to have a major impact on what you ultimately choose. Are you in the market for the Rolls Royce of long-haulers, or maybe something a bit more stripped down to get down and dirty? At the end of the day, the price tag on a new semi-truck will always play into the final decision.
Resale Value – Like all consumer goods, not all semi-trucks are created equal when it comes to resale value. If you are planning to run this truck for a handful of years before selling it, you may want to consider how well the particular make and model does on the secondhand market.
Reputation – A brand's reputation isn't always a great bellwether for whether or not it's going to be the right truck for you, but it doesn't hurt. There's a difference between a brand's "status" and its reputation for reliability, durability, and great customer service, and that's the type of reputation we're talking about here.
Every reputable manufacturer has its sweet spot, but none take first prize for every one of these factors. Choosing the right rig for your needs will require some careful thought about which things are most important to you, which things you aren't too concerned about, and then a list of "nice to have's" that may either come stock or can be added afterward.
At the end of the day, it's important to remember that the best truck for you is the one that gets the job done and helps you do it safely. With that in mind, here are five of the best semi-trucks on the market today:
International
International offers a number of high-quality semi-truck lines, including the Lonestar. These trucks are known for their style, comfort, and power. Lonestar models come with a Cummins X15 engine, as well as a range of options for gearing arrangements, and can even be configured with an automatic transmission.
There are also a number of cab options like a day cab, low roof, high-rise, or "Sky Rise" sleepers, and of course, the best cab is entirely dependent on the type of work you'll be doing behind the wheel of your Lonestar. And when you're behind the wheel, you'll be sitting inside a gorgeous cab looking at the LoneStar premium gauge cluster to keep tabs on how she's running. The most recent model also boasts a 3% fuel economy gain over the 2017 model, which is always a welcome feature.
Volvo
You might have been surprised that Mack Trucks wasn't on this list, but that's only because the North Carolina-based truck manufacturer was acquired by Swedish automaker AB Volvo in 2000. Mack, as a subsidiary of Volvo, is best known for its heavy-duty trucks like the Pinnacle, which are used in a variety of applications like construction and long-haul trucking. The Pinnacle comes with a Mack MP8 engine that's mated to either an Allison automatic transmission or an Eaton-Fuller manual transmission and can be configured with a day cab, 48-inch Flat Top Sleeper, or a 70-inch Stand Up Sleeper.
Mack is a ubiquitous name in the trucking industry, and for good reason. Volvos are built to last, and Mack trucks are no different. Though they might not have the same "flash" as some of the other brands on this list, they more than make up for it with substance.
Freightliner
Freightliner is America's best-selling semi-truck, with over 190,000 new rigs hitting the road every year — and for good reason. They offer a wide range of models to suit any need, from the Argosy for long-haul truckers to the Business Class M2 for construction work. But their bread and butter is definitely the Freightliner Cascadia, which was completely redesigned for 2019 and boasts best-in-class fuel economy thanks to its new Aero package that includes features like low-rolling resistance tires and an active shutter grille.
The Cascadia runs on the Integrated Detroit Powertrain (DIP), powered by either a DD13® or DD15® engine from Detroit Diesel and  DT12® On-Highway Series transmissions. It's also available in a number of different cab configurations, including a day cab, mid-roof, and high-rise sleeper. No matter what your needs are, the Cascadia is likely to have a model that's right for you.
Peterbilt
Peterbilt is another major player in the trucking industry, and its flagship model is the Model 579. The 579 comes with a number of different engine options, including the PACCAR MX-13 and Cummins ISX15, and can be configured with a PACCAR 12-speed, an Eaton Fuller manual, or an Eaton Fuller automatic transmission. It's available in a 44″, 58″, 72″, or 80″ Discrete sleeper cab or the 80″ UltraLoft.
As with the rest of the brands and models in this list, there are a number of trims and options that you can pick and choose to your liking, as well as different aerodynamic packages and plenty of other upgrades.
Kenworth
Kenworth is another truck manufacturer that's owned by a larger conglomerate, in this case, PACCAR. Kenworth is best-known for their long-haul trucks like the T680, which comes standard with the PACCAR MX-13 engine 12.9 liters with 405-510 HP, and PACCAR TX-12 Automated Transmission. The engine can be upgraded to the PACCAR MX-11 Engine 10.8 Liter that pushes 355-455 HP. Compared with the classic T680 model, the next-gen T680 can get you up to 7% in fuel savings straight off the lot.
Kenworth, like all other makers, offers a number of different models that are purpose-built and are meant to help drivers like you get the job done right.
Final Thoughts
So, which truck is right for you? It really depends on what you need it for. If you're looking for a long-haul truck, then something like the Freightliner Cascadia or the Kenworth T680 is likely your best bet. But if you're looking for a versatile truck that can be used for a variety of applications, then something like the Peterbilt 579 or the Mack Pinnacle might be a better fit. And of course, each of these models can be equipped with a variety of options and upgrades to tailor it to your specific needs.
No matter what you're looking for, there's sure to be a semi-truck that's right for you. And with this list of the best semi-trucks on the market, you're sure to find the perfect one for your needs.
Don't forget: once you are behind the wheel of your new rig, you need to make sure you are taking all of the proper steps to keep it running smoothly. LubeZone offers preventative maintenance programs, oil changes, and lots of other services that can keep your semi-truck on the road and earning money without avoidable breakdowns and costly work caused by a lack of proper care. Contact us today!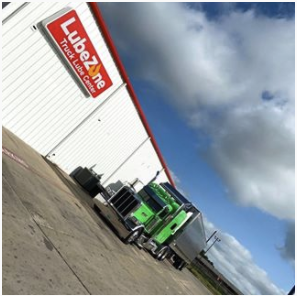 LubeZone is the fastest growing dedicated semi-truck service in the United States with locations in Texas, California, Oklahoma and Georgia. Our preventative maintenance solutions are designed to get the professional driver back on the road FAST.