What Is Included in PM Services?
May 6, 2022
Waiting for Your Oil Change – 40 Minutes or Less
May 19, 2022
Whether your fleet company uses telematics systems or relies on drivers to report maintenance issues, fleet vehicle maintenance is an important part of the job. Your fleet is an important and valuable asset crucial to your business's mission. Preventative maintenance protects this asset. It keeps your fleet in good working order and ensures that vehicles are ready to go when you need them. Fleet maintenance can:
Lower your costs
Reduce your liability risk
Lengthen vehicle lifespan
Make the roads safer
Reduce vehicle downtime
So much more
A preventative maintenance checklist helps ensure that you get all these business benefits. It reduces the chances for human error and ensures the health of your fleet.
Many preventative maintenance tasks will have their own timeline, such as oil changes. Other tasks will be performed at regular intervals. Additionally, drivers should perform pre-trip and post-trip checks to minimize the chances of breakdowns on hauls. Some fleets choose to create a fleet inspector role to manage the preventative maintenance for their vehicles. This addition to your staff can help you focus on other aspects of your business. A fleet maintenance service can also help you manage this.
Let's take a closer look at what it takes to keep the vehicles in your fleet performing optimally.
Semi-Truck Maintenance Checklist
Transmission, Engine, & Exhaust
Components in the drivetrain can suffer wear and tear, and many of these mechanical parts can wear prematurely over time. If you catch problems early, you can save yourself costly repairs. Inspect these mechanical parts as part of your maintenance schedule:
Exhaust System
Driveshaft
Engine cooling system
Power steering
The differential and gearbox
Fluid Levels
Vehicles need adequate fluid levels and qualities to prevent maintenance issues. Check on these fluids to keep your vehicles running smoothly:
Differential and transmission fluid
Power steering fluids
Engine oil
Coolants
In addition to checking fluid levels, you'll need to change or service any filters and inspect related components or systems.
Chassis & Body
The body and chassis of fleet vehicles require regular inspection. Examine these areas for signs of dents or scratches. They can lead to rust and chipping. Check these parts on your vehicle to protect its body and structure:
Suspensions
Wheel axels and undercarriage
Undercoating
Body fenders and panels
Bumpers and grilles
Doors and windows
Maintenance plans should include lubricating the drivetrain, chassis, slack adjusters, and other components.
Wheels & Tires
Tires get a lot of wear and tear, and it's crucial to keep them in good working order because they have a significant impact on vehicle performance. Check these components of your wheels and tires:
Air pressure
Alignment
Hub
Rim balance
Worn bearings
Tire expiration date
Tire tread
Braking System
Inspect your braking system to ensure this essential function of your vehicle is in good working order. Check these features of the system:
Disks/drums
Pads/shoes
Pedal linkage
Braking response
Air leaks
Electrical Systems
The vehicle's electrical systems are yet another important part of performance, especially in newer models. These systems also play a role in driver comfort and safety. Inspect these vehicle components:
Alternator
Battery
AC system
Wipers
Lights
Horn and backup alarm
Vehicle tracking sensors
Speed limiter
It's important to verify that all these parts still function. You'll also need to check the charging system, including the alternator output and a battery load test. Inspect and clean the battery connections.
Plumbing, Belts, & Couplings
It's important to ensure that these vehicle features are sufficiently greased and secured, and free of clogs, leaks, and overflows.
Hydraulics and other plumbing systems
Alternator belt
Cooling fan belt
Safety Checks
Fleet managers are wise to prioritize safety. It can help retain drivers and limit your risk of costly accidents. Check these vehicle components to keep your drivers safe, comfortable, and happy.
Antilock brakes
Cruise control
Warning system
Parking sensors
Climate control
Assisted road visibility
GPS and navigation system
DOT inspections are one of the most important safety checks you can have performed. While semi-truck D.O.T. inspections are a legal requirement, they can help identify any mechanical issues your truck may have before they cause a larger problem. This can help you identify key preventative maintenance that you may want to address now before a part causes a breakdown or damages other areas of your vehicle.
Why Drivers Should Look After Their Tires
Tire pressure can have a significant impact on your fleet's performance. Properly inflated tires have so many benefits:
· Improved vehicle handling
· Better fuel economy
· Reduce wear and tear
· Safeguards drivers
If you have a fleet inspector, they can perform tire checks before and after trips, and drivers can check it themselves when they're on the road. Tire wear will vary across your fleet. Factors like road conditions, driver behavior, and weather impact how quickly tires wear down. Anything less than a 2/32 tread (or 4/32 on steer tires) is dangerous. It can lead to poor performance in bad weather and can cause hydroplaning. Rotating tires and maintaining proper wheel alignment are also important.
Keep Your Vehicles Clean
Your fleet vehicles reflect your company's image. A tidy appearance makes your business look professional and reliable. Drivers enjoy operating clean vehicles and have greater job satisfaction. It benefits your fleet, too. It's easier to spot rust or other problems when a truck is clean. That can save you money. In addition to your maintenance schedule, you may wish to include regular cleaning in your maintenance plan.
Coach Your Drivers
Driver behavior can have a big impact on your bottom line, and it's important for drivers to understand the crucial role they can play in improving fleet performance. Inefficient and unsafe driving practices lead to higher fuel costs, more accidents, and costly repairs. Some fleet managers choose to implement driver safety programs and use telematics tools to improve these behaviors and encourage careful and safe driving. Good preventative maintenance practices can be part of these initiatives. It's important to help drivers understand why you want them to follow and get them on board. Incentives may help with compliance. Additionally, you need buy-in at every level of your organization to ensure that everyone takes maintenance and safe driving seriously. Drivers should understand that the imperative for safe driving comes from the top.
If you commit to a thorough preventative maintenance program, you're sure to see the benefits in your bottom line.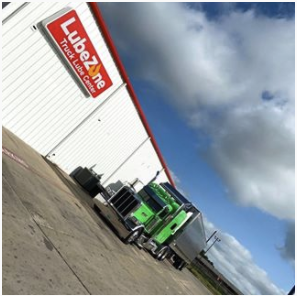 LubeZone is the fastest growing dedicated semi-truck service in the United States with locations in Texas, California, Oklahoma and Georgia. Our preventative maintenance solutions are designed to get the professional driver back on the road FAST.