Things to Do in Elk Grove (And Other Cool Facts)
March 29, 2022
Semi-Truck Maintenance: A Comprehensive Guide
May 12, 2022
There's an age-old saying that still holds true today: "An ounce of prevention is worth a pound of cure." That applies to so many different areas of life and work, but especially to preventative maintenance on truck fleets. After all, neglecting your maintenance program could lead to unexpected breakdowns, astronomical repair bills, and, worst of all, critical accidents.
Clearly, preventative maintenance (PM) services play a key role in keeping your fleet on the road and your drivers safe. In the following article, we'll discuss what preventative maintenance is, which tasks and services are typically included in a PM program, and how LubeZone can help make your PM efforts a success.
What Is Preventative Maintenance?
Simply put, preventative maintenance is systematic maintenance designed to prevent problems from occurring in the first place rather than fix problems that already exist. Preventative maintenance is especially vital for trucking companies. In fact, the federal government mandates that each motor carrier and intermodal equipment provider (i.e., a company that provides trailers and contracts with carriers to transport them) have a systematic maintenance program in place.
The three main pillars of preventative maintenance are:
Systematic inspections. This would include the vital pre-trip and post-trip inspections that drivers make on a regular basis, along with other inspections scheduled at various intervals.
Prompt repairs. Companies have to take minor mechanical, electrical, or structural issues and "nip them in the bud" before they grow in severity.
Regular investments in maintenance. Carriers must stick to their scheduled maintenance program, despite some cost in time and money, in order to keep their fleet of trucks efficient, roadworthy, and safe. Fortunately, truck manufacturers make it easier to follow a consistent program by providing detailed maintenance interval information to their consumers.
What Services Are Included in Preventative Maintenance?
There are several inspection, maintenance, and repair services that fit under the umbrella of a preventative maintenance program. Of course, some issues are more common than others (e.g., bad alternators, brakes that require servicing/replacement, leaking hoses, and so forth). However, an effective PM program should encompass all of a truck's maintenance needs.
Here are just a few of the key services that are part of many preventative maintenance programs:
Full-service lube job. This typically includes an oil and oil filter change, along with the replacement of other lubricating fluids throughout your truck and trailer. We also offer a complete oil analysis, which will provide you with a better understanding of the condition of your engine.
Tire Checks. We will check the pressure on all of your tires and inspect them for uneven wear or insufficient tread.
3-axle alignment. It's vital that your axles are in alignment when on the road. Tires that are out of alignment will wear unevenly and could eventually suffer a blowout.
Coolant filter replacement. Over time, impurities may get into your coolant, and cause it to become less effective at regulating your engine's temperature. A timely coolant filter replacement may prevent premature wear on your collant system parts.
The intervals between these services will also vary, depending on whether your trucks are running normal routes, or are performing severe duty.
How Can LubeZone Help You Keep Up With Your Preventative Maintenance?
It can be difficult to keep track of all of your preventative maintenance needs. Even after you identify the tasks that need to be done, it can be challenging to find the time to handle them properly.
This is where LubeZone comes into the picture. We are committed to providing time-saving, high-quality preventative maintenance services to semi-truck drivers and fleet carriers, no appointment necessary. With our minimal wait times and our wide range of services, we can help you to fill important maintenance needs in the most efficient way possible.
Some of our services include:
Full-service oil changes. Our 11 locations throughout the country (California, Texas, Oklahoma, and Georgia) use only the best name-brand oils, the most effective filters, and the most efficient oil-changing techniques. Our goal is to get your truck in and out within 40 minutes or less.
Department of Transportation (D.O.T.) inspections. All semi-trucks are required to undergo a D.O.T. inspection at least once a year, and the last thing you need is to let the due date pass by. That could mean paying a stiff penalty for being late. Each one of our Truck Lube Centers has trained, certified inspectors on our staff who can deliver a comprehensive inspection of your vehicle without eating up all of your time. We make D.O.T. compliance easier than it's ever been. (Note: we do recommend that you call ahead of time to check bay availability prior to your arrival.)
Complete oil analysis services. Our teammates at LubeZone can help you gain a better understanding of how well your truck's engine is functioning. For instance, we can document the current level of contaminants within your oil and lubricant and find clues about engine health based on the metal content within.
Alignments. Ensuring that the axles on your semi-truck are properly aligned is essential for a smooth and safe ride. If your axles come too far out of alignment it can pose a danger to you and other drivers on the road, leading to accidents. Additionally, when your axles are not properly aligned it puts more wear and tear on your tires, decreasing their lifespan. This leads to more frequent tire purchases, which can add up to a lot of money. It can also impact how much fuel your semi-truck uses, another factor that impacts your bottom line.
In summary, preventative maintenance services should play a big part in your fleet management; and our team at LubeZone can make your PM program easier and more convenient than ever before. Stop at one of our Truck Lube Centers today, or reach out to us to learn more about the services we offer, and how we can help. Our team is standing by to assist!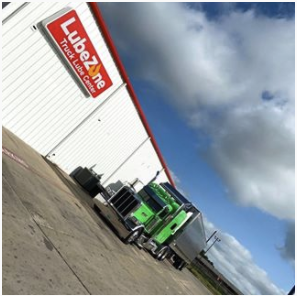 LubeZone is the fastest growing dedicated semi-truck service in the United States with locations in Texas, California, Oklahoma, North Carolina and Georgia. Our preventative maintenance solutions are designed to get the professional driver back on the road FAST.