How Long Do Semi-Truck Tires Last?
August 18, 2020
Semi Truck Oil Change Intervals: How Often?
October 15, 2020
Whether you're a driver or you own a fleet of semi-trucks, learning how to rotate truck tires can be an essential part of preventative maintenance. Properly rotating the tires on your truck at the correct intervals can help extend the lifespan of not just your tires, but your entire vehicle. This means the total cost of ownership of your truck goes down and more money goes back in your pocket. As a successful professional driver this is imperative.
If you are looking for information regarding how to rotate truck tires on a semi-truck, you're in the right spot. When rotating tires on a truck there are specific rotation patterns you must follow for the optimum result. It is also imperative to follow the recommended rotation intervals to extend the lifespan of your tires and save money on maintenance and upkeep. Additionally, regularly rotating tires helps ensure that the tread remains as even as possible, giving you a smooth and safe ride.
Keep reading to learn more about the purpose of semi-truck tire rotations, how often you should rotate the tires on your semi-truck, what tire rotation pattern to follow, and helpful tips to help extend the lifespan of the tires on your vehicle.
Why Do You Need to Rotate Truck Tires?
Rotating the tires on your semi-truck is essential for several reasons. The first is that tires wear unevenly, based on where they are on the vehicle. When you rotate your semi-truck tires regularly, you can even out the wear and tear on each tire, increasing their lifespan and improving the handling on your truck. 
Tires with uneven wear and tear can make it more difficult for your truck to stop abruptly in an emergency, and can also make proper cornering more challenging. If you do not rotate the tires on your truck regularly, they will not have the proper traction to grip the road, which can be dangerous and lead to accidents. Additionally, tires that wear prematurely are at higher risk for blowouts on the road. 
How Frequently Should You Change Your Tires?
One of the most important things to know when learning how to rotate truck tires is the proper rotation interval. You want to ensure that you do not go too long between tire rotations, yet rotating your tires too frequently can be both cumbersome and expensive. Experts generally recommend that you rotate the tires on your semi truck when the tread reaches half of its original depth. 
It is best to check your tires for wear and tear regularly. When you check the tires on your truck, carefully examine them for bubbles, cracks, and check your tire pressure. All of these things are essential to maintaining tire health, and regular rotation can increase how many miles you get out of each set. 
Semi Truck Tire Rotation Patterns
When learning how to rotate truck tires on your semi, it is essential to learn the proper rotation pattern. On your semi-truck, you have steer tires, drive tires, and trailer tires. You will rotate your steer tires from side to side. When rotating your drive tires, you can follow one of several patterns. You may either rotate them from front axle to rear axle, across the same axle from side to side, or you can follow an "X" pattern and rotate side and axle. Ideally, you want to ensure that when you rotate your tires you are moving them in a way that situates a new outside edge for each tire. 
How to Extend the Lifespan of Your Tires
Commercial truck tires can get quite expensive, costing at least $500 per tire. Multiply that times 10 and it can run you a minimum of $5,000 to put all new tires on your semi truck, not including labor. Making sure that you get the most miles out of each tire as possible, without compromising safety or impacting other costs such as fuel expenditure, is crucial as a semi truck driver or fleet owner. 
Follow these five tips to help extend the lifespan of your semi truck tires:
Check your tire pressure often. Tires that are improperly inflated, whether they are over-inflated or tires that are starting to deflate, can cause premature wear and tear. This can also negatively impact your fuel economy and affect how well your semi truck handles. When you're on the road, be sure to search for semi-truck tire checks near you.
Check your axle alignment regularly. Ensuring that the axles on your tractor and trailer are properly aligned ensures that there is no undue pressure put on any particular tire or set of tires, which can lead to premature wear and tear.
Avoid harsh braking. Harsh braking can lead to premature wear and tear on your tires, leading to more frequent replacements which can get quite costly.
Follow manufacturer specifications. Each tire brand has unique specifications, which will include pressure recommendations on the side wall of the tire. It is essential that you follow these air pressure recommendations set forth by the manufacturer as over or under-inflating your tires will impact the wear on your tires' tread. This can decrease the lifespan of your tires.
Rotate your tires regularly. Rotating your tires at the proper intervals can ensure they wear evenly, meaning you will not have to replace tires too soon. 
How to Rotate Truck Tires
Before you begin rotating the tires on your semi-truck, you want to ensure that you have all the proper tools and equipment. To rotate your truck's tires the truck will need to be lifted, so ensure that you have both the space and the equipment to safely do so. Additionally, ensure that you have the proper sized tools to loosen and refasten the wheel nuts. 
Be prepared to lift and carry each 200lb-250lb tire to its next position. If you are planning to rotate your semi-truck tires without professional service it may be a good idea to enlist the help of a friend who is also familiar with your truck due to the sheer weight. Remember, you won't just be lifting one tire one time, but ten tires ten different times. Additionally, ensure your truck is turned off before you begin and that the brakes are on.
How to rotate truck tires:
Ensure your truck is properly lifted and that you have all necessary tools.
Identify the proper rotation pattern based on your truck and tire needs. Check the tire manufacturer's information to see if there is a specific recommendation. 
Using the proper wrench, loosen the wheel nuts on the first tire and remove it. Remove the tire you plan to switch it with.
Move each tire into its new position and re-fasten it appropriately.
Repeat this for each set of tires you are rotating.
As you remove each tire, examine it carefully for any signs of cracking, bubbles, or extensive wear that may signal it's time for new tires.
After you complete all the rotations, check the air pressure in your tires to ensure it is the correct PSI. 
Now is also a good time to check your axle alignment.
Lower your truck from the lift, ensure all wheel nuts are tightly fastened, torqued between 450 lbs and 500 lbs, and you're ready to hit the road again.
Why Experts Recommend Professional Tire Service
It is always best to get professional tire service for your semi truck, for a variety of reasons. The first reason is the sheer convenience. Lifting and moving ten 200lb tires at one time is no small feat and it can take several hours of hard labor on your own. You pose the risk of injuring your back, particularly if you are not accustomed to this sort of labor. 
Additionally, taking your truck to get professional service gives you the chance to have everything looked over at once. You can get an oil change, have your tire pressure checked and have your tires rotated, top off all your fluids, and more. Professional service technicians know precisely what to look for on your semi truck to ensure that it is in optimum condition. 
Visit LubeZone Truck Lube Center Today
If you are looking for a premier semi truck service near you, come into LubeZone Truck Lube Center today. We provide full-service oil changes for semi trucks in just 30 to 40 minutes, as well as tire checks, engine oil analysis, tractor and trailer greasing, air filter replacement, Department of Transportation inspections, and axle alignment at select locations. No appointment is necessary to come into LubeZone and we offer convenient extended hours to match your schedule.
While we do not provide tire rotation for semi trucks by design, in order to keep our wait times short so you receive speedy service every time, it is important to learn how to rotate truck tires or to find a professional center that offers the service. This will help ensure you get the most miles out of your semi truck's tires, saving you money in the long-run. And at LubeZone Truck Lube Center, that's what we're all about. Keeping things fast and simple, while also keeping the most amount of cash in your pocket. Because in the trucking industry we know that time is money.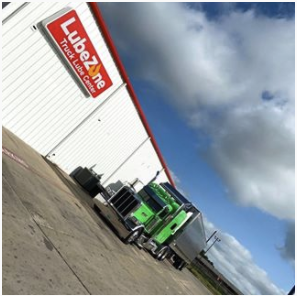 LubeZone is the fastest growing dedicated semi-truck service in the United States with locations in Texas, California, Oklahoma, North Carolina and Georgia. Our preventative maintenance solutions are designed to get the professional driver back on the road FAST.