17 Truckers Drivers Who Are True Heroes
January 7, 2021
What Is the Right PSI for Semi-Truck Tires?
February 16, 2021
If you've never had the opportunity to visit Laredo, Texas, you're missing out. Home to around 261,000, this medium-sized city situated in Webb County is dense with historical significance and offers lots of unique experiences.
Whether it's arts and culture, sports, great food, or just breathtaking scenery you're after, Laredo has it all.
Fitness – choreographers – dancers – classifieds olbia
is clen safe
home slider | energy fitness club
Here's a brief look at the history of Laredo, Texas, as well as some other cool facts and must-see places in this wonderful city:
History and Origins of Laredo
The history of Laredo dates back to 1755. Don Tomás Sánchez Barrera is credited with forming a Spanish colonial settlement of Villa de San Agustin de Laredo at that time.
The area was part of the Nuevo Santander region. The name "Laredo" comes from Laredo, Cantabria in Spain, in honor of Saint Augustine of Hippo.
The Texas Rangers occupied the town during the Mexican-American War in 1846. The land was handed to the United States after the war, and despite a referendum to petition the return of Laredo to Mexico, it remained part of the U.S.
Today, Laredo is home to one of the oldest crossing points along the Mexico-United States border. It's also the nation's largest inland port of entry. This has enabled Laredo to flourish while blending the two distinct cultures of the U.S. and Mexico.
It's also home to many iconic landmarks, the 10th largest city in Texas, and a popular holiday destination. It's no surprise that in 2000 Laredo was the second-fastest growing city in the U.S.
Where is Laredo, Texas on the map?
Laredo is on the Rio Grande in Southwestern Webb County in South Texas. It's located about 135 miles west of Corpus Christi and 150 miles from San Antonio.
Cool Facts About Laredo, Tx
Want to brush up on your Laredo knowledge or learn something new to impress your friends? Here are some interesting facts about Laredo you probably didn't know:
Laredo Has 7 Flags, Not 6
You probably know that there are six flags representing the six nations that have claimed sovereignty over Texas.
These flags represent the Kingdom of Spain, the Republic of Mexico, the Kingdom of France, the Confederate States of America, the Republic of Texas, and the United States of America.
Laredo is the only city in Texas to fly seven flags. That seventh flag is that of the Republic of the Rio Grande. It's flown since 1840, and the residents still fly this flag today.
It's Home to One of the 50 Municipal Golf Courses in the U.S.
If you enjoy a game of golf, you must play a round at The MAX golf course. Overlooking the Rio Grande River, the MAX is among Texas's best public golf courses.
It's an interesting and challenging course. Short and long par 4s and 5s, double fairways, and acres of stunning greens to navigate and explore.
It Has One of Few Water Museums in the Country
The Laredo Water Museum is one of just a handful of water museums in the country. With the Rio Grande River as the main source of water for Laredo residents, it makes sense.
The museum educates visitors on how water is sourced and provides some interactive and fun activities for kids.
It's a popular destination for tourists and schools across the country. And it's certainly worth a visit if you're in the area. Who would have thought water could be so interesting?!
Fort McIntosh Is Still Standing
One of the most historic buildings in Laredo is Fort McIntosh. Established in 1849, this small fort played a pivotal role in the Mexican-American war.
It also served as a training facility during World War I. Additionally, it was a base during the second great war.
It's no longer an active military base. In fact, it's part of the Laredo Community College campus and is open to the public.
It's Home to Washington's Birthday Celebration Every Year
Every February, Laredo holds an almost month-long event called the Washington's Birthday Celebration.
This is the largest celebration of its kind in the U.S. Around 400,000 typically attend, and a series of festivals and other activities take place. All in celebration of the birthday of George Washington.
Must-See Landmarks and Things to Do in Laredo, Tx
If you're planning on visiting the town of Laredo, below are some of the must-see landmarks and destinations.
The Cathedral of San Agustin
Dating back to 1872, the Cathedral of San Agustin is an impressive piece of architecture. If you enjoy history and architecture, this is a must-see.
Restored to its natural beauty in the early 90s, San Agustin is an integral part of Laredo and has a congregation of more than 280,000 members.
The Republic of the Río Grande Museum
The Rio Grande Museum is one of the oldest buildings in Laredo, dating back to 1830. It's recorded as a Texas Historical Landmark and a Contributing Structure to the San Agustín National Register District.
Inside you'll find historical memorabilia and authentic displays dating back to the 1830s.
Lake Casa Blanca International State Park
There are few locations in the world more relaxing than Lake Casa Blanca International State Park.
You can fish, water-ski, swim, take a boat out, hike, picnic, all while enjoying the natural bliss and unspoiled landscapes.
There are campsites with modern amenities too if you want to take an extended stay.
Lamar Bruni Vergara Planetarium
Part of the Texas A&M International University, the planetarium is a fun and unique way kids (and adults) can learn about the earth, space, and beyond.
It's one of the most advanced planetariums in the state. So, even if you've been to other planetariums, don't let that stop you from visiting the Lamar Bruni Vergara Planetarium.
Casa Ortiz
Casa Ortiz is another recorded Texas Historical Landmark and is part of the Historical Center of Laredo.
This home is one of the oldest continuously used residences in Texas. It was originally a resting place for weary travelers, served as the location for political meetings, and even as battlegrounds during gunfights with Native Americans.
It's a cherished landmark in the city of Laredo. Best of all, it's open to the public and free to look around. There are even rumors of gold buried somewhere on the property…
If you've got time to spare while you're in Laredo, bring your semi-truck in for quality service before you head back out on the road. Find the nearest place to get an oil change by you.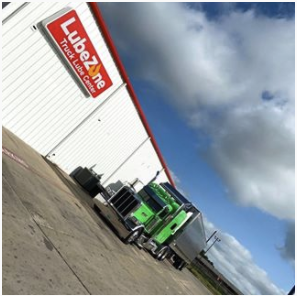 LubeZone is the fastest growing dedicated semi-truck service in the United States with locations in Texas, California, Oklahoma, North Carolina and Georgia. Our preventative maintenance solutions are designed to get the professional driver back on the road FAST.