Survival Guide Long Haul Truckers | OTR Tips & Advice
December 9, 2021
Safety Tips for Truckers During Pandemics [COVID-19]
March 22, 2022
Looking to improve the fuel efficiency of the semi trucks in your fleet? Paying attention to your semi trucks' fuel economy saves gas and money, savings that can quickly add up for fleet operators as well as owner-operators. This is important during this time when the industry is increasingly focused on cost reduction. The North American Council for Freight Efficiency (NACFE) partnered with RMI to demonstrate how efficiency technologies reduce greenhouse gases and improve fuel economy and freight efficiency.
Read on to learn more about their recommendations and a few other tips from the fuel efficiency experts at LubeZone on how to reduce your trucking fuel costs.
How Many Miles Per Gallon Do Semi Trucks Get?
Semi trucks are massive vehicles that haul heavy loads, and as you may expect, they get much lower gas mileage than many other vehicles on the roads like cars and trucks. The average fuel mileage for semi trucks is around 6.5 miles per gallon, with some semis getting as much as eight miles per gallon. This number will vary based on many factors. Mileage may fluctuate based on the road's incline, semi make and model, load size, and more. Other factors like preventive maintenance can have a significant impact on the fuel efficiency of semi-trucks.
10 Tips for How to Improve Your Semi Truck's Fuel Economy
We rounded up the best tips to help you save gas and money at the same time. Whether you are looking to reduce your carbon footprint or are simply watching your bottom line, we have you covered.
1) Reduce Idling
How much gas do you burn idling? An hour of idling burns an entire gallon of gas, which can quickly add up. Reducing idle time is one of the easiest and most effective ways to reduce your fuel costs. You may leave your truck running while you run an errand because you want to keep the heat on, but to save fuel costs, you should turn your truck off whenever possible. You can use technology and engine parameter settings to limit idle time. Minimizing your idle time can also reduce maintenance costs. In some instances, idling is a necessary evil. Extreme weather may present conditions where idling is the best option for the trucker's comfort and safety.
If you drive for a trucking company, you may not realize that they can download the data from your truck's computer, which indicates how often your truck is idling, and excessive idling may make the wrong impression on your boss. Additionally, an unoccupied truck that is idling is a prime target for thieves.
2) Use Trucks in a Strategic Manner
If you manage a fleet of trucks, try to spread the wear and tear among your semis. Uneven use of your fleet can mean that some trucks incur more repair costs. A more cost-effective option is to spread the miles among your fleet. If you are using every semi regularly, it is easier to keep up with the regular maintenance that can prevent significant repair costs.
3) Optimize Cruise Control Settings
You may know that using cruise control to maintain a consistent speed can reduce fuel consumption by up to six percent. Additionally, lower speeds burn less fuel. Fleets can use parameter settings for cruise control to maximize fuel savings. There may be times when driving fast is necessary to get more revenue. If the revenue is greater than the potential fuel savings, drivers may need to drive faster.
4) Incentivize Fuel-Efficient Drivers
Drivers have a big impact on fuel efficiency. The right hiring and training practices can help you find drivers willing to prioritize fuel efficiency and educate them on the best driving practices. Also, look for ways to incentivize your drivers to follow these practices.
5) Regular Preventive Maintenance
Routine fleet vehicle maintenance has many advantages, including improving mileage and reducing fuel costs. From the tires to the engine, you need your trucks to function at optimum levels to get the best mileage. All preventive maintenance is important, but services like oil changes, oil analysis, tire checks, air filter replacements, and A/C tune-ups directly impact fuel economy.
6) Select the Right Tires
Low rolling resistance tires conserve fuel. Rolling resistance refers to the energy that is lost when a tire is rolling. As your tire rolls on a surface, drag and friction can result in lost energy, which wastes fuel. That's why the most fuel-efficient tires have low rolling resistance—a three percent improvement in rolling resistance results in a one percent improvement in fuel efficiency. Single-wide tires also improve rolling resistance.
These tires may not be suitable for every fleet, however. They may not work for every fleet, and you may need to consider your fleet's load capacities and trucking routes as you select the right tires. Regardless of the kind of tires you use, make sure to keep them properly inflated. This reduces the wear on the tire and improves fuel efficiency. For every ten psi that a tire is under-inflated, you consume one to one-and-a-half percent more fuel.
7) Keep Your Load Height Low
Keeping your load low and evenly distributed can improve fuel efficiency by making your truck more aerodynamic. When your cargo is unevenly distributed, you will use more fuel to get your truck moving. If you are hauling a load on a flatbed truck, a low cargo height will reduce wind resistance and save fuel costs.
8) Methodically Choose Technologies
You may be comfortable with the technologies you currently use, but it is best to reevaluate the tools you use regularly. You do not want to miss out on new technology opportunities that can save money and give you an edge over your competition. For fleet managers, it comes down to whether these technologies make your fleet more competitive.
9) Use a Fuel-Efficient Axle Configuration
The axle ratio affects how much fuel you burn on the road. That's because your axle configuration impacts engine revolutions per minute (rpm). A fuel-efficient axle configuration causes the engine to operate at a lower rpm. You may have to sacrifice performance. A fuel-efficient axle configuration will result in less torque, leading to slower hill climbs and acceleration.
10) Pay Attention to Trailer Aerodynamics
Trailer aerodynamics have a considerable impact on fuel economy. An 18-wheeler on the highway puts as much as 50 percent of its fuel toward aerodynamic drag or wind resistance. You can make modifications to a semi truck to improve its fuel efficiency:
Side extender
Side tank fairings
Roof fairings
Aerodynamic front bumper
Aerodynamic mirrors
If you are looking to improve the aerodynamics of a trailer, these modifications can help:
Wheel covers
Boat-tails at the back of the trailer
Side skirts or fairings
At LubeZone, we are experts at the preventive maintenance your truck needs to reduce your trucking fuel costs and minimize downtime. We want to keep your fleet in peak function, and our 11 LubeZone Truck Lube Center locations are the best places to go for all of your maintenance needs. You can count on us for full-service oil changes in 40 minutes or less, and best of all, no appointment is necessary. Stop by one of our convenient locations for a superior semi-truck service today!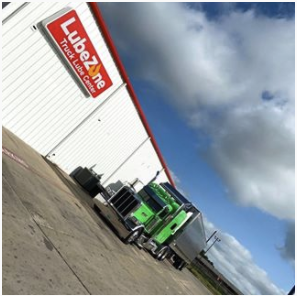 LubeZone is the fastest growing dedicated semi-truck service in the United States with locations in Texas, California, Oklahoma, North Carolina and Georgia. Our preventative maintenance solutions are designed to get the professional driver back on the road FAST.