Truck Driver Lifestyle Guide
May 12, 2021
Tips for Truck Drivers to Avoid Coronavirus Infection
June 3, 2021
Being a truck driver is an excellent career choice, with a great opportunity to earn a stable living. Many truck drivers find that there are numerous ways to maximize their income, whether it be through special rate negotiation or by selecting loads with higher freight rates. In fact, with such a high demand for drivers in the current market, men and women who hit the road are seeing salaries that can range from $21 an hour up to six-figure amounts annually.
Here at LubeZone Truck Lube Center, we want to see truck drivers' income levels become as profitable as possible for each individual who comes through our doors. That's why we offer customer perks and incentives such as LubeZone Rewards, which puts real cash back in your pocket with every purchase, as well as sweepstakes and giveaways on social media where you can win items that make life on the road a little easier.
Additionally, we're here to share tips, tricks, and expertise with the truck driver community regarding careers, income, saving money on the road, and more. Our goal is to help each driver on the road reach their maximum potential, and of course, to provide fast and convenient preventative service like oil changes and tire checks. Keep reading to learn more about truck driver careers, truck driver income, and what being a truck driver is really like when it comes to finances.
What Impacts Truck Drivers' Income?
The average truck driver income range is quite wide, and can be hourly, per diem, per job, or annually. This is because there are many different driving arrangements and payment structures to choose from when building your truck driver career. Each has its own benefits and disadvantages and choosing the set-up that works best for you and your family is essential to your feelings of fulfillment and happiness on the job.
There are many different aspects that can impact a truck driver's income level and earning potential. A few of these things include:
Your level of experience. Like most other professions, truck drivers who have been working for longer tend to earn more money. If this is your first-ever truck driving job you will likely earn less than a person in a comparable position with years of experience.
Your certification level and endorsements. Do you have a Commercial Driver's License (CDL)? On average, truck drivers who have a CDL make anywhere from $5 / hour to $40 / hour more compared to those who do not. Similarly, drivers with endorsements such as a hazmat endorsement or a tank endorsement can make more on those paying jobs.
Your areas of expertise or specialization. When it comes to truck driver careers, it's not necessarily better to be a jack of all trades and a master of none. Instead, drivers who get into a specialized area of work are likely to make more over the years. For example, line haul truckers (LTL freight drivers), who move freight between terminals, earn on the higher end of the pay scale.
The size and type of your company. If you are an employee and not an owner-operator, it's beneficial to look into which companies pay their truck drivers the most. Larger companies tend to pay their truck drivers more compared to smaller companies, as they generally have more funds available in the budget for salaries. Additionally, working for companies in a particularly lucrative field, such as oil and gas transport, may pay better than consumer packaged goods.
Career path and trajectory. When considering truck drivers' income, don't just think about today. Envision your life and your truck driver career years in the future, what does that look like to you? Some people simply want to hit the road and drive, and look forward to doing this for many years. Others see themselves going into fleet management or dispatch. Consider your career path at the company you work for when examining income potential.
This is not an all-encompassing list of factors that can affect a truck driver's income. Pay rates and salaries may vary significantly between industries, regions, states, and even cities. However, there are things that you can do no matter where you work to maximize your income.
Tips for Maximizing Your Income as a Truck Driver
One of the best ways to maximize truck drivers' income is to shop around for the best jobs. Look at what local companies are paying their current drivers, and which industries are on the rise. Ask about employee benefits such as health insurance, paid time off, and retirement savings accounts. The benefits of building a truck driver career as an employee at another company, whether large or small, are significant. For one, you will have another entity to help you manage the administrative aspects of the job such as insurance, vehicle registration, preventative maintenance, and more.
However, many truck drivers find that becoming an owner-operator in their own transportation business is the best way to maximize their income. This is because you can negotiate freight rates, choose the jobs you wish to take, and manage your own expenses (but, this also means you will be responsible for paying for more of these expenses).
Owner-operator truck drivers can make more than $150,000 a year, based on an average driving day of approximately 500 miles on a full-time schedule.
As an owner-operator, take these tips into consideration when maximizing truck driver income:
Use route optimization. Semi-truck route optimization methods such as GPS technology can help you maximize efficiency on the road and enable you to make the most for your miles. Avoid costly traffic jams that can delay your freight and burn fuel, and find the shortest and most economic route between two points.
Minimize expenses. There are many expenses that you will have to take on as an owner-operator, such as paying for your own truck maintenance services. Things like oil changes, tractor and trailer lube, air filter replacements, and tire checks will now be your responsibility. Choose your preventative maintenance spots carefully- look for places like LubeZone Truck Lube Center which offers real cash back rewards and competitive pricing models.
Provide great customer service. You're the face of your company now and the reputation is entirely up to you! Build a loyal customer base of trusted contacts, provide great service, and you're sure to get a list of repeat customers as you grow your business.
Shop around for insurance rates. As an owner-operator, the cost of insurance is now solely up to you as well. Before, a company or fleet management organization may have taken on at least part of the cost. Insurance quotes can get quite expensive, with the average semi-truck owner-operator spending somewhere between $9,000 and $12,000 annually. Shop around for quotes, look for safe driver discounts, and more.
Understand your legal liability. As the authority of your own transport company, all liability also now falls on you as a driver. As an employee, should you get into an accident a lawsuit may fall into the lap of your managing company. Now, it may come back to you. Be prepared for such instances and make sure you have excellent coverage, and consider extra gear such as in-cab and exterior-facing cameras that can provide insight into a liability in the event of an accident.
LubeZone: Helping Truck Drivers Get REAL CASH BACK
Whether you're an owner-operator or an employee who is building their truck driver career, LubeZone Truck Lube Center is the spot to go for your preventative maintenance. We offer competitive pricing on services such as oil changes, oil analysis, tire checks, and more. What's even better is that there's no appointment necessary, we have extended hours to fit your schedule, and we can complete a full-service semi-truck oil change in just 40 minutes. That means you'll get back on the road fast, and in the trucking business time is money.
Additionally, we feature an amazing program, LubeZone Rewards, so be sure to sign up before your next visit. Here at LubeZone, we don't believe in points systems like other service providers. Instead, we put real cash back in your pocket with every purchase. So come on in to LubeZone today!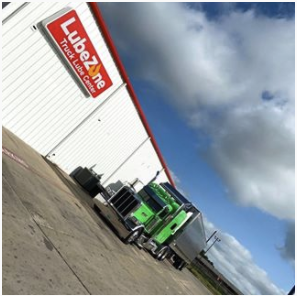 LubeZone is the fastest growing dedicated semi-truck service in the United States with locations in Texas, California, Oklahoma, North Carolina and Georgia. Our preventative maintenance solutions are designed to get the professional driver back on the road FAST.