Tips to Maximize Truck Driver Income
May 24, 2021
How Much Does a Semi Truck Oil Change Cost?
June 8, 2021
As America keeps trucking, it's essential to brush up on the latest COVID-19 safety tips. If there's one thing we've all learned over the past 12+ months, it's that official guidance is ever-evolving. That means that what was true yesterday may not be accurate today, and the information we use today may be irrelevant tomorrow. However, another thing that is also certain is that our country needs our truckers more than ever. From delivering essential freight, such as Personal Protective Equipment (PPE), groceries, disinfectant supplies, and so much more, truckers are the backbone of the United States. Knowing how to stay safe from coronavirus as a driver is important, no matter where the job may take you.
Truck Drivers and COVID-19
As much of America came to a screeching halt in the early months of 2020, the country's truckers kept their wheels spinning. That's because on most accounts long-haul trucking is deemed an essential job. Often traveling across multiple states, sometimes for weeks at a time, truckers connect essential goods and products with the people who need them most.
However, this also means that drivers may be at increased risk of contracting the novel virus. That's because, as a trucker, it can be challenging to follow guidance such as sticking to a "pod" of loved ones to spend time with. By design, the job puts you in contact with vendors, customers, truck stop attendants, and other drivers at truck stops. After all, if you're dropping cargo off at a final destination, there has to be someone there to receive it.
The American Trucking Association is now calling for mobile vaccination sites to visit high-traffic truck stops, as the effort to protect America's frontline workers ramps up and we head farther into 2021.
How to Stay Safe from Coronavirus as a Long-Haul Trucker
One of the best ways to stay safe from coronavirus is to get a vaccine if you are eligible in your home state. However, we know that vaccination appointments can be challenging to schedule right now, and your job can't wait. Until all U.S. residents can get a vaccination, take these precautionary measures to protect yourself while you're out on the road.
For more information specific to the trucking industry, visit the Center for Disease Control website page that speaks directly to long-haul truck driver employees and the appropriate safety measures.
COVID-19 Safety Tips for Truckers:
Maintain social distancing. Stay at least 6 feet away from dock workers, store employees, truck stop attendants, employees that complete your semi-truck oil change procedures, and other drivers whenever possible.
Limit the amount of time you spend outside of your truck cab at rest stops, job sites, and more if there are other people present.
Use paperless and electronic billing and invoicing whenever possible.
Use your radio or phone to communicate in lieu of face-to-face contact whenever possible.
Pack your own meals, snacks, and drinks to limit the number of stops you must make in public.
Never share PPE or safety clothing (vests, hard hats, etc.).
Check the COVID-19 protocols of rest stops, restaurants, and sleeping areas in advance before you stop to choose places with the lowest risk.
Wash or sanitize your hands immediately after handling freight or goods, clipboards, pens, and other items at rest stops or job sites.
Wear a cloth mask, even when social distancing.
Try to avoid ride-alongs or team driving situations whenever possible.
Disinfect high-touch areas in your truck cab at least once daily. These areas include the steering wheel, door handles, signals and controls, radio, and more.
Carry hand sanitizer in your truck for use on-the-go when you don't have access to soap and running water.
Avoid contact with individuals who are sick or are known to have COVID-19.
Follow all isolation and quarantine protocols should you begin to exhibit symptoms.
Check all local guidelines and regulations for new cities and states along your route before your arrival.
Know where the closest COVID-19 testing sites are along your route in case you require testing.
Find out when you will be eligible to receive a COVID-19 vaccine, discuss the vaccine with your primary healthcare provider, and schedule an appointment.
If you are an employer or organization that works with long-haul truckers and you are looking for COVID-19 safety tips for the workplace, view the Center for Disease Control's webpage for long-haul trucker employers here.
COVID-19 Resources for Truckers
The American Trucking Association serves as an important resource for truckers and their families throughout the COVID-19 pandemic. With crucial COVID-19 safety tips and more, you can find all the information relevant to your profession in one place. To see the American Trucking Association's most recent news and updates as they pertain to the coronavirus, visit their official website here.
On their website, you will find information relating to vaccine distribution plans by state as well as trucking prioritization in regard to the vaccine. Additionally, get information on federal loan programs available to small- and mid-sized carriers, the CARES Act, benefits available to large fleets, and more.
You will also find pertinent information on COVID-19 "hot zones" you may enter while on the job, guidelines on cross-border operations for those who enter/leave Canada and Mexico, OSHA workplace safety information, FMLA resources, and essential state declaration information & waivers that are continuously updated.
LubeZone Truck Lube Center & COVID-19
All LubeZone Truck Lube Centers are open for service and we're here to help you make the most of your miles. We wish to assure each of our valued customers that each location is adhering to state and local guidelines and regulations and that we are doing everything we can to keep our employees and patrons as safe as possible throughout the pandemic.
We recognize the importance of long-haul trucking and thank each driver for all that you do as you deliver essential goods to the American people. We know that truckers are keeping America going and we're here to provide fast and efficient preventative maintenance, such as oil changes, oil analysis, tractor and trailer grease, tire checks, DOT inspections, and more. Additionally, we know that sometimes when you're out on the road, things change. That's why we never require an appointment and offer extended service hours for your convenience.
If you're in the area and require a full-service oil change, stop by a LubeZone Truck Lube Center location today. We can get you in and out the door in just 30 to 40 minutes, back on your way and ready to reach your next destination.
Additionally, don't forget to register for LubeZone Rewards before your next stop. This exclusive program gives you real cash back on every purchase. Visit LubeZone today, where FAST IS BACK!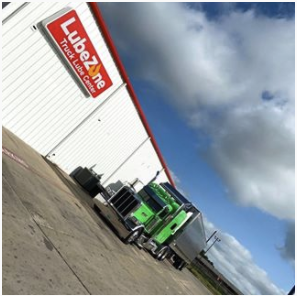 LubeZone is the fastest growing dedicated semi-truck service in the United States with locations in Texas, California, Oklahoma, North Carolina and Georgia. Our preventative maintenance solutions are designed to get the professional driver back on the road FAST.