Tips for Truck Drivers to Avoid Coronavirus Infection
June 3, 2021
LubeZone Sponsors Wyatt Miller's 2021 Summer Racing Season
June 18, 2021
If you're a trucker, owner-operator, or own a fleet of trucks, semi-truck oil change price is likely top of your mind. You know that with so many miles on the road your vehicle is bound to need preventative maintenance frequently and you know that it's essential to keeping your truck in top condition. But how much is a semi-truck oil change, really? How do you know what's a fair price? We're here to break everything down for you–when asking how much does a truck oil change cost, there are lots of things to consider. You want to ensure you get the most for your buck and that you get the best for your truck.
Regular oil changes are essential to ensuring your engine functions at its best. Routine oil changes help ensure uptime, keep your engine well lubricated, minimizing friction and damage to wear metals that can break down and limit your truck's engine life. Additionally, routine maintenance on your truck can improve your fuel economy. There can be many places to stop along your route, each with their own price. So, what is the true semi-truck oil change price and how do you know that it is worth it for your truck?
Intervals for an Oil Change
The average length of time between oil changes for semi-trucks is anywhere between 10,000 and 25,000 miles. There are many factors that affect how long your truck can go between oil changes, including the age of your vehicle, as well as your physical driving habits.
Additionally, each make and model truck has its own specifications regarding how often you should change the oil all depending on how you're using the truck. You can find this information in your vehicle's owner's manual. It is essential that you do not try to "stretch" the mileage you can get between oil changes as this can cause premature wear and tear on your engine, and may lead to more costly repairs.
Along with manufacturer specifications, you should complete regular oil level checks at each stop to ensure that your engine's health remains in peak condition.
In Need of Semi-Truck Oil Change Services?
LubeZone has locations throughout Texas, Georgia, California, and Oklahoma to better serve your semi-truck needs.
Contact us today for more information!
Oil Change Cost: Semi-Trucks
A full-service oil change for a semi-truck at LubeZone Truck Lube Center includes oil drainage and disposal, new oil, installation of new fuel filters, oil filters, grease job, coolant check, checking the fluid level in your gear boxes, and topping off your windshield washer fluid.
Part of what makes LubeZone Truck Lube Center so unique is that we recognize some trucks with older engine configurations are simpler than some newer trucks that are much more complex. We see a wide variety of trucks, from older trucks with a simple filter configuration, to newer trucks with complicated filter configuration.
Here at LubeZone Truck Lube Center, we believe that you shouldn't have to pay more than what's fair because of a blanket price. For example, older trucks often have engines that are simpler with less filters, while newer models may be more complex and require more filters. The price for your individual truck will be fair because it's matched specifically to your truck's engine configuration. At LubeZone Truck Lube Center you won't end up paying more to cover the cost of a more complex truck's oil change.
Call your local location for a better idea of pricing for your vehicle.
Lubricant Brands and Services at LubeZone
A semi-truck oil change price may also depend on the type and brand of lubricant and filters your vehicle requires. At LubeZone Truck Lube Center, we use only the highest quality products to help keep your truck running at its best.
Engine lubricant brands available at LubeZone Truck Lube Center include:
Shell
Chevron
Mobil
Lucas
Mystic
You'll want to use a type of oil that meets the manufacturer's specifications for your engine. Check your owner's manual for the American Petroleum Institute (API) specifications your truck requires from a motor oil. It is essential to make sure the oil has the correct viscosity grade and type, however, all lubricants sold in the United States must meet minimum standards set forth by the API.
Additional Services Available at LubeZone Truck Lube Center
With a full offering of PM services for your truck, we're able to service a wide variety of your needs in one stop. Taking care of multiple services at one time minimizes how frequently you need to stop, helping you make the most out of your time on the road. We know that this is a must for many drivers when you're on the road, time is money and you can't afford frequent repeated stops to address small issues. Let LubeZone Truck Lube Center take care of everything you need all in one place so you can get back on the highway.
Additional services include Federal Annual Inspection by qualified inspectors, tire checks, air filter replacement, tractor and trailer grease, gear box fluid changes, oil analysis, wiper blade changes, and axle alignment at specified locations.
Create a Preventative Maintenance Plan
While it may be tempting to try to make your engine oil last as long as possible between changes, this can be detrimental to your engine. The more miles you drive, and the harder you drive your vehicle, the more stress gets put on your engine components.
The job of your lubricant is to keep everything moving smoothly, preventing parts from wearing down or causing friction. When you go too long without changing your oil your engine can wear prematurely, leading to costly repairs down the road. The best way to save money and make the most of your oil to have a preventative maintenance plan in place that ensures you get an oil change at the proper intervals.
Come into LubeZone Truck Lube Center Today
If you're looking for a truck oil change near you, come into one of LubeZone Truck Lube Center's convenient locations today. Once we are aware of your engine configuration and know what filters and brand of engine lubricant your truck will need, we'll let you know your semi-truck oil change price. How much does a truck oil change cost is one of the most frequent questions we hear from our customers. At LubeZone Truck Lube Center, a full-service oil change starts at approximately $237 plus the cost of filters.
With our CASH BACK LubeZone Rewards system, you'll get money back for every purchase you make, no matter which location you visit. Not many semi-truck oil change centers can say that! And best of all, we complete full-service oil changes for semi-trucks in just 30 to 40 minutes, so you'll be back on the road in no time.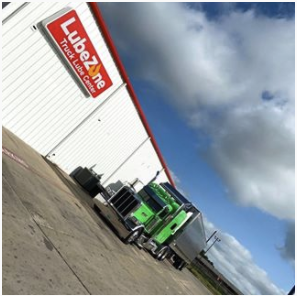 LubeZone is the fastest growing dedicated semi-truck service in the United States with locations in Texas, California, Oklahoma and Georgia. Our preventative maintenance solutions are designed to get the professional driver back on the road FAST.