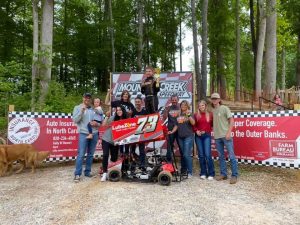 With racing in his DNA, it was only a matter of time before nine-year-old Wyatt Miller caught the racing bug. But it wasn't until last summer that his interest in the sport took off. As a company known for fast, high-quality oil changes, it makes sense that we would sponsor the summer season of this promising Box Stock phenom.
"It has always been a pleasure working with you on projects. We are excited to partner with you on Wyatt's racing program and believe this to be an opportunity for both of us to grow …"
– LW, Kelley & Wyatt Miller
The son of LW and Kelley Earnhardt Miller, racing was always a part of Wyatt's environment, and when a weekend meant to be spent preparing for the fall hunting season morphed into three weeks of hardcore racing, Wyatt was hooked. In his third start, Wyatt won his first race at Sebastian Speedway in Gladstone, IL.
"Wyatt won his first go-kart race right here at Sebastian Speedway. Eight years old. The kid has got talent."
– Byron Sebastian
Wyatt and his family packed up the RV and traveled to four states in two weeks, racing eight nights and bringing home four wins at prestigious events, including the Outlaw Kart Nationals at English Creek Speedway in Knoxville, Iowa. Wyatt went on to compete locally at Millbridge Speedway near his home in North Carolina and 304 Speedway in West Virginia for the remainder of 2020, capturing feature wins and the attention of many in a few short months.
Wyatt Miller Career Stats
2020: Mississippi Thunder Battle of the Wings Race Winner
2020: English Creek Speedway 16th Annual Outlaw Dirt Kart Nationals Winner – RBOX Champion
2020: 304 Speedway Halloween Havoc RBOX Winner
2021: Clash of the Coliseum St. Louis Race Winner (4x)
2021: Millbridge Speedway RBOX First Feature Win
2021: Mountain Creek Box Stock Winner (2X)
2021: Clash at the Creek Race Winner
2021: Patriot Shootout at Millbridge Speedway Race Winner
2021: Viola Boys Speedway Race Winner
Wyatt Miller's Summer Schedule
In 2021, Wyatt is set to run a 64-race schedule competing all across the country in various local, regional, and national Outlaw Kart events. In addition, Wyatt will compete weekly in his Restricted Box Stock at Millbridge Speedway, chasing the coveted points championship for their Tuesday night series, broadcast live PPV on www.speed51.com. Wyatt has already claimed six victories in 2021 at St. Louis, MO, Millbridge Speedway, and Mountain Creek Speedway.
Look for Wyatt at these summer events.
Rep Wyatt Miller with Cool Merch from LubeZone
Whether watching Wyatt at the track or live PPV on www.speed51.com or www.floracing.com, show your true colors with Wyatt Miller merch. Stand out from the crowd and let them know you are on team Wyatt.
This handsome design showcases the LubeZone kart driven by Wyatt Miller, the dirt track cowboy himself. Made from cotton jersey and featuring a rib-knit neckline, this t-shirt will hold its shape wash after wash. The graphics really stand out on this t-shirt, and so will you when wearing it. It showcases a Kenworth w900a with a reimagined retro logo and crisp graphics.
The Wyatt Miller Trucker Hat will soon become your everyday hat! It features a cotton twill front, nylon mesh back, and adjustable snap closure. Wyatt Miller 73 is embroidered on the front, and our own LubeZone logo is on the back.
We can't wait to see you in our Dirt Track Cowboy Tee or Wyatt Miller trucker cap! Tag us in your Instagram posts using #LubeZoneApparel so we can see!
Wyatt Miller and LubeZone
You can find Wyatt driving his LubeZone 73 at speedways throughout the summer. We know great things are coming for Wyatt and can't wait to see what they are.