LubeZone Sponsors Wyatt Miller's 2021 Summer Racing Season
June 18, 2021
How to Choose a High Performance Air Filter for Your Truck
July 19, 2021
Long-distance driver fatigue is real, and it can be both debilitating and dangerous. Not just for yourself, but for others on the road as well. Knowing how to spot road fatigue is essential to long-haul trucking. With the proper education and fatigued driving tips, you can help keep yourself and others safe while maintaining your health.
Here at LubeZone Truck Lube Center, we value road safety above all else. That's why we're always sharing tips, tricks, statistics, and valuable information to help every truck driver excel while staying heathy and safe while traveling. We know that the road can get daunting and that sometimes it can seem like the miles you have to make are never-ending. Don't forget that if you're ever feeling tired, or just can't keep your eyes on the road, it's okay to pull over and take a little while to regroup and reset before hitting the pavement again.
You'll find many LubeZone Truck Lube Center locations near your favorite rest stops along major highways. So, if your semi-truck needs preventative maintenance service, such as an oil change, tire rotation, tractor and trailer grease, and more, you can stop and take care of these necessities while you get some rest, have a meal, and refuel. We'll have you in and out in just 40 minutes because we know that in the trucking industry, time is money.
Keep reading to learn more about long-distance driver fatigue and to get the best fatigued driving tips to help improve your life on the road.
Trucking Accidents & Fatigue: The Numbers
Unfortunately, the statistics surrounding road fatigue and trucking accidents are quite staggering. While you may think that it could never happen to you, it's essential to know the reality of what can happen when a driver experiences road fatigue so you can be aware of your own status.
Statistics relating to trucking accidents and road fatigue:
The National Highway Traffic Safety Association estimates that truck driver fatigue contributes to nearly 40% of all accidents that involve a semi-truck.
The Federal Motor Carrier Safety Administration estimates that the risk of a crash effectively doubles from the 8th to the 10th hour of driving and doubles again from the 10th to the 11th hours.
More than 750 individuals die each year due to truck drivers who are overtired or are experiencing road fatigue.
An additional 20,000 people suffer injuries annually as a result of fatigued truck drivers.
Long-haul truck drivers are far more likely to drive while experiencing road fatigue than other drivers, according to the Center for Disease Control.
Warning Signs of Drowsy Driving
When you're on the road, be sure to look out for these signs and symptoms of drowsy driving. If you notice yourself start to experience symptoms, it's absolutely vital that you find a rest stop immediately.
Signs and symptoms of drowsy driving and road fatigue include:
Impaired memory. Particularly relating to the last few miles you have driven and your short-term memory.
Increased blinking or yawning. Many people blink excessively as they struggle to keep their eyes open.
Distractibility. You may experience daydreaming, wandering thoughts, have difficulty focusing, miss your exit without noticing, and more.
Impaired driving ability. Look out for signs such as hitting a rumble strip, lane drifting, tailgating, the inability to maintain a proper speed, and more.
Irritability and moodiness. Many people find themselves to be cranky or easily upset when they become tired.
Head nodding or falling asleep. If you're struggling to keep your head up and your eyes on the road, pull over right away.
Hallucinations. One of the most serious symptoms of sleep deprivation is both auditory and visual hallucinations. Are you hearing sirens that aren't there or seeing shadows on the side of the road? This is an emergency situation that requires you to pull over and get some sleep immediately.
Factors That Contribute to Road Fatigue in Truck Drivers
There are many factors that contribute to long-distance driver fatigue, and the more facts that apply to you at any given time, the more likely you are to experience drowsiness while driving.
Factors that impact drowsy driving include:
The time of day. Road fatigue-related accidents happen most frequently between midnight and 6am, and drivers who drive at night are more likely to experience fatigue on the road. While there may be fewer cars on the road during the darker hours, and traffic may not be as bad, the reality is that driving at night can be much more dangerous.
Total hours driven and total hours awake. Being awake for more than 18 consecutive hours is shown to have a negative impact on driving and cognitive abilities, and 24 hours awake can impede driving as much as having a Blood Alcohol Content (BAC) of 0.10%. It's true what they say, tired driving is just as dangerous as drunk driving. Additionally, the longer you've been driving (and not just awake) the more likely you are to experience road fatigue. Frequent rest stops and a proper sleep schedule are important.
Changing shift schedules. Do you usually take the morning shift, but today you're driving at night? Or, did you drive overnight last night and have to hit the road again in the afternoon? These changing schedules often don't allow for adequate rest and recovery and can throw off your body's internal clock leading to increased road fatigue.
Medication. Be aware of the potential side effects of any new medications that you start taking, as many can make you drowsy. This includes prescription medications as well as over-the-counter options such as those for coughs and colds. Medication can be a large contributing factor to experiencing drowsiness.
Health conditions and sleep disorders. Similarly, health conditions and sleep disorders can lead to increased road fatigue. Low blood sugar, insomnia, and more can all make it more dangerous to be on the road. Talk to your doctor about any areas of concern before your next route.
6 Fatigued Driving Tips
While the most important tip to fight fatigued driving is to be aware of the potential warning signs and contributing factors, there are things that you can do to mitigate your risk while on the road and help yourself stay rested and awake.
Follow these fatigued driving tips:
Sleep when your internal clock is more prone to tiredness. This includes between the hours of midnight and 6 am, as well as in the early afternoon. If you can't, or don't wish to, sleep in the early afternoon, plan a rest stop for food and coffee around this time.
Avoid alcohol and fatigue-inducing medications. Drinking the night before a route can increase road fatigue once you're driving, and many over-the-counter medications such as those for cold relief and allergies can increase drowsiness. Be aware of these things before a route.
Eat a balanced diet. Make sure you're eating healthy meals with regular snacks along your route. Things like low blood sugar can contribute to long-distance driver fatigue. Keeping snacks on hand, such as almonds, protein bars, and more, can help your body stay fueled.
Stay hydrated. Similarly, it's important to drink enough water while you're on the road.
Take frequent breaks. It's not just total hours awake that impacts road fatigue, but also total consecutive hours on the road. It's important to take breaks to stretch your legs and get your blood flowing, and give yourself a mental break from the highway.
Limit caffeine intake. It may sound counterproductive to stay away from caffeine, but in reality, energy drinks and coffee can make you jittery, anxious, and they don't prevent real fatigue from setting in. Instead, reach for water, orange juice, or other healthy and hydrating beverages.
Stop by LubeZone Today
When you're on the road it's important to take care of your mind and body, just as it's important to take care of your Big Rig. However, we know that when you're on a job, you don't have a ton of time to spare for necessities such as preventative semi-truck maintenance. That's why at LubeZone Truck Lube center, FAST IS BACK! We'll get you in and out the door for a full service oil change in just 40 minutes, so you can spend the rest of your downtime getting the rest you need to stay safe and alert.
No appointment is ever necessary at LubeZone Truck Lube Center, so come on in today!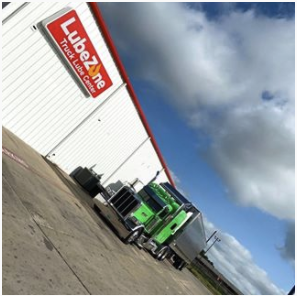 LubeZone is the fastest growing dedicated semi-truck service in the United States with locations in Texas, California, Oklahoma, North Carolina and Georgia. Our preventative maintenance solutions are designed to get the professional driver back on the road FAST.