How to Choose a High Performance Air Filter for Your Truck
July 19, 2021
Truck Stop Guide: Safety Tips and Tricks for Truckers
August 4, 2021
Trying to stay healthy on the road as a trucker?
Many of us see road trips as a time to stop our usual diet and exercise routines. When we think about traveling on the road, we imagine fast food and convenience store snacks like chips, soda, and candy bars.
For most of us, a weekend road trip without exercise or healthy foods will not have that much impact, and we can return to our normal habits and routines once the vacation ends.
For truckers, however, road trips are part of the job. With many truckers on the road for over 300 days a year, regularly eating the junk foods we associate with road trips can have a negative impact on their health.
Additionally, the job is sedentary, and it can be challenging to fit in exercise. With the long hours, it is tempting to drink lots of coffee or energy drinks. All of this can add up to an unhealthy lifestyle and lead to health problems.
Luckily, truckers have options to maintain their fitness and other healthy habits on the road. With some effort, truckers can find ways to meet their fitness and dietary goals without compromising their work.
Nutritious Food on the Road
Traveling on the road is taxing on your body. Take care of yourself by making sure your body has nutrient-dense foods to fuel you through your trip.
If weight loss is a goal, experts say that your food choices have far more impact on your weight than exercise, so make healthy eating your first priority.
Choose Lean Proteins
Have you ever eaten a meal and been hungry an hour later? That may be due to the low protein content in your food. Protein helps you feel full for longer. Additionally, if you are working out, protein is necessary to build muscle.
Lean proteins are ideal, especially if you have health conditions that require you to avoid cholesterol.
Suggested Foods:
Low-fat cottage cheese with tomato and black pepper
Low-fat, sugar-free Greek yogurt mixed with fresh or frozen berries
Low-fat cheese with whole wheat crackers
Turkey jerky
Hard-boiled egg
Pouch of seasoned tuna on a salad
Eat Fiber
Most Americans do not meet the recommended daily requirements for fiber intake. You should take in 14 grams of fiber for every 1,000 calories. It can be even more challenging for truckers to get fiber because fiber-dense foods like fruits and vegetables are the most difficult to access on the road.
Fiber, like protein, can make you feel full for longer. It can promote weight loss, lower blood sugar, reduces cholesterol, promotes regular bowel movements, and can even reduce your risk of getting gastrointestinal cancer.
Most fruits, vegetables, nuts, seeds, and whole grains contain fiber. Dark chocolate even has some fiber in it!
If you want to get more fiber in your diet, try adding it in slowly at a rate of 5 additional grams per week until you reach your desired fiber intake. Drastic shifts in your fiber intake can cause gastric discomfort.
Popular low-carb diets are great for weight loss, but it can be hard to get your recommended fiber intake. Be sure to fit in low-carb, high-fiber items like some almonds, ground flax, avocado, and berries.
Suggested Foods:
Sliced vegetables with hummus
Almonds coated in a spice blend
Apple slices with peanut butter
Turkey and avocado sandwich on whole-wheat bread
Stock Your Cab with Your Favorite Healthy Foods
Increasingly, truck stops and fast food places have healthy options, but the foods they offer may not always be appetizing to you. Preparing foods for your trips means you will always have access to the healthy foods you enjoy.
It is great if you can prepare the items yourself because you can control the ingredients. Plus, it's more affordable. But if you are busy or do not like cooking, your local grocery store may have healthy convenience foods already prepared.
Suggested Foods:
Ready-made salads
Overnight oats
Canned fruit in juice (not syrup)
Precooked, seasoned lean meats for wraps, sandwiches, or salads
Greek yogurt-based salad dressings for salads and dipping sliced vegetables
Drink Water
Water is the best way to stay hydrated. If you get bored with the taste of water, you can make it more interesting by adding fruit and herbs. Try adding cucumber, mint, and lemon for a refreshing drink. You can purchase powders or liquids to add flavor to your water, too. Just watch out for added sugar.
Minimize your coffee intake to two or fewer cups a day. Avoid energy drinks and soda. If you find it challenging to go without soda, switch to diet soda until you can kick the habit.
Perfection Not Required
We have all been there. You slip and eat a meal that does not meet your nutrition goals, and you think, "This day of eating is ruined." We often think that living a healthy lifestyle means being perfect, and if we are not perfect, there is no point in trying.
This thinking, however, is flawed. You do not have to be perfect to eat a healthy diet. Eating healthy is about habits, not perfection. Aim for sticking to your dietary guidelines 80-90% of the time, which is more attainable. As the saying goes, perfect is the enemy of good.
Working Out on the Road
It is challenging enough to fit in a workout for most people. Workouts are even more challenging for truckers who are often without access to a gym and work a sedentary and often stressful job.
A workout is worth your time. In addition to the benefits for your physical body, exercise is a great way to manage the stress of driving and other challenges that truckers face.
Spending two hours in the gym is not necessary for good health. Determine a realistic workout routine that you will stick to. You will benefit from working out even for just 15-30 minutes, especially if you exercise vigorously for that duration.
We have some strategies for how to fit in a workout no matter where you are.
Exercise Outdoors
You can work out at a truck stop or at a nearby park or trail. Lots of exercises require no equipment and use your own body weight as resistance. You can do push-ups, sit-ups, squats, lunges, planks, and burpees nearly anywhere. You can go for a walk or run, too.
Sometimes parks and trails have parallel and pull-up bars, which give you even more options for exercise.
Be sure to vary your workouts to get the best results. Check out fitness magazines and the websites of personal trainers for workout ideas.
Equipment
Workout equipment like resistance bands, dumbbells, kettlebells, exercise mats, and foldable bicycles make it even easier to work out on the road. Exercise equipment can help you get in a more intense workout in less time.
Adequate Rest and Sleep on the Road
Sometimes you need to stop and stretch your legs. You may also need to give your brain a break from the level of focus required to drive a large truck. Even a 15-minute break will allow you to return to the road feeling refreshed.
Sleep is crucial for truckers who need to be alert while driving. Adequate sleep matters for good health, too. Aim to get at least 7 hours.
Stop by LubeZone Today
Taking good care of yourself while you are on the road is important. Just like your truck, you need good fuel to function properly!
We know that truckers need fast, efficient service when it comes to preventative semi-truck maintenance. That's why at LubeZone Truck Lube center, FAST IS BACK! We can offer you a full-service oil change in just 40 minutes, which is the perfect amount of time for you to get in a quick workout.
No appointment necessary! Come on in to LubeZone Truck Lube Center today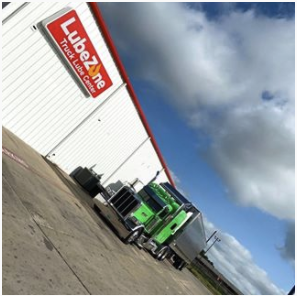 LubeZone is the fastest growing dedicated semi-truck service in the United States with locations in Texas, California, Oklahoma, North Carolina and Georgia. Our preventative maintenance solutions are designed to get the professional driver back on the road FAST.