The Benefits of Owner-Operator vs Company Drivers
November 16, 2022
JustTruckin': Navigating the Open Road with LubeZone
November 6, 2023
YouTube: Not just for adorable cat videos. It's also a great resource for truckers, and there are countless channels of people creating their own unique content, providing their insights, and in many instances, helping others learn more about trucking.
At LubeZone, we think the idea of sharing information and helping people learn is awesome, so we've compiled a list of our top 5 favorite YouTube trucking channels. Each one of these channels has its own unique focus, but they all have one thing in common: They're incredibly informative and can help new and experienced truckers alike.
While you're waiting for an oil change or other services at any of our locations, take a look at these channels to fill your time!
Are there any channels you love and would recommend? Shout out your favorite trucking YouTube channel in the comments!
The Big Rig Barbie
We love everything about The Big Rig Barbie's channel! Big Rig Barbie has taken social media by storm with nearly 250k Instagram followers and millions of "Likes" on TikTok.
Since the advent of freight hauling, big rigs were (and still are) popularized in traditional media like music and movies. Country music artists like Hank Williams, and more recently, Brad Paisley have even penned songs about these massive machines. These days, it's all about views and likes, and Big Rig Barbie has that covered. One look at her channel and you can see that she is passionate about her job, and enjoys helping others learn more about life in the industry in a way that has a broad reach and wide appeal.
Her videos are creative, informative, and just plain fun to watch. We highly recommend subscribing to her channel if you're looking for a good laugh, or want to learn more about what it's really like to be a trucker.
Big Rig Barbie's channel is a must-watch for anyone in the trucking industry, or anyone considering becoming a trucker. Not only does she post videos about her life on the road (which are sometimes hilarious, and always relatable), but she also offers up helpful tips and advice for new truckers, and anyone considering a career in trucking.
Even if you're not interested in becoming a trucker, we think her videos are well worth a watch. After all, who doesn't love a good dose of girl power? She and others like her bring a fresh face to trucking, and don't fit the traditional idea of what an owner-operator looks like. With channels like hers, the trucking industry is making its way into the lives of a whole new generation.
If you're looking for tips on living the trucking life, whether it be how to decorate your rig, what products to buy, or even just some moral support, The Big Rig Barbie is the channel for you.
JustTruckin
YouTube is a helpful resource for truckers because it provides an easy way to learn about all aspects of trucking. Drivers can watch videos on how to back up their trucks, navigate difficult roads, and more.
JustTruckin is a great resource for new drivers, as it covers a lot of the basics of trucking, including a lot of conversation about pricing and cost transparency. Whether you are new to the trucking industry, want to learn more about operating your own trucking service, or just want to get an inside look at an owner-operator's day-to-day, this is a great channel to subscribe to!
Justin has videos on everything from how to back up your rig to what to do if you get pulled over. They also have a lot of information about buying your first truck, ways to handle difficult customers, and even discussions about how to best maintain your vehicle. If you are looking for a channel that covers all of the ins-and-outs of trucking, both professionally and personally, this might be one to consider.
Jacinda Lady Truck'n
A self-described "motivator, educator, entrepreneur," LadyTruckn is another excellent example of female representation in the trucking industry. This channel gives you an inside look at daily life on the road from a unique perspective, and provides both education and encouragement for men and women who are either thinking about becoming truckers, or already are.
This channel is a great resource for anyone considering a career in trucking, as it offers a realistic view of what life on the road is really like. Jacinda's videos are sometimes funny, sometimes serious, but always relatable and down-to-earth. If you're looking for an honest take on trucking, this is the channel for you.
Lady Truck'n is a perfect example of the deeply personal look into the daily lives of people just like us that YouTube provides. Sometimes Jacinda provides her perspective on the industry as a whole, and other times she will upload a personal Vlog that goes into things that she loves about her truck, her work, and her life on the road. Bonus: Miles the dog is adorable!
Big Rig Videos
The name Big Rig Videos says it all: this is a channel all about big rigs hosted by a former heavy hauler Christopher Fiffie. The channel has nearly 400k subscribers and covers a wide range of topics relating to big rigs including recaps of truck shows, interviews with drivers including deep-dives of their rigs, and more.
If you want to take a look at some interesting content, check out this channel! We recommend the Oversized Loads playlist, as well as the many different truck reviews and walkthroughs! There are also a number of documentaries and interviews with drivers, highway safety videos, conversations with owner-operators about their businesses, and more.
This channel is a great way to learn more about the trucking industry and get an inside look at what it's really like to drive a big rig. There's a lot of information here, and it's presented in an engaging and entertaining way. Whether you get excited about the nuts and bolts of the rigs, want to get a better view into the greater community (truck shows, memes, and interviews), or just appreciate the dedication and craft it takes to continually produce such engaging content, take a look and tell them LubeZone sent you!
Trucker Brown
With over 100k subscribers and 12 million views (and counting), Trucker Brown is a comprehensive resource for an honest look at the trucking industry.
We recommend the "Trucking Tips" playlist that covers topics such as hazmat in trucking, red flags to look out for when considering companies to drive for, rookie mistakes, and industry comparisons like tech vs. trucking. You can also find content about the amenities and equipment in different trucks, as well as a number of product reviews. Members can access exclusive content including a series of financial talks including business coaching, credit repair, and how to overcome the fear of starting your own trucking business.
Trucker Brown's channel is a great way to learn more about the trucking industry, whether you're just starting out or you've been driving for years. The videos are informative and entertaining and offer a unique perspective of life on the road from a content creator focused on pushing the envelope and providing his viewers with unfiltered, unbiased content.
The Benefits of Watching YouTube Trucking Channels
There are many benefits to subscribing to and watching YouTube trucking channels. For one, you can learn a lot about the industry and what it's really like to be a trucker. You can also get tips on how to be a better, safer driver, and how to find the best jobs and companies to work for. And, of course, it's a great way to stay entertained on long hauls!
If you're interested in the trucking industry, or if you're a trucker yourself, be sure to check out some of these top YouTube trucking channels. You're sure to find something that interests you, and you might even learn something new.
If you have any other channels that you think are a "must-see," be sure to drop us a line in the comments to plug your favorite content creators! There are many different platforms these days, reaching many different segments of the trucking industry, and it's always great to see what others are watching and enjoying.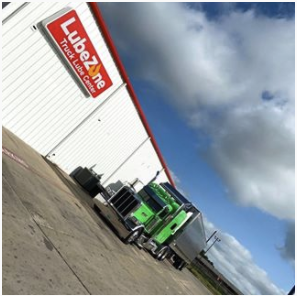 LubeZone is the fastest growing dedicated semi-truck service in the United States with locations in Texas, California, Oklahoma, North Carolina and Georgia. Our preventative maintenance solutions are designed to get the professional driver back on the road FAST.