JustTruckin': Navigating the Open Road with LubeZone
November 6, 2023
LubeZone is dedicated to keeping our truckers rolling, and we are proud to offer a host of quick mechanical services that go beyond the full-service oil changes our customers have come to rely on us for. When it comes to maintaining your commercial truck, LubeZone is a trusted name, and we're here to help keep things running smoothly and efficiently.
Our quick mechanical services are designed to cover many aspects of your truck's needs, from preventative maintenance to required inspections, safety checks, and more. Our technicians have what it takes to handle your needs.
LubeZone is committed to quality, exceptional customer service, and supporting the trucking industry, and our history of providing many services to our customers is a great indication of the quality you can expect when you visit us. Take a look at the light mechanical services you can find for your commercial truck at our LubeZone locations.
Full-Service Oil Changes
As you already know, oil changes are essential for the health and long life of your 18-wheeler. At LubeZone, our full-service oil changes go beyond just draining your old oil and replacing it. Our oil change is an involved press including changing your oil filter, inspecting a number of different components in your truck, analyzing your old oil, and checking on the rest of your fluid levels.
It's important that you get regular oil changes to avoid premature or preventable wear and tear to critical engine parts. As the engine and oils collect and trap small particles of dirt, dust, metal shavings, oil, and other contaminants, it thickens the oil and can cause damage to the engine. When you get your oil changed routinely, you will effectively be removing this debris — in addition to replacing oil that has begun to degrade after exposure to pressure and heat while driving.
Depending on a number of factors, like the type of truck you drive, the way you drive, and more, the recommended interval between oil changes may be anywhere between 10,000 and 25,000 miles.
Tractor & Trailer Grease
Grease is an unsung hero of the trucking industry and protects many of the components and connectors on your 18-wheeler, as well as many other heavy-duty and commercial vehicles. 18-wheeler grease is a durable lubricant that can withstand the varying, harsh conditions you encounter on the road, such as heavy loads, significant temperature fluctuations, precipitation, and all sorts of contamination.
There are many different types of grease depending on the part of the tractor-trailer being maintained, and it's important to work with a team of professionals like those at LubeZone so you can be confident that the technicians working on your truck understand these distinctions. Chassis grease will have different properties than your wheel bearings, and the same is true when working on things like tie-rod ends, spring pins, the fifth wheel, or the pivot points on your landing gear.
Air Filters
The air filters in your 18-wheeler are crucial for maintaining the performance and power that your engine is capable of, as well as keeping it running for a long time to come. Air filters will also help ensure good quality air in your truck's cabin, which is essential for your longevity!
Air filters work by — as the name suggests — filtering dust particles, sand, pollen, and other contaminants that would otherwise make their way into the engine system or your cabin. A neglected air filter can get clogged and impede airflow, which will in turn reduce the efficiency of your engine's combustion. This can lead to lower gas mileage and more wear on the vehicle. An air filter is just as important as your oil filter in terms of keeping your engine free from small particles.
If you are diligent about maintaining your cabin air filters, your air conditioning system will run more efficiently while delivering cleaner air into your cabin.
Oil Analysis
An oil analysis for your 18-wheeler is a great preventative maintenance tool that will give you insights into your engine's performance and overall health and may help you determine if there is any other work necessary to keep your truck running smoothly. An oil analysis will indicate possible issues with your engine and help you diagnose performance issues.
One of the things we check for in our oil analysis is your oil's viscosity. Significant changes to viscosity might indicate that there is some factor that may be degrading your oil prematurely, which can create a feedback loop that leads to even more wear and tear. Excessive debris and contamination in your oil could mean that there is an abnormal buildup or accumulation of dust, dirt, or other contamination that will further degrade your engine.
Other issues we look out for in our oil analysis include fuel contamination and coolant leaks, as well as the presence of dirt. An oil analysis is an inexpensive and simple method of avoiding expensive and complicated repairs to your truck and will help you stay on top of basic maintenance to maximize performance and increase your vehicle's uptime.
D.O.T. Inspections
The Department of Transportation mandates vehicle inspections and regular checks on all commercial motor vehicles to make sure that they are in compliance with all federal regulations. These inspections are meant to improve safety on the road for both truckers and non-truckers alike by ensuring that large trucks and buses are in proper working order. There are 6 different levels of D.O.T. inspections, each with its own unique requirements that you will need to understand. LubeZone offers each of these inspections for your convenience:
Level I: Full D.O.T. Inspection
This is a comprehensive inspection that includes all of your documentation, brakes, coupling system, vehicle frame, lighting, suspension, seat belt functionality, exhaust, turn signals, brakes, tires, and more. You can also expect to have your daily log, Hours of Service, and Driver and Vehicle Inspection Report (DVIR) reviewed by the inspector.
Level II: Walk-Around Driver/Vehicle Inspection
The Level II inspection is nearly as comprehensive as a Level I but the inspector won't physically get under the vehicle to make visual inspections in that capacity. You will still want to prepare for a Level II as you would a Level I, even though it is a bit less involved.
Level III: Driver-Only Inspection
A Level III inspection will go over your credentials and paperwork such as a check on your CDL, a review of your requirements for HazMat and any other endorsements you may have, a Skill Performance Evaluation, HOS documentation, daily log review, and a variety of other checks on requirements.
Level IV: Special Inspection
A Level IV inspection is a specific check on a certain feature and is not a recurring inspection. This is usually assigned by the D.O.T. if you had a violation from a previous year, or if there was an issue with a prior inspection that needs to be checked on again.
Level V: Vehicle-Only Inspection
A Level V is an inspection that includes all of the vehicle-related checks in Level I, without any of the checks on the driver themselves. A Level V inspection usually happens after there is an incident like an arrest or citation where the driver has already been removed from the location.
Level VI: Enhanced N.A.S. Inspection for Radioactive Shipments
An Enhanced N.A.S. inspection is only for drivers that transport radioactive materials, so this isn't an inspection you will probably have to undergo as a surprise.
Tire Checks
The condition of your tires is an important factor when it comes to properly maintaining your vehicle. Your tires get the most immediate and direct wear, and checking on them frequently can help improve fuel efficiency, avoid blowouts, and help you get more life out of them. We will check on things like tire pressure, tread depth, wear patterns, and inspect for damage, check on your lug nuts, and make sure your spare tire is in good working condition in case of an emergency.
A/C Tune-Ups
Your air conditioning system is an M.V.P. when it comes to keeping you comfortable on the road year-round. We will give your system a full inspection, including checking your refrigerant and giving a recharge if necessary, as well as running a leak test, checking your thermostat, cleaning crucial parts of the system like the condenser coils, and replacing your air filters if necessary. We will also check your hoses and belts for any signs of wear or damage before running a final system test to make sure everything is running properly.
We also perform work on:
Brakes, Chambers, and Adjustments
Wheel Seals and Hubs
Air Bags and Hoses
Lighting, Alternators, and Starters
Suspension and Steering
Much, much, more!
Lube Zone offers quick mechanical services at the following locations:
Brookshire, TX
Laredo, TX
Baytown, TX
Odessa, TX
Statesville, NC
Drive into LubeZone for any of the quick mechanical services we offer.
Visit LubeZone For Trustworthy Quick Mechanical Services
Whether you are a faithful LubeZone customer or would like to try our services for the first time, please visit LubeZone in Brookshire, TX or LubeZone in Sweetwater, TX to keep your truck running smoothly. We are proud to serve many drivers in the trucking community and will continue to focus on providing exceptional customer service.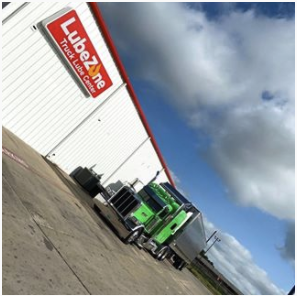 LubeZone is the fastest growing dedicated semi-truck service in the United States with locations in Texas, California, Oklahoma, North Carolina and Georgia. Our preventative maintenance solutions are designed to get the professional driver back on the road FAST.