LubeZone Oil & Maintenance Services in Carnesville, Georgia
91 JF Shirley Road
Carnesville, GA 30521
Telephone: (762) 277-9996
  8 am – 8 pm, 7 days/week
Location
Our semi-truck oil change and service center in Carnesville is located about an hour northeast of Atlanta off I-85 and Sandy Cross Road. We're on the northeast side of the exit, across from the Flying J Travel Center and Western Union. Convenient to Athens and Anderson GA too.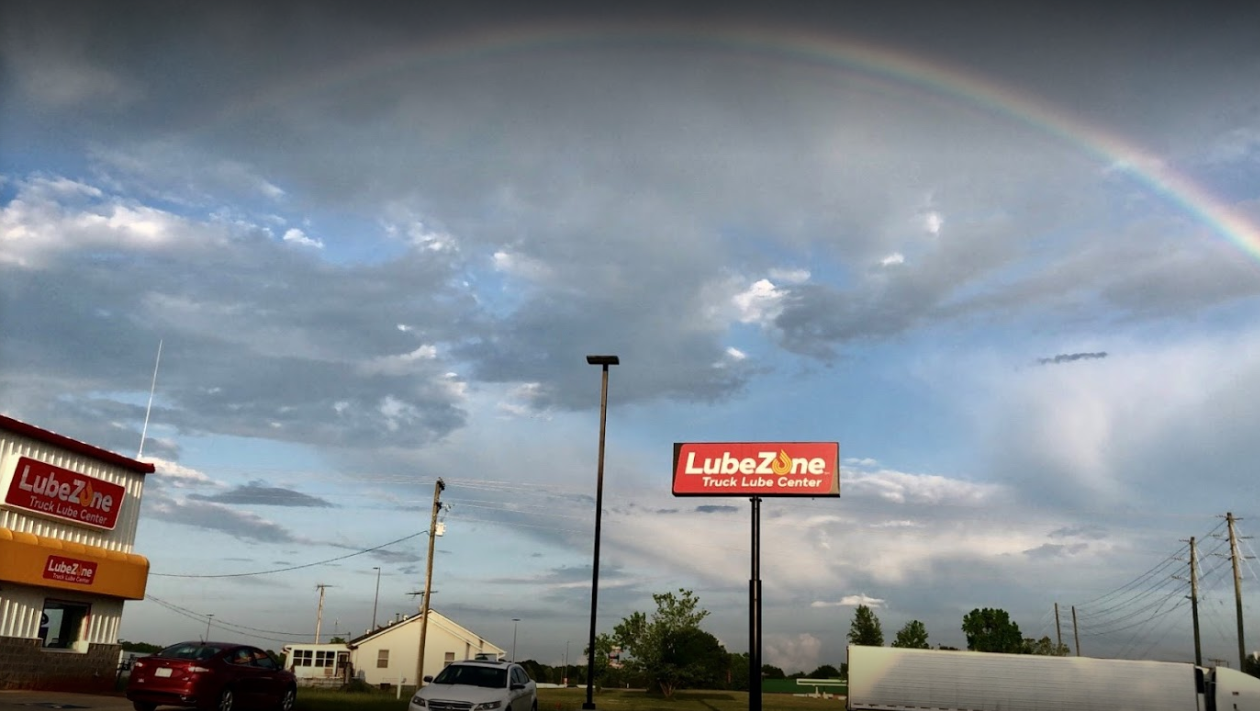 LubeZone Truck Lube Center offers premier semi-truck service in Carnesville, Georgia. Our Center is located approximately one hour Northeast of Atlanta, off Interstate 85 and Sandy Cross Road. We are across from the Flying J Travel Center and Western Union and conveniently located for those driving in the greater Athens and Anderson, Georgia areas as well.
The LubeZone Story
We founded LubeZone with one thing in mind, and one thing only. Premier service that is fast. We know that as a trucker your time is valuable. You have to make your miles and move on to the next job and you can't afford to be stuck waiting around for your semi-truck service in Carnesville, Georgia. We get it.
That's why we focus on fast service, with a typical oil change taking place in thirty to forty minutes. That definitely beats waits that can take hours at other service centers. We're making this a national focus, as we build a dedicated Truck Lube Network that specializes in oil changes, chassis lubrication, driveline lubrication, reefer and APU service, air filters, tire pressure checks, and more, exclusively for semi-trucks.
Our History
LubeZone was created by former executives from the Truck Quick Lube industry to provide high-speed preventative maintenance solutions for professional drivers at a fair price. You need your truck to operate in top condition so that you can keep going as long as possible. Jobs don't wait, customers don't wait, and you shouldn't have to either. And you shouldn't have to spend a fortune when getting semi-truck service in Carnesville, Georgia.
Many will remember when another company only provided preventative maintenance services to the transportation industry before adding tires and other services. Back then, drivers were in and out of the locations quickly. What was old is now new again with the creation of LubeZone Truck Lube Centers.
LubeZone Semi-Truck Service in Carnesville, Georgia

At LubeZone, we service trucks that are on-the-go with drivers passing through, but we also seek to provide on-going preventative maintenance. If you are a truck fleet owner, come see us. We keep detailed records of all your service visits, no matter which location you went to last. We can tell you when it's time for maintenance on specific parts of your truck in just a few minutes by looking in our nationwide database. Additionally, if you are a driver of a single truck, you will have access to the same information.
At LubeZone, workmanship and quality is our number one priority. Our services may be quick, but we will never sacrifice attention to detail or professionalism. Your truck is in the best hands each time you come in and you can have confidence that you will receive top tier semi-truck service in Carnesville, Georgie every time you visit. The same holds true for all our other locations as well.
Services in Carnesville, Georgia Include:
Full-Service PM

Includes checking power steering, front hub oil, washer fluid, coolant, transmission and differentials fluid, air filter, and cabin air filter

Express Oil Change
Gear Box Service
Tractor/Trailer Grease
Generator Service
Reefer Service
Independent DOT Inspection (select locations)
Tire Pressure Service
On-Site Oil Analysis

Testing wear metals such as aluminum, chromium, iron, copper, lead and more
Check for contaminants such as potassium, water, fuel, soot, and more
Testing of viscosity and flash point

We torque every check plug and drain plug to manufacturer specifications using calibrated equipment just for your vehicle
Not only do we provide a wide range of services, but we ensure that your truck is in top condition before you leave. We check everything as all service centers should, and then go one step further to ensure complete customer satisfaction. At LubeZone, we have a secondary member of our team examine your truck once more before you go. Our Crew Chiefs are in charge of this extensive Quality Control process and it is like no other service center in the industry.
Quality Products
At LubeZone, we feature a full line of Shell Rotella, Mobil Delvac and Chevron Delo motor oils, as well as Baldwin, Fleetguard, and CAT filters. In addition, we stock other brands and product solutions to meet individual customer needs.
If you need a specific product or brand that you do not see listed for your semi-truck service in Carnesville, Georgia, we encourage you to give us a call. Our goal is to properly service each and every truck that comes through our Center and we will do our best to accommodate you. As we do stock products not listed online, give us a ring and we will be happy to let you know if we have what you need.
Engine Manufacturers
We work with a wide range of engines and can provide semi-truck service in Carnesville, Georgia to virtually any vehicle. We service all major engine manufacturers, including:
Cummins
Detroit Diesel
Paccar
Caterpillar
Volvo/Mack
International
Mercedes-Benz
GM
Ford
And more
If you don't see your engine on the list, give us a call before you come in and speak with our technicians. We will let you know if we have the appropriate parts and equipment to give your semi-truck the service it needs.
LubeZone Rewards
LubeZone offers a rewards program like no other in the industry – CASH back on purchases, not points to be used on hot dogs and coffee. Points suck, earn cash. Sign up HERE for free!
If you're in the trucking business, you're on the road a lot. You're driving for extended hours, and while a free coffee or soda might be nice once in a while, what's better than cash back in your pocket? Whether you only come in for services every now and again, or are a frequent flyer at our locations, having LubeZone Rewards is the way to go. It's free, it's simple, and it pays!
No Appointment Necessary
On the road and not sure when you'll be able to stop, or exactly when your semi-truck will need service along your route? No problem. We completely understand, as we're in the biz. That's why at LubeZone there is no appointment necessary. Whenever you are in the area come on by and we will service your truck.
Customer Reviews
We know that nothing is more valuable than the word of fellow truck drivers. Over the years we have serviced countless individuals who have great things to say about the semi-truck service in Carnesville, Georgia at LubeZone. See for yourself!
"Not only is service great and done in a very timely manner but staff is top notch!! While my husband is busy talking to the guys in the shop about the truck, I enjoy sitting in the office and passing time with the employees as well. They will do a great job with servicing your truck and fixing you a cup of coffee for the wait. And I can't forget how pet friendly they are…. My dog is welcome inside and even knows where they keep the treats, lol…. Try this place out and you will never wait hours again at the truck stops!!!!" – Lisa C.
"Professional and fast service. Friendly crew." – Paulo M.
"Team was awesome. I left feeling like everything was actually done and checked. I'll be back!" – Mark D.
"Great Service. They did everything they were supposed to when they serviced my truck. They were very reasonable in price. They are open early and late which makes it easy to have your truck serviced at your convenience. Again, great service!" –Michael
"The best place to go, fast and friendly, professionals, wouldn't go anywhere else, thanks again LubeZone for a great experience." –Dee
"Excellent work, friendly staff, they did the best work I have ever had, timely no hold ups, I will be a repeat customer!" –Michael
We hope to make you a loyal LubeZone customer as well. Come on in today.
Meet the Manager
Matt Busby worked at Speedco for 13 years before joining the LubeZone team in 2018. He grew up in the trucking industry; his father owned the Great Southwest Express, which was at one time Atlanta's oldest and largest LTL carrier. He started working for his father at age 12, loading and unloading trucks. As he grew, he moved into performing light mechanical work and preventative maintenance services. His hobbies include hunting, camping, and spending time with his wife and two children. He also loves riding motorcycles, and currently owns a 2009 Harley Davidson Dyna Superglide.
Matt took home the Golden Parachute and Top Customer Reviews awards for best exemplifying the LubeZone commitment to the customer experience and keeping teammates safe in 2019.