Top 10 Must-Have Gadgets for Truckers
May 31, 2022
Joey Kirkland Wins 'Extra Mile' Award at LubeZone, Inc.'s Annual Leadership Conference
June 3, 2022
Fleet managers want to know how to minimize downtime and improve their bottom line, which is why they're curious about the most essential fleet maintenance services for semi-trucks. It's no surprise since your business's operations depend on your fleet performance.
Whether you're a lone owner-operator or a fleet manager who oversees hundreds of semi-trucks, you need every truck to perform at optimal levels to ensure that every haul arrives at the destination on schedule. Breakdowns hinder your business's ability to function, which is why leading companies prioritize performing regularly scheduled maintenance on their semi-trucks. They know how important it is to keep their trucks out of the repair shop, and they know the crucial role that preventative maintenance can play here.
Preventative maintenance includes the regular maintenance tasks necessary to ensure that a vehicle operates at peak performance. The schedule for these services can depend on the manufacturer and the driving conditions under which the truck operates. Semi-truck manufacturers provide information on the recommended intervals for performing maintenance to get the best results, and it's best to follow these guidelines to get the most out of your fleet. Over or underperforming maintenance tasks can be costly, so it's worth your time to follow the recommended maintenance schedule. There are so many benefits to implementing a preventative maintenance plan.
Improved mileage
Lower fuel costs
Less downtime
Prevent unexpected and costly mechanical problems
Improved scheduling and route coverage
Smoother operations
Extended vehicle life
Safer vehicles
Improved compliance with federal regulations
Reduced total cost of ownership
Improved efficiency
The reduced fuel costs can be a huge advantage for fleet owners who have no option but to absorb the costs of this commodity that sees constant price fluctuations. Fleet managers can use written checklists or telematics products to ensure that this maintenance is performed and documented at the proper intervals.
Let's examine the top preventative fleet vehicle maintenance services that fleet experts recommend.
4 Essential Fleet Maintenance Services for Your Trucks
Full-Service Oil Changes
Regular oil changes are an essential part of keeping your semi-trucks on the road and out of the shop. It's crucial to perform this service at the manufacturer's suggested intervals. If you fail to do so, it can cause many problems. It can lead to wear and tear on components (pistons, valves, etc.), dirt buildup inside the engine, increased fuel consumption, an overheated engine, and voided factory warranty. Full-service oil changes prevent these costly problems by removing the old motor oil and oil filter and replacing it with new ones. Different makes and models require certain types of motor oil for engine health, so it's important to trust this service to knowledgeable technicians.
Complete Oil Analysis
Fleet managers may wonder, "Is oil analysis really worth it?" When your bottom line depends on your fleet performance, this crucial service is well worth your time. It can tell you how efficiently your engine is burning fuel. You'll get insight into the rate at which the oil is deteriorating so that you can determine if it's degrading faster or slower than you expect. It can also alert you if excessive contaminants are present. There's no downside to performing oil analysis, and professional race car drivers, fleet drivers, and other frequent drivers who need to ensure optimal vehicle performance rely on this vital service.
Tire Checks
With how many miles your fleet travels, it's important to check the tire pressure frequently. You should perform this service at least once a week. It can have a significant impact on vehicle safety and performance. Properly inflated tires use less fuel, reduce the wear on tire tread, reduce the risk of a potentially dangerous tire blowout, and ensure your deliveries arrive on time. They lower your costs, extend the life of your tires, and keep your drivers safe. Watch out for overinflated tires in summer and underinflated tires in winter. When drivers routinely neglect tire pressure, you're more likely to see zipper rupture. You can use a tire-pressure gauge to measure PSI (pound per square inch).
Department of Transportation Inspections
The Department of Transportation requires commercial motor vehicles to undergo an inspection by a qualified inspector (trained or certified to inspect and maintain commercial vehicles) every 12 months. They mandate that certain vehicle components must pass inspection and be in safe working order for the vehicle to operate for commercial use. Individual states may put additional requirements in place, so it's important to stay current on the requirements wherever you have fleet operations. Fleet managers know that a missed D.O.T. inspection will result in large fines for their business. This avoidable cost simply can't happen when you're dealing with razor-thin profit margins. To avoid fines, fleet managers need to be vigilant about compliance. They need to organize and document these inspections once a year to avoid fines.
To minimize your wait time, contact your service provider in advance to schedule an appointment or at least make sure that there's not an excessively long wait. Providers may have special hours for performing this service.
LubeZone offers best-in-class fleet services that make it easy to maintain your semi-trucks and supercharge your fleet performance. We're proud that so many fleets rely on us for full-service oil changes, D.O.T. inspections, complete oil analysis, and tire checks for their semi-trucks. Fleet managers appreciate that we work so hard to minimize their vehicle downtime. That's why we make it a priority to offer a full-service oil change in 40 minutes or less. We're able to provide such quick service because we limit our services to the most essential preventative maintenance tasks. Your drivers need to get back on the road quickly, and they can't afford to be stuck in line behind another truck that needs time-intensive repairs. Our experienced and knowledgeable team of technicians specialize in semi-truck maintenance and work hard every day to meet the needs of fleets. Stop by today and see why so many fleet managers trust LubeZone.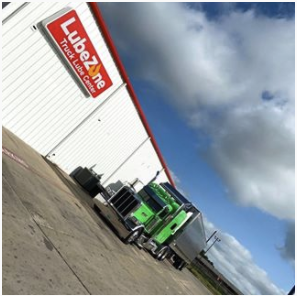 LubeZone is the fastest growing dedicated semi-truck service in the United States with locations in Texas, California, Oklahoma, North Carolina and Georgia. Our preventative maintenance solutions are designed to get the professional driver back on the road FAST.