Waiting for Your Oil Change – 40 Minutes or Less
May 19, 2022
4 Essential Fleet Maintenance Services for your Trucks
June 3, 2022
Truckers are some of the most essential workers in our economy, and their job is not easy. If you are a trucker or if you know someone who is, these must-have gadgets will make your life on the road a little bit easier. From a dash cam to keep you safe on the road to a Tile Pro to help you keep track of your belongings, these gadgets are great for staying awake, alert, and engaged on the road, and organized and powered up during your rest times.
Gone are the days of a trucker being confined to a semi-truck cab with just a CB radio and the endless road in front of them. Modern technologies have led to innovations such as in-cab refrigerators, GPS systems that automatically choose the fastest route based on things like traffic congestion and weather conditions, and even dashcams that record every second of your drive (a great way to protect yourself from liability in the event of an accident).
Gadgets can always make a trip more comfortable, but if you want to get even more help on riding in style, check out our long-haul survival guide for more tips and tricks about getting the most out of your time on the road. Take a look below, and let us know in the comments if you have any other suggestions!
Truck GPS
A truck GPS is an essential tool for any trucker. It helps you plan your route, avoid traffic delays, and find the best gas prices along your route. A good truck GPS will also have features that allow you to track your hours of service and log your mileage. This can be a valuable tool when it comes time to file your taxes, apply for a permit, or fill out paperwork relating to your mileage and hours of operation — not to mention the main benefit of smart updates to your route that can help you avoid traffic and anticipate delays.
A bonus is that you can find the nearest LubeZone when you are in need of any of the many services we offer for our truckers! Keep your truck in top condition with a preventative maintenance program.
Satellite Radio
Satellite radio is a great way to pass the hours on the road with continuous entertainment. With over 150 channels of music, news, talk, and entertainment, SiriusXM has something for everyone. You'll never get bored on the open road with satellite radio. Plus, with SiriusXM, you get commercial-free music, so you can rock out all day long without having to listen to any ads.
Recently, satellite radio has been supplanted by streaming services like Spotify and YouTube Music, but if you love listening to show hosts and DJs, you can listen to your favorite shows from anywhere in the country. Gone are the days of cycling through the radio dial trying to find a station that suits your preferences every time you get out of range of a broadcast.
E-logbook
An e-logbook is a simple improvement on old technology for any trucker who is required to keep track of their hours of service. An electronic logbook replaces the paper logbook that truckers are required to keep. It automatically records your hours of service and can even send alerts to you when you are approaching your limit. This can help you avoid getting fatigued on the road and prevent costly mistakes that could lead to accidents.
Truck Refrigerator
A truck refrigerator is essential for anyone who wants to keep their food and drinks cold while on the road. A truck refrigerator is different from a regular refrigerator in that it is designed to run off of your truck's battery power. This means that you don't have to worry about finding a place to plug it in, and it will still keep your food and drinks cold even if you are parked in the middle of nowhere.
Inverter
An inverter is a handy gadget for any trucker who wants to be able to use their electronic devices while on the road. An inverter converts your truck's DC power into AC power, so you can use items like laptops, cell phones, and even some types of televisions in your truck. If you spend a lot of time on the road, an inverter can be a great way to bring some of the creature comforts of home into your sleeping cab.
Dashcam
A dashcam is a must-have for any trucker who wants to have a record of their travels. A dashcam can help you prove what happened in the event of an accident, and it can also be used to capture scenic views or moments that you want to remember. If you are a trucker who spends a lot of time on the road, you already know that many drivers are erratic, unpredictable, and downright dangerous on the road — save yourself the trouble of your word against theirs after an accident by capturing every detail of your travels in high definition footage.
The Original GorillaPod
This is an amazing little device that can grip just about anything, making it perfect for holding your phone in place so you can use hands-free navigation. It's also great for taking photos and videos on the go. For the photography enthusiast, the GorillaPod will give you plenty of options for mounting a camera using the strong, flexible tripod legs. Some people have even used their GorillaPod to mount a camera from their truck grill for action shots from the road!
Anker PowerCore 10000
This tiny little battery backup is a lifesaver. It can charge your phone up to three times on a single charge, making it perfect for long trips. It's also small enough to fit in your pocket, so you'll never have to worry about being stranded without a way to charge your phone. If you can sty in the habit of keeping your PowerCore plugged in while you are on the road, you can always rely on a portable battery backup that can even give you enough juice to keep a laptop powered for a while.
Tire Pressure Gauge
A tire pressure gauge isn't as exciting as some of the other gadgets on this list, but it's a must-have for any trucker. It is important to check your tire pressure regularly to ensure that your tires are inflated to the proper level. Underinflated tires can lead to blowouts, and overinflated tires can decrease fuel efficiency. A tire pressure gauge will help you keep your tires properly inflated, so you can avoid these problems.
Tile Pro
The Tile Pro is a must-have for any trucker who wants to be able to keep track of their belongings. The Tile Pro is a small, Bluetooth tracker that you can attach to just about anything. If you lose your keys, your phone, or even your wallet, you can use the Tile Pro app to help you find them. The app will show you the last known location of your belongings, and it will even send an alert to your phone if the tracker is moved. You can also use the app to make your Tile Pro ring if it is within range, so you can easily find it even if it's hidden.
These are just a few of the must-have gadgets for truckers. With so many options on the market, it can be hard to choose which ones are right for you. But, these gadgets are a great place to start. So, whether you're looking for a way to stay safe on the road, or you just want to make your life a little bit easier, these gadgets are sure to help.
If you have any suggestions or ideas about other gadgets that have made your life on the road easier, more comfortable, or simply more enjoyable, we want to hear from you! At LubeZone, taking care of our truckers is our top priority, and helping you find ways to stay comfortable is essential.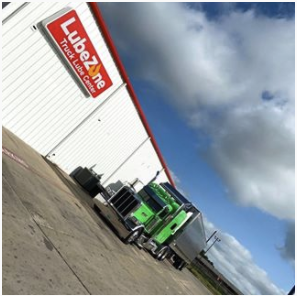 LubeZone is the fastest growing dedicated semi-truck service in the United States with locations in Texas, California, Oklahoma and Georgia. Our preventative maintenance solutions are designed to get the professional driver back on the road FAST.