4 Essential Fleet Maintenance Services for your Trucks
June 3, 2022
Semi Truck Maintenance Lowers Repair Needs
August 15, 2022
Joey Kirkland Wins 'Extra Mile' Award at LubeZone, Inc.'s Annual Leadership Conference
The Winner of the 'Extra Mile' Award at LubeZone
Each year, LubeZone, Inc. recognizes the achievements of its teammates with Extra Mile honors, this year honoring Crew Chief, Joey Kirkland from Sweetwater, Texas with National Recognition.
To be considered for the Extra Mile award, a teammate must bring a great attitude, excellent customer service, and reliability to work every day.  They are someone who goes the extra mile for our customers, our Teammates, our Company, and our Industry.
Joey Kirkland began his career with LubeZone in 2010 as a full-time Lube Technician. He was promoted from Lube Technician to Crew Chief due to his diligence, dedication, and work ethic. Prior to coming to LubeZone, Kirkland worked as a Driller in the oil fields in West Texas.
"Joey is extremely dedicated, efficient, and honest," said Marvin Kirkland, General Manager of LubeZone Sweetwater who presented Joey with the award, "He always gives 110% on everything and just has a flow about him that helps our shop run smoothly. He goes above and beyond all the time."
Joey told many stories the night of the award ceremony that illustrated his dedication to his work. He spoke about all the drivers he sees come through each day and understands the reasons why they choose to visit LubeZone over other maintenance providers. "Our main goal is to get these guys back on the road," said Joey, "That's why they're here, they don't have time to wait for hours next door. My favorite thing is when a driver will go into the lobby, pour himself a cup of coffee, sit on the couch, and I'll wander in asking to show them their oil levels and they'll be shocked that I'm done already! I love that part of my day."
Joey works alongside his two brothers, Marvin and Michael at LubeZone Sweetwater. "We all have a strong work ethic passed down by our father. He had us all hauling hay at 4 years old! And Marvin, my older brother, is a workhorse and I've learned a lot from him," Joey told fellow teammates when asked about working family.
Congratulations, Joey on your award and the wonderful work that you do every day.  LubeZone and the Sweetwater team are so lucky to have you.
All Extra Mile Award Winners:
Dean Maynard, Lube Technician, Carnesville, GA
Robert Cerritos, Lube Technician, Baytown, TX
Ben Axelson, Lube Technician, Amarillo, TX
Paul Granados, Lube Technician, Odessa, TX
Donavan Robinson, Lube Technician, Brookshire, TX
Joey Kirkland, Crew Chief, Sweetwater, TX
Joshua Medrano, Lube Technician, Sayre, OK
Jorge Zuniga, Lube Technician, Laredo, TX
April Cain, Lube Technician, Lodi, CA
Miguel Cervantes, Lube Technician, Acampo, CA
Michael Seay, Lube Technician, Elk Grove, CA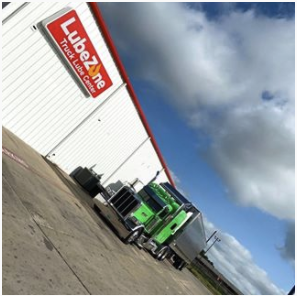 LubeZone is the fastest growing dedicated semi-truck service in the United States with locations in Texas, California, Oklahoma and Georgia. Our preventative maintenance solutions are designed to get the professional driver back on the road FAST.