Truck Stop Guide: Safety Tips and Tricks for Truckers
August 4, 2021
What to Consider When Getting a Dashcam for Your Truck
September 2, 2021
Driving stress can be one of the biggest challenges truckers face. Many people struggle with the stress of driving, from a simple trip to the grocery store to the daily grind of a morning commute. But for truckers who drive for a living, the constant stress can be a significant problem with serious implications for your health as well as your immediate safety and the safety of other drivers.
For truckers, managing driving stress matters even more. Job satisfaction is a problem for truckers, and driving stress plays a huge role in how they feel about their job. Finding ways to manage this stress can make a difference and help them feel more satisfied with their work. Truckers keep our shelves stocked and the supply chain moving, so helping address driving stressors has implications for the country's economic welfare.
The pandemic has made this even worse for truckers. You may think that it would make things easier given the reduced traffic volume. However, the open roads have resulted in an increase in reckless and dangerous driving that impacts all drivers, including truckers. With this concerning driving trend and the return of drivers to the road, truckers must find ways to manage their driving stress.
What the Science Says about Driving Stress
Soon after driving became a popular mode of transportation in the 20th century, researchers began studying the impact of driving on our health. Studies consistently demonstrate that driving has a significant impact on many stress indicators including anxiety, heart rate, and blood pressure. Interestingly, the more someone drives, the more likely they are to take sick days or be hospitalized. Driving can increase your risk of depression and raise your cholesterol and blood sugar, and it can have a negative impact on your sleep quality and fitness level.
Driving and Happiness
A 2014 study examined the impact of commuting on well-being. The researchers concluded, "From the data analysis, it appears that commuters have lower life satisfaction, a lower sense that their daily activities are worthwhile, lower levels of happiness and higher anxiety on average than non-commuters. Average happiness levels begin to fall and anxiety levels begin to rise after the first 15 minutes of the commute to work. Then, the worst effects of commuting on personal well-being are experienced on average by those whose journey to work lasts between 61 and 90 minutes." While the study focused on commuters, not people who drive for a living, it suggests that work-related driving makes people more dissatisfied with their lives.
Other research indicates that the more you drive, the less productive you are. More time spent driving correlates with lower job satisfaction, higher employee turnover, more tardiness, and more missed work. It can give you a shorter fuse, too, with those around you since it makes you less tolerant and patient.
Why Does Driving Make Me Less Happy?
Research shows that long commutes, traffic jams, and construction are the main driving stressors that make people unhappy. These stressors make us feel powerless and remind us that the world is an unpredictable place.
Normally we can communicate with people in many ways. From our words to subtle social cues, we are constantly communicating with one another. When we are angry with other people, there are hundreds of ways we can express that to them, which may or may not help us resolve conflict. On the road, however, we have just a few limited ways to communicate with the other drivers. Because of that, we bottle up the stress and release it in other ways, from being short-fused with those we love to unhealthy behaviors like smoking.
For truckers, this impact can be even greater. Without their support network of friends and family around them, they have fewer positive outlets for their stress on the road. Everyone has stress, but truckers have to be more creative to manage it.
Tips for How Truckers Can Manage Driving Stress
Driving stress is inevitable for truckers. Long driving distances, construction, and traffic jams are always going to be a part of the job. The key to being more satisfied with your job is to find ways to manage your driving stress. Read on to get some helpful tips.
Rushing to your final destination may save you time, but it may make it more difficult for you to stay in the job long-term. Sitting in the driver's seat without many breaks is not good for your health. Taking some time every few hours to stretch and move around can make all the difference. When you stop to use the bathroom or get food or gas, make sure to fit in some movement.
Even if you are unable to stop, you can fit in some stretching in your cab. Whenever you are stopped, do whatever stretches you can manage in the driver's seat.
It can be challenging to work out on the road, but doing exercises like sit-ups, lunges, squats, burpees, push-ups, or other calisthenics is a great choice.
Listen to Music or Podcasts
Enjoying good music or a favorite podcast is a great option for stress management. It will engage your brain and distract you from driving stressors while still allowing you to keep your focus on safely driving your truck. Podcasts can act as a replacement for the social interaction you are missing while isolated in your truck, and music can be soothing.
Keep in mind that faster music may encourage you to speed. Avoid any podcast that might increase your stress.
It can be tempting to occupy your time by calling friends and family while you are driving. This should generally be avoided. When you talk to someone who is physically present while you are driving, they can tell when to stop talking, so that you can focus on the road. With a phone call, the other person cannot see the road conditions and may talk when the road needs your full attention.
It can be tempting to stay up late talking on the phone with friends or family or catching up on your favorite shows, but getting adequate sleep is a priority. Your brain needs time to rest, so that you can be refreshed for the next day and ready for whatever driving stressors face you. Inadequate sleep can contribute to drowsiness on the road, which can mean delayed reaction times, falling asleep at the wheel, and shorter fuses. Energy drinks and coffee are not a replacement for a good night's rest. If you find yourself dosing off, be sure to pull over and get some rest.
Be thoughtful about your route and plan it out in advance. If you know that traffic jams are a major stressor for you, take a less congested route may be better for you, even if it adds extra time to your trip. Have some backup maps for your route in
Use Breathing and Meditation
Deep breathing and mindfulness are great ways to manage stress. You can find apps that will support you as you try out meditation. Even a short, 5-minute guided meditation can improve your mood significantly. Deep breathing can provide relief from driving stress, too. Try inhaling through your nose for eight seconds and then slowly exhale for 10 seconds.
Everyone associates the road with fast food and other road-trip snacks like candy, soda, and chips. However, these foods are not good for your well-being. Aim to eat minimally processed foods, and be sure to prioritize getting enough fiber and protein. Well-balanced meals keep your blood sugar balanced. Dieticians recommend filling half your plate with non-starchy vegetables, a quarter of your plate with lean protein, and the final quarter with a starchy vegetable or whole grain like brown rice.
Eating well can reduce your stress levels and give you more energy. It can also help you maintain a healthy weight and reduce your risk of developing certain preventable diseases. This is important for truckers who work a job that makes living a healthy lifestyle challenging.
Network with Other Truckers
Other truckers can be a great resource for you as you navigate this potentially isolating profession. It can be helpful to vent about driving stressors with other truckers, and you can exchange tips for managing these stressors.
At LubeZone we know trucking can be stressful. That is why we make it easy for you to get your truck serviced and get back on the road quickly. Our experienced and knowledgeable technicians know that your truck is your livelihood, and they want to help you keep it in good working order
We do full-service oil changes in 40 minutes or less so that you can get back on the road quickly.
No appointment necessary! Come on into LubeZone Truck Lube Center today w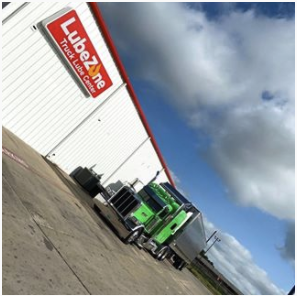 LubeZone is the fastest growing dedicated semi-truck service in the United States with locations in Texas, California, Oklahoma and Georgia. Our preventative maintenance solutions are designed to get the professional driver back on the road FAST.