Tips for Reducing Stress While on the Road
August 19, 2021
36 Must-Have Accessories for a Commercial Truck Driver
September 23, 2021
Benefits of Dashcams
Dashcams have many benefits for truckers and fleet operators who face many financial and legal liabilities every day. Semi-trucks are expensive to purchase and maintain, and owners and operators need to protect their investment. Additionally, for truckers, your reputation as a good driver is crucial. Your livelihood depends on it.
Car Accident Evidence
A semi-truck accident can be devastating for a trucker. Beyond the potential for damaging the semi-truck and injuring the trucker, truckers can be blamed for accidents when they are not at fault when this happens. It leaves them on the hook for the other driver's vehicle repairs or medical bills. Being found at fault for an accident can have implications for a trucker's driving career. Dashcams provide strong evidence of what happened during an accident, protecting truckers from wrongful accusations made by other drivers.
Prevent Insurance Fraud
Unfortunately, insurance fraud is one of the most common forms of fraud. When this occurs, a driver or pedestrian will cause a collision to blame the other party and collect an insurance settlement. There is little you can do to prove your innocence if this happens to you, and this sort of fraud can be financially devastating for truckers and fleet operators. Dashcams can protect you if you are ever the victim of this kind of scheme by offering clear video evidence of your innocence. It is the most accurate way to demonstrate that you are not at fault.
Protection for Parked Semi-Trucks
Dashcams can be programmed to record footage even when your truck is not running. It is still at risk for collisions, theft, and other dangers when your rig is parked. Truck stops can be dangerous places, from the threat of robbery to the dangers of being hit by another truck. There is nothing more frustrating than returning to your parked truck to find that a careless driver has damaged it. In most cases, unless the collision occurs in front of a business that records security footage, you will have to eat the costs. A well-placed dashcam can catch it all. Every time you walk away from your rig, you can have confidence that you can see anyone who damages your truck.
Training Purposes
It can be challenging to train new drivers. The ability to monitor them is crucial for coaches to help them become better drivers. A dashcam allows you to show truckers what they did well and what they need to improve on during a drive. Rather than monitoring a truck driver in person, which can be time-consuming, you can adequately coach them and offer advice based on the driving footage.
Reporting Reckless Drivers
Reckless drivers pose a danger to truckers and other drivers on the road. Reckless driving is on the rise. During the pandemic, decreased traffic volume and police presence led some drivers to drive more recklessly, and some experts think this trend will continue after more drivers return to the road. Often reckless drivers go unchecked, but with a dashcam, you can provide evidence to the authorities that may help punish a reckless driver, which will help make the roads safer for truckers and everyone else.
Safely Capture Fun Moments on the Road
Truckers get to see everything on the road, from beautiful scenery to the hilarious or baffling things other drivers do to encounters with wildlife. It might be tempting to use your phone to capture these moments without a dashcam. With a dashcam, however, you can access all those recordings whenever you want.
Other Features
In addition to recording driving footage, a dashcam can offer a range of functionalities. Some dash cams can provide footage to help you when you are parking. They may also have a GPS feature or other features that can aid you on the road, which can help you minimize the number of devices on your dashboard.
What Are the Best Dashcams for Semi Trucks?
As you can see, there are many ways that a dashcam is helpful to both drivers and fleet owners. When selecting a dashcam, it is essential to determine what tasks you want it to perform for you and which features you will need to complete those tasks. Here are some standard functions that you can find on truck cameras.
Dual-channel
If your dashcam only gives you one angle, it may not be helpful to you if a collision or some other incident occurs. You will likely need multiple angles to capture an incident and collect adequate information. Additionally, a camera on the back of the truck provides another angle for capturing collisions and, if the camera has this capability, parking assistance.
Mounting
Depending on the model, mounting the camera can be difficult. You may need additional equipment for mounting it, or you may even need to hire an expert. A dashcam installed incorrectly can void its warranty. Many companies will even mount your dashcam for free.
Power Supply
The ability to record when the truck is not on is a significant selling point for semi-truck dashcams, but not all models have this capability. Look for cameras that offer a backup power supply ensuring that your truck or fleet is protected 24/7.
Easy to Use
Some dashcams are highly technical. If you are a techie and owner-operator, a more technical dashcam might work for you. However, if you are not technically inclined or need to purchase cameras for truckers with varying degrees of technical expertise, ease of use should be a significant factor in your buying model.
Night Vision and Range
Truckers often drive at night, and night driving requires a truck camera with night vision. A camera must be able to capture incidents when it is pitch-black, or light is minimal. Additionally, accidents do not simply happen within a limited range. The recommendation for the best dashcams for semi-trucks is 20 meters. Regardless of where or when an accident happens, you can rest assured that your dashcam will capture it if it has these features.
Storage
Depending on how much footage you will be storing for your fleet operations and how long you need to keep it, the storage capability of your dashcam can be a significant factor in determining which truck camera you purchase. An SD card and a hard disk can help you maximize the storage capabilities of your camera.
Display
Both the size and quality of the display can be a deciding factor in which camera you choose. Look for at least 2 inches of display. Ideally, the display will provide clear images.
Lens Angle
We recommend high-quality lenses with wide-angle views. You can dramatically improve the quality of your footage if you do this.
Accident Detection
When the storage on your dashcam is full, new footage can overwrite existing stored footage. If your footage contains an accident that is overwritten, the evidence of your innocence will be lost. With accident detection, this will not happen. Some dashcams can detect an accident, and all the footage surrounding the evidence will be saved immediately.
Warranty
Consider buying a dashcam that comes with a warranty, and be sure that you are operating the camera so that the warranty is not voided.
Companies Offering Dashcams Services for Semi Trucks
You have lots of options when it comes to purchasing a dashcam. Many truck cameras come with software that allows you to manage the information the camera collects. Some companies offer dashcams that come with software, which provides features like GPS and a fleet management system. This is an excellent option if you want to minimize the number of devices on your truck's dash, as well as consolidate the number of software programs you use to support your fleet.
Samsara
Lytx
Verizon Connect
If you are happy with your current GPS and fleet management systems, look for a dashcam that can easily be integrated with your existing software.
Another way to ensure that your truck or fleet is safe on the road is to keep up with regular preventative maintenance with your semi-truck. Here at LubeZone, we want to keep you safe and get you back on the road quickly. Visit our experienced and knowledgeable technicians who will do full-service oil changes in 40 minutes or less so that you can get back on the road soon.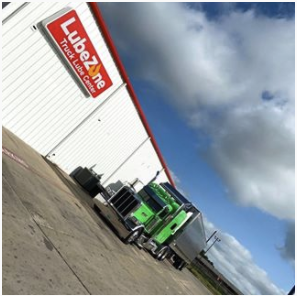 LubeZone is the fastest growing dedicated semi-truck service in the United States with locations in Texas, California, Oklahoma, North Carolina and Georgia. Our preventative maintenance solutions are designed to get the professional driver back on the road FAST.