What to Consider When Getting a Dashcam for Your Truck
September 2, 2021
One Trucker's Tips for Driving a Semi in Harsh Conditions
December 2, 2021
OTR Truckers log many hours on the road and want to know what a truck driver must have to get the job done. Opinions may vary from trucker to trucker over what truckers must-haves are. Something that may be essential for one trucker might be useless to another. However, some items come up repeatedly when you ask truckers about which items are critical for truckers. For truck drivers with limited space in their truck, choosing what to bring along for a haul involves weighing the benefits against each item's size to determine what is truly essential. Our complete guide to must-haves for truck drivers has you covered with a list of all the tools and items necessary to have a well-stocked truck that's ready for anything the road throws at you.
Being a truck driver is hard enough already. Make sure you have all the tools and items you need to complete the job successfully for your next haul. We have even included some product recommendations for some items. Consider creating a checklist for every trip to make packing quick and easy and to help ensure that you do not forget anything.
Personal Items
Like anyone who travels by road, truckers need certain personal items to be comfortable on the road. However, truckers travel long distances and need adequate clothing and gear for whatever weather and road conditions they may encounter.
Clothes for Free Time: you need weather-appropriate clothes for the time when you are not on duty. Include some clothing for workouts if needed.
Underwear: this one is pretty self-explanatory. You need enough pairs to last for your trip or at least enough to last between laundromat visits.
Jacket: even in the summer, driving long distances means going through changing altitudes, so make sure you're ready for any weather you may encounter.
Raincoat: Stay dry by bringing along a raincoat just in case you get caught in the rain.
Shoes: Shower shoes are a must, as well as cross-trainers or running shoes. Toss in any pair you want to wear while off duty.
Sunglasses: look cool and keep the sun out of your eyes while driving. Some sunglasses can help you see more on the road. Amber-vision sunglasses improve visibility in low-light conditions. Polarized transition lenses also help you see better while driving.
Shower items: soap, washcloth, shampoo, conditioner.
Dental care items: toothbrush, toothpaste, mouthwash, and floss. Be sure to have minty-fresh breath, primarily if you work on a truck driving team!
Personal hygiene and grooming items: deodorant, moisturizer, cologne/perfume, hairbrush or comb, and other hair care products.
Personal medications: daily medications, vitamins, and supplements.
Laundry detergent: if you can fit in a load of laundry on your trip, you can pack fewer clothing items and save space.
Work Clothing & Gear
You need suitable clothing and gear to drive and take care of your truck. We think these items are best for keeping you comfortable and safe while on a trip.
Clothes for Driving: we recommend comfortable clothing such as button-up shirts, t-shirts, jeans, and shorts.
Work Boots: for truckers, insulated boots are necessary for winter, and steel-toe boots are recommended for driving a flatbed.
Hard hat: keep your head safe from injury with a hard hat.
Safety glasses: your eyes are a valuable tool for performing your job, so keep your eyes safe with safety glasses whenever you carry out a task that could harm your eyes.
Coveralls: protect your work clothing from any job you need to perform on the road.
Work gloves: keeping your hands in good condition is necessary to drive your truck. Protect them with work gloves whenever you are loading and unloading or making repairs to your trailer or rig.
Items, Equipment, and Tools for Trucking
There are several items you need to drive and care for your truck. These must-haves for truck drivers will help you keep your vehicle in good condition.
Truck cleaning supplies: paper towels, wet wipes, all-purpose cleaner, disinfectant spray or wipes, dashboard conditioner, air freshener, and a handheld vacuum.
Cell phone and charger: your phone helps you stay connected to the people you care about, and if you have a smartphone, it is a source of helpful information while traveling. Keeping your phone charged is vital in case an emergency arises.
GPS system: a sound GPS system can provide you with the quickest routes and help you locate good stopping points, restaurants, stores, and hotels. See our recommendations:
Trucker's atlas or maps: if all else fails, you have a tool for navigation. Make sure you have maps of all the regions where you travel.
Trucker's emergency kit: road flares and cones, as well as light reflective clothing, is essential. Depending on the weather along your route, you may need emergency weather gear and chains for tires in case of snow or ice.
Toolbox: screwdriver, pliers, hammer, wrench set, flashlight and batteries, zip ties, pocket knife, brake cleaner, tire pressure gauge.
Document envelopes: you have to keep track of lots of documents on the road. Have separate envelopes for items like invoices and shipping orders, work-expense receipts, and license and registration.
Phone number list: lots of things can happen to your phone on the road. If your phone is lost, stolen, or broken, keep a written list of important numbers in your glove box.
Food
There are many billboards to entice you to eat at fast food places and truck stops along the road. These costs can add up, and you may not find food that meets your dietary needs. Save money and improve your diet by bringing along your own food. It is also a good idea to have food on hand in the event of a breakdown.
Shelf-stable snacks: pack some snacks that do not require refrigeration. Good shelf-stable snacks include fruit (fresh or canned), nuts, seeds, flavored tuna pouches, peanut butter, bread, crackers, and jerky. Bring enough so that you will not go hungry during a breakdown.
Ingredients for quick meals: if you are lucky enough to have an ice chest, refrigerator, or hot plate in your cab, you have more options. Bring ingredients for sandwiches, salads, and some convenience foods like canned soup and instant oatmeal for quick, easy meals.
Entertainment
Occupying your mind is vital for truckers. The road can be lonely and stressful, and you need healthy and affordable ways to unwind during your downtime. Bringing along entertainment can make your trip more exciting and fun. For any entertainment devices, you bring along, make sure not to forget any chargers or adapters.
Electronic device: a tablet or laptop can be a great source of entertainment if you can find a secure internet connection. You can also use your phone to create a hotspot that connects your device to the internet in a pinch.
TV with gaming console: if gaming is a big part of how you unwind, make time for it on the road. You can also use this setup to stream movies and shows.
TV with a streaming device or DVD player: watch movies and shows with this setup. If you bring a DVD player, keep in mind that you need to make space for DVDs.
Tools for hobbies: maybe you draw, write, or take photos in your spare time. Bring along whatever materials you need to engage in your recreations on the road.
Newspapers or magazines: if you prefer print media, get your hands on some of your favorite publications. Or you can pick up newspapers along your route to get a sense of what is happening locally.
Adult activity books: whether you like adult coloring books, sudoku, or crossword puzzles, there are lots of activity books that will help keep your mind sharp and relaxed.
Personal Comfort in Your Truck
You can probably get your job done without these comforts, but why would you want to? This gear will make you more comfortable during your trip.
Ice-chest or compact refrigerator: this can expand your options for meals and snacks considerably. It can be vital to getting a healthier and more varied diet on the road. We have a few product recommendations for you:
Portable toilet: you know why this can be useful. Let's just move on.
Sleeping bag and pillow: a sleeping bag is compact and comfortable. Choose a sleeping bag that will not make you too hot or too cold. We recommend:
You may need to adjust our list to meet your needs and the available space in your truck, but we think it is a great starting point as you develop your own checklist of truck driver must-haves.
At LubeZone we care about truckers, and we want to help them in every way we can. Whether by developing a checklist of must-haves that enables you to pack quickly or offering a fast semi-truck oil change, we want to help you do your job well. That is why we have many blog posts about topics that matter to you, like semi-truck tire lifespan, which are designed to help you get the best out of your truck. That is also why we offer a semi-truck oil change in 40 minutes or less. Stop by one of our locations today! No appointment is necessary.
Tips for OTR Truckers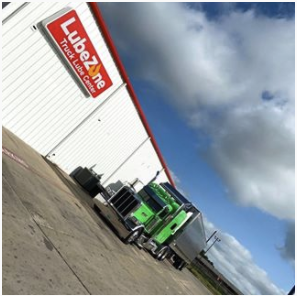 LubeZone is the fastest growing dedicated semi-truck service in the United States with locations in Texas, California, Oklahoma and Georgia. Our preventative maintenance solutions are designed to get the professional driver back on the road FAST.