State of Truckers Unions in 2022
August 22, 2022
5 Best Semi Trucks for Truck Drivers
October 27, 2022
As of 2022, dashcams are becoming an increasingly required tool for truck drivers. Helpful in recording the driving process and thus removing some liability from drivers during accidents by providing an exact recording of events as they took place. Dashcams are a handy tool for you as a truck driver to have. Let's explore some of the best options available today!
1. Blackvue DR900S-2CH
This premium dashcam offers a 162-degree front field of view and can film in an impressive 4K Ultra HD, which is 3840×2160p at 30FP, with an 8MP image sensor. This is some of the highest quality video recording you will get from a dashcam. This dashcam comes with a motion sensor and is wi-fi capable as well. This means that you can download an app on your phone and monitor the camera from afar while at a rest stop or playback recorded video. Additionally, this camera embeds GPS data into the video so that someone analyzing the video can tell exactly where the events took place. This camera is wonderfully versatile, and it can save you in the case of an accident by potentially removing some liability if the accident is not your fault and you have a recording of it. Shop Blackvue dashcam here!
2. CM32
The CM32 dashcam is dual-facing so that it will record both a front view and a rear view. The front sight is 121-degrees and 1080P. The rear camera is 177-degree and 720P. This camera includes infrared LEDs for nighttime driving. This camera provides fleet management software, allowing the camera to record events such as crashes and near misses. This is done in order to keep management of your truck driving simple and straightforward, as well as to potentially reduce your liability if an accident does occur by providing a clear recording of the event as well as who was at fault. The camera additionally sends notifications of these events to the driver to help prevent distracted driving. Further, this camera includes a built-in accelerometer that will detect your truck's speed as well as rough driving and notify you. Not to mention, in the event of a crash, the camera will record the entirety of the collision and upload it to cloud storage. Shop CM32 dashcam here!
3. Lytx Drivecam
With a dual-facing camera, this dashcam films both the exterior and interior of the vehicle at once. It offers a 131-degree interior view and an 82-degree exterior view. Additionally, there is a hub attachment for this camera which allows the addition of two more cameras for vehicles that need 360-degree camera coverage. This is a valuable modality for those who want to supervise their trucks completely, but for most circumstances, just the single, dual camera will suffice. The dashcam also has GPS location tracking, a microphone, a speaker for audio alerts, night vision, and the ability to record 100 hours of driving time. It also comes with vehicle tracking software to log your truck's speed, fuel, and vehicle data. Shop Lytx dashcam here!
4. Verizon Connect Dashcam
Providing some of the best fleet management technology in the world, this camera is best for those looking at data-driven driving as one of their precepts. Featuring a 150-degree front-facing camera that can film in 720P, this camera is truly professional grade. The Verizon Connect's dashcam recordings are triggered by events such as high-speed acceleration, harsh braking, or cornering. It then automatically uploads these events into its cloud storage, which will remain available for 90 days after recording. There is also the option to add a driver-facing night vision camera to the setup as well. Shop Verizon Connect dashcam here!
5. Driver 360 Degree AI Fleet Dashcam
What's impressive about this dashcam is its many AI technologies. In addition to a 360-degree and 1080P HD footage capability, this dashcam can identify things such as driver drowsiness, unsafe tailgating, traffic light violations, sudden acceleration, and more! The 360-degree view allows you to see all around, in front of, and inside your vehicle while the camera is active. This camera also stores video on the cloud for up to 100 hours in its local storage. This dashcam also offers 4G LTE support. Shop Driveri dashcam here!
6. OldShark Dashcam
With its 170-degree view, this camera offers a comprehensive view in front of your truck. It also has a collision detector built in as well as night vision. This camera will auto-detect collisions with its g force sensor and store the recording of the accident locally. It has a 32GB micro SD card, so all data from the camera is stored locally, reducing the possibility of it being hacked from the cloud as with other dashcams. Shop OldShark dashcam here!
7. Z-Edge Dual Dashcam
This dashcam comes with a 155-degree view. It also films in 1080P with corrective technology to account for extreme dark or light exposure. It also comes with night vision technology built in. This dashcam also has GPS capabilities, as well as a dual front and back-facing camera in order to record both the driver as well as the road ahead of the truck. This camera stores its data on a 256GB micro SD card. Shop Z-Edge dashcam here!
8. Vantrue T2 Dashcam
The 1080P video and 160-degree view of this dashcam can capture clear images of license plates and traffic signs. It can capture all four sides of a four-way traffic stop, and it also features a wave guard motion sensor that beams out a microwave while your car is parked that will immediately start recording if the beam is interrupted by something. This will ensure that your unattended truck remains secure. Additionally, this dashcam has a time-lapse function that will take snapshots at set intervals. Shope Vantrue dashcam. here!
9. WheelWitness HD Pro
This camera provides a 170-degree field of view as well as is able to film in 2K. This excellent resolution is among the best you will find in commercial dashcams. It has a compensation mechanism, very dark and very light frames, in order to remain visible at all times, and it also allows you to zoom in on recorded images up to four times in order to identify small details better. This camera also has a GPS location ability as well as a motion detector. Shop WheelWitness dashcam here!
10. APEMAN 4K Touch Screen Dashcam
With a 170-degree viewing angle, this dashcam will cover most anything taking place in front of your truck. Able to film in 4K, this camera also has impressive night vision capabilities. It also includes a rear camera, which is waterproof. This camera also comes with a parking mode which has multiple functions in order to aid you while driving and parking your truck. Shop APEMAN dashcam here!
Be sure to look at LubeZone for comprehensive information about this essential trucker must-have. Every truck driver is a potential liability, so if you don't want to be in that troublesome position someday, be sure to get a quality dashcam.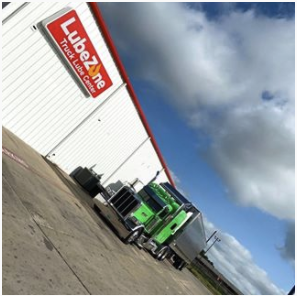 LubeZone is the fastest growing dedicated semi-truck service in the United States with locations in Texas, California, Oklahoma, North Carolina and Georgia. Our preventative maintenance solutions are designed to get the professional driver back on the road FAST.